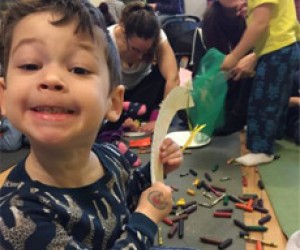 Community Staple Raising Astoria Reopens with Drop-in Playtime & Kids' Classes in Queens
When Raising Astoria originally opened in 2012, it offered the Astoria community a great local spot for kids' consignment and fun classes. However, this past February it closed for upgrades and changes. As owners Kim and Laurie put it, they were letting the needs of the community define their mission—and that continues to be true. Many local parents helped Raising Astoria transform from a store into a kids' enrichment destination by helping clean out the consignment shop, along with other odds and ends.
While kids missed the classes during the transition, the reopening was a great, refreshing start for this beloved spot. If you are looking for a wonderful play space or are a new or expecting mom, Raising Astoria is an invaluable resource, with its close-knit community feel, informative workshops and lots of hands-on fun!
Complete with toys, a padded floor and, on certain days, a bouncy house (which my 3-year-old son loves), Raising Astoria is great for toddlers and infants who want to get their wiggles out. Since reopening, the spot has expanded its selection of classes and turned the front room, which used to be the consignment shop, into a space for open play. This was a welcome change as young children used to try to play in the shop. Now they are free to run around without parents worrying about any accidents occurring.
My son and I have been part of the Raising Astoria community for over a year and have enjoyed every minute of it! A favorite class of his is Preschool Alt on Wednesday mornings with Jenn Vizina, a.k.a. Ms. Jenn. The class includes singing, reading, arts and crafts, and free play. Ms. Jenn is a fantastic teacher, and my son always talks about her and his friends long after the class is over. Due to limited space, classes can fill up quickly, so definitely sign up in advance.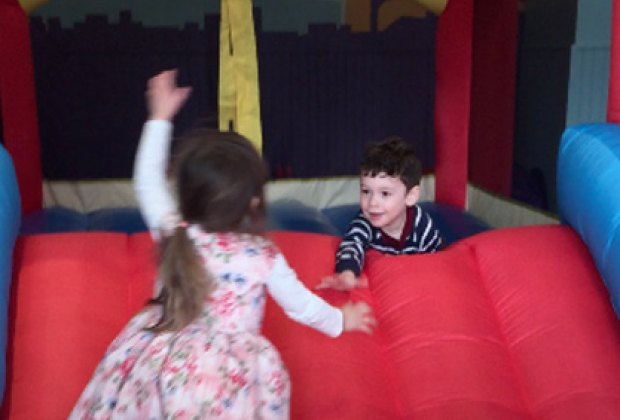 The bouncy house is always a good time!
Drop-in open play is a great time for kids and parents alike; grown-ups can take a seat and get to know each other, while kids play. The space is small enough that your child will pretty much be in view at all times. While the intimate space has its benefits, children over age 3½ may find the space too confining. Other fun includes the FunikiJam Music Class, a music education program that introduces traditions from across the globe.
Also on tap, new class additions like Yoga for Parents with a childcare option, and a Mindfulness for Moms, Dads and Toddlers class. There's also a variety of workshops such as the upcoming three-night Labor and Delivery workshop in May, and Infant and Child CPR course. My son and I are excited to try the new Preschool Alt classes on Mondays and Thursdays at 9:30am, which include a drop-off option for kids getting ready for preschool.
Raising Astoria is definitely continuing to grow and evolve, much like the Astoria neighborhood itself. However, one thing that's sure to remain the same is the great sense of community that can sometimes be lacking at larger play spaces.
Raising Astoria is located at 26-11 23rd Avenue between 26th and 27th Streets. Drop-in open play is Monday through Friday from 3:30 to 5:30pm. The cost is $10 per family for a 90-minute session. For a complete schedule of classes and prices, visit the website.

Find out about other great things to do in Astoria with kids, or check out our roundup of Queens play spaces with drop-in play.