Best Things to Do with NYC Kids: July Go List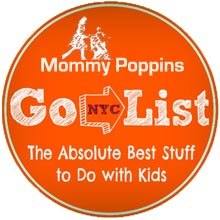 As summer heats up, so do New York City family events. Our NYC July Go List, which highlights the absolute best things to do with kids throughout the month, includes some of our favorite FREE annual festivals, happenings my family and I mark in our calendars every year. Enjoy no-cost boat rides as part of City of Water Day on Governors Island, offbeat art activities at the New Museum Block Party on the Lower East Side, top-notch music and circus performances at SummerStage Family Days in Queens, the Bronx and Central Park, and the interactive dance-themed Lincoln Center Out of Doors Family Day.
There are also some new-this-summer events that we're really excited to check out like Theatreworks USA's musicalization of The Lightning Thief and the life-size prehistoric stars of Walking with Dinosaurs at Barclays Center.
As always, if an event piques your interest, be sure to click through to our listing for all the details, including address and time. And remember: In NYC, really cool things to do with kids often get booked up quickly. So buy your tickets ASAP or, in the case of FREE events, arrive as early as possible to try to beat the crowds.
Now get your calendars ready! Here are the top 13 things to do with kids in New York City this July, nine of which are 100% FREE.
SummerStage Kids Global Family Day in Central Park – Upper East Side
Sunday, July 6
SummerStage Kids mounts multiple Family Days throughout the city, but the one in Central Park is always the main event. This year's lineup includes performances by Grammy Award-winning roots rockers the Okee Dokee Brothers, the Acrobuffos, who were so hilarious in the Big Apple Circus a few seasons back, and Harlem's own National Dance Institute. Disney Radio will also be on hand with giveaways, photo ops with costumed characters and kids' activities. My daughter and I have gone to Global Family Day many times and I do have a few tips: Arrive early! Lines for activities, especially the face painting, get long. There are usually all kinds of freebies, too, but they also go fast. Bring a blanket to sit on, and a parasol or umbrella since there's no shade. There are chairs, too, but they're way in the back and fill up quickly. FREE
Unsung & Heroes – Chelsea
Friday, July 11-Sunday, August 1
We're always raving about the classes, camps (my daughter's there this summer!) and shows at TADA! Youth Theater. That's because, unlike many children's theater companies that use adult actors, TADA! is made up of talented local youngsters ages 8 to 18 who do three original musicals a year. The troupe's latest offering is actually two shows in one: Unsung, a dance-theater piece with a coming-of-age theme, and Heroes, a musical about a group of kids who learn to be brave when they find themselves away from home after nightfall. Bonus: TADA! shows only run an hour (great for short attention spans) and kids really get a kick out of seeing their peers onstage. $20-$25 for adults, $8-$15 for children
City of Water Day – Governors Island & Hoboken
Saturday, July 12
This fantastic celebration of our local waterfront takes place in two main locations: on Governors Island and in Hoboken's Maxwell Place Park. But there are satellite events all over New York Harbor. Enjoy kayaking and canoeing, historic boat tours and live entertainment. Kids can also get up close and personal with reptiles and aquatic creatures, take fishing lessons, and enjoy landlubber favorites like arts and crafts, and bouncy castles. Plus, there's a free ferry between the two locations, so you can hit the fun on both banks. The no-cost boat rides are insanely popular and require preregistration. Tickets are still available for select boat rides as of this writing. So book ASAP or you'll be stuck waiting in the standby line hoping for cancellations. You're required to pay a $5 reservation fee per person, which will be refunded when you show up for the trip. At previous City of Water Day celebrations, my daughter and I have gone on a sloop and the NYC Audubon Eco-Cruise. This year we're taking a ride on the Schooner Pioneer! FREE
Midsummer Night Swing: Kids Dance! – Upper West Side
Saturday, July 12
The three-week Midsummer Night's Swing is geared toward grown-ups but for one afternoon, kids are invited to put on their dancing shoes, too. At Kids Dance!, children ages 6 to 10 can try some smooth new moves from Dancing Classrooms' Rodney Lopez, star of the documentary Mad Hot Ballroom. Learn the basics of swing, merengue, tango and salsa outdoors in Lincoln Center's Damrosch Park. FREE
SummerStage Kids Bronx Family Day – South Bronx
Sunday, July 13
Hit St. Mary's Park for performances by David Gonzalez' Aesop Bops! Funky Fables, the Kids Junk Orchestra and Secret Agent 23 Skidoo. There will also be giveaways from Disney, interactive music and dance workshops, face painting and other kids' activities. FREE
Bastille Day on East 60th Street – Upper East Side
Sunday, July 13
Celebrate French culture and cuisine at this annual outdoor fete hosted by the French Institute/Alliance Française. Taste freshly made crêpes and éclairs, enjoy live French music and mime performances, browse handmade wares at the market, check out classic Citroën cars, and hit the Kids' Corner for face painting, and arts and crafts. There's also a raffle with amazing prizes like trips to France, St. Barts and New Orleans. Free admission but there are fees for certain activities.
Walking with Dinosaurs - the Arena Spectacular – Fort Greene
Wednesday, July 16-Sunday, July 20
Head to Barclays Center to gawk at incredibly realistic, life-size dinos in this 90-minute spectacle, which has a loose story and a narrator who shares lots of cool scientific facts about the creatures. Cutting-edge technology and animatronics bring the Tyrannosaurus rex, the stegosaurus, the allosaurus and other species to life as they care for their young, hunt for food and, of course, fight, just as they did before they became extinct. My daughter and I have seen this show twice and we're planning to go again! If your kids are into dinosaurs, it's really enthralling (and potentially scary—it's probably too much for most toddlers and sensitive preschoolers). Tickets are $30-$115 but you can save $10 to select performances with this discount code.
Come Out & Play Family Day – Governors Island
Saturday, July 19
Most of the Come Out & Play festival of street games is aimed at adults. But kids can get in on the action during Family Day on Governors Island. This year, families can participate in multiple interconnecting games themed around time travel, both back to the distant past and ahead to the future. Just head to the official Time Travel Agency to get started, and then play as few or many as you'd like. Games are best suited for children ages 6 to 11 and their adult companions. Guardians must sign waivers for all players under 18. All games run multiple times but participation is first come, first served. FREE
New Museum Block Party – Lower East Side
Sara D. Roosevelt Park, Chrystie Street between Delancey and Broome Streets
Saturday, July 19
The cutting-edge Bowery institution hosts live performances and interactive art in the nearby park. This year, families can use images from the museum's collection to craft memory games, construct a cube made out of archival pics, and create pieces inspired by the artists on exhibit. Need to escape to air conditioning? All festival-goers snag free passes to attend interactive museum tours throughout the day. FREE
SummerStage Kids Queens Family Day – Long Island City
Sunday, July 20
The third SummerStage Kids Family Day of the month has a jazz theme. Head to Long Island City's waterfront Queensbridge Park to catch performances by the Jazz at Lincoln Center Orchestra, Rashida Bumbray, and Michael Mossman & Copland Jazz. There will also be Disney giveaways and other kids' activities. FREE
The Lightning Thief – West Village
Monday, July 21-Friday, August 22
Every summer, wonderful national children's theater company Theatreworks USA produces a professional Off-Broadway show for family audiences and gives away the tickets at no cost. I've been to many of the summer productions in the past, and they're always high-quality, educational and entertaining. This year's show is based on the first book in Rick Riordan's popular Percy Jackson & the Olympians series, about a tween boy who travels to a land of mythological monsters and Greek Gods while struggling with dyslexia and ADHD. Given the complicated subject matter, it's aimed at children ages 8 and up. In order to snag seats, arrive early! Tickets are given out on a first-come, first-served basis an hour prior to each performance. Camps tend to take over on weekdays so you're best off going on a Sunday or to one of the evening shows. By the way, there is absolutely no stroller storage at the theater, but you really shouldn't bring the babes to this one, anyway. FREE
Lincoln Center Out of Doors Family Day – Upper West Side
Saturday, July 26
There are lots of eclectic no-cost performances throughout the summer at Lincoln Center Out of Doors but Family Day is the best offering for kids. The dance-themed event features a Baby Loves Disco dance party, a Brazilian street dance workshop, a collaborative interactive National Dance Day performance and tunes by the Black Rock Coalition Orchestra. FREE
Kid-friendly Shows at the New York Musical Theatre Festival – Midtown West
Many hit musicals actually made their NYC debuts at this annual fest (like Tony and Pulitzer Prize-winner Next to Normal and one of my personal favorites, [title of show). Though most selections are aimed at adults, this year's fest features three children's shows. Catch them now before they move on to bigger and better things (and higher ticket prices—right now they're all $25):
Rescue Rue – Tuesday, July 8, Thursday, July 10, Friday, July 11, Saturday, July 19 and Sunday, July 20
A heartwarming modern-day musical fairy tale about a shelter dog who finds a forever home with a NYC family—sounds like a great lesson about pet adoption for young children.
The Calico Buffalo – Tuesday, July 8 and Saturday, July 12
A musical fable, when the first-born son to the chief of all buffalo shows up covered with the markings of a calico cat, the entire nation is thrust into a big adventure. The show features songs by Grammy Award-winning composer Peter Stopschinski.
The Snow Queen – Monday, July 14, Tuesday, July 15, Thursday, July 17 and Sunday, July 20
Forget Frozen. This musicalization is much more faithful to the original Hans Christian Andersen fairy tale as Gerda goes on a dangerous quest to save her best friend Kai before he is trapped forever in the Snow Queen's palace.
Honorable Mentions
NYC always has so many incredible things going on, it's difficult to choose. So here are ten more cool events (mostly FREE) that are worth considering for your July calendar. Be sure to sign up for our FREE newsletters so you can get our weekend picks delivered to your inbox every Thursday morning.
Celebrate Independence Day by watching Macy's 4th of July Fireworks on the Hudson River or heading to Coney Island to cheer on the competitors in the annual Nathan's Famous Fourth of July International Hot Dog Eating Contest. Both FREE
Enjoy a wide variety of live entertainment, activities and religious services at the annual Lady of Mount Carmel Giglio Feast, which runs Wednesday, July 9 to Sunday, July 20.
Strap on your skates and hit the brand-new roller rink at Pier 2 in Brooklyn Bridge Park, which opens Friday, July 11.
Watch the sun set straight down the NYC grid—a twice a year occurrence!—during Manhattanhenge on Friday, July 11 and Saturday, July 12. FREE
Pick up a FREE special edition Batman issue at participating comic book shops in honor of Batman Day, which honors the 75th anniversary of the caped crusader on Wednesday, July 23. FREE.
See Native American culture in action at the 36th annual Thunderbird American Indian Mid-summer Pow Wow at the Queens County Farm Museum Friday, July 25-Sunday, July 27.
Catch kids sharing their best rhymes at the New York Poetry Festival on Governors Island on Saturday, July 26 and Sunday, July 27. FREE
Gawk at the over-the-top costumes, sets and antics of Cirque du Soleil as the circus troupe returns to the Barclays Center with Varekai Wednesday, July 30-Sunday, August 3.
Culture your kids with classical concerts under the stars from the New York Philharmonic (Wednesday, July 9-Tuesday, July 15) and the Metropolitan Opera (through Thursday, July 10) in all five boroughs throughout the month. FREE
There are a slew of outdoor film series in the summer but our favorite this month is Front/Row Cinema at the South Street Seaport on Wednesday evenings, which is screening lots of family favorites including Wreck-It Ralph (July 9), Fantastic Mr. Fox (July 16), E.T. the Extra-Terrestrial (July 23) and The Goonies (July 30). FREE