12 Holiday Theater Shows for NYC Kids: 6 Under $20, 6 Worth the Splurge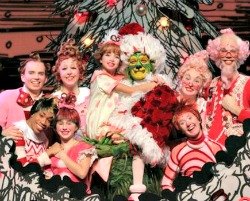 'Tis the season to get the gang all dressed up to see some holiday shows. While there are certainly lots of spectacles to splurge on beyond the Radio City Christmas Spectacular, if you've got young children you may not want to blow all of your bucks on theater tickets. That's why our roundup includes six inexpensive, low-key shows, perfect for fidgety preschoolers, as well as six extravaganzas that are worth the splurge. Bonus: We've got the scoop on how to save money to a few of the higher-priced offerings.
From live stage adaptations of beloved seasonal TV specials like A Charlie Brown Christmas, Frosty the Snowman and How the Grinch Stole Christmas, to festive puppet shows, to high culture like kid-friendly mountings of The Nutcracker and opera, here are our top 12 holiday shows for NYC families. You can find lots of other seasonal fun in our NYC Holiday Guide.
Holiday Shows for Families Under $20
Click through to our listings for all the details, including address, time and recommended ages.
The Three Bears Holiday Bash – Upper West Side
Through Friday, December 30
$10 for adults, $7 for children under 12
The three bears and all their fairy-tale pals are back at Central Park's Swedish Cottage Marionette Theatre for their annual seasonal variety show. This spirited marionette performance celebrates all the holidays, whether you observe Christmas, Kwanzaa or Hanukkah. A perfect theatergoing experience for preschoolers.
A Christmas Carol, Oy! Hanukkah, Merry Kwanzaa – East Village
Thursday, December 4-Sunday, December 14
$18 but ten $10 tickets will be available for each performance on a first-come, first-served basis
The venerable Czechoslovak-American Marionette Theatre presents its multiculti take on Charles Dickens' classic at La MaMa. Marvel at 30 handcrafted puppets, and enjoy holiday songs in Czech, English, Hebrew and Swahili performed by a live chorus. While not expressly aimed at families, this production is kid-friendly, though you probably won't want to hit one of the 10pm performances. Bonus: On Saturday, December 20 at 11am, La MaMa is hosting an interactive end-of-year celebration featuring resident artists, including puppets from the show.
Seven In One Blow or the Brave Little Kid – West Village
Friday, December 5-Sunday, December 21
$15 for adults, $10 for students, $5 for children under age 13
An offbeat stage adaptation of the classic Brothers Grimm fairy tale, this annual Axis Theater Company production stars Kid, a young boy who kills seven flies in one shot and gets caught in a tangle of lies surrounding his feat. In the end, he learns about love and caring, with help from the children in the audience.
Superbunny Christmas – Brooklyn Heights
Saturday, December 13-Sunday, December 14
FREE
Rabbit Hole Theatricks mounts a brand-new musicalization of Amber L. Spradlin's holiday picture book Thumperino Superbunny and the Christmas Star Caper at the Actors Fund Arts Center. When the star is stolen from atop the community Christmas tree, the heroic hare goes on a quest to retrieve it, rescuing a hundred of his fellow rabbits along the way. Probably best for preschoolers and hey, it's FREE, so all you spend is your time. Call 917-563-9830 to reserve your complimentary tickets.
A Charlie Brown Christmas – Park Slope
Saturday, December 13-Sunday, December 21
$12, $28 for a family four-pack
The Pig Brooch Theatre Company brings its live stage adaptation of the iconic TV special back to the Brooklyn Lyceum for the sixth and probably final year due to the venue's legal troubles. Extremely faithful to the source material (right down to the 30-minute running time), the show features Charlie, Lucy, Linus, Snoopy and the rest of the Peanuts gang along with that sad little Christmas tree. A lively jazz trio plays Vince Guaraldi's memorable Charlie Brown music.
Frosty the Snowman – Staten Island
Monday, December 29
$18-$20
Another holiday TV special re-imagined for the stage. Plaza Theatricals' show is inspired by the Rankin/Bass classic of the same name, but doesn't hew too closely to the script (so purists, be warned). Santa coming down the aisle of the gorgeous landmarked St. George Theatre will undoubtedly be a highlight. And in case you're wondering, the venue is steps away from the ferry terminal.
 
Holiday Spectacles Worth the Splurge (Besides Radio City)
Fancy Nancy Splendiferous Christmas – Upper West Side
Saturday, November 22-Sunday, January 4, 2015
$39.50
If you've got a Fancy Nancy fan at home then this page-to-stage adaptation is a no-brainer. Vital Children's Theatre did a stupendous job of musicalizing the first book, so we have high hopes for this tale of Christmas gone awry for the glamor-loving gal. Best for young theatergoers who are aficionados of Jane O'Connor's popular picture book series. Update: Read our full review of Fancy Nancy Splendiferous Christmas.
Dr. Seuss' How The Grinch Stole Christmas! The Musical – Midtown West
Friday, December 5-Sunday, December 28
$40-$160 but save money on tickets through our affiliate Goldstar
I saw this show when it played on Broadway a few years back and now it's coming to the Theater at Madison Square Garden for the season. It's exactly what you'd expect: awesome costumes, over-the-top dance numbers and, of course, catchy songs from the TV special like "You're A Mean One, Mr. Grinch" and "Welcome Christmas." In this case, Max the Dog narrates (not the late Boris Karloff) the tale, as the grouchy Grinch makes like Scrooge and tries to ruin the holiday until he has a change of heart.
Cirque Ziva – Midtown West
Friday, December 5-Sunday, January 4, 2015
$19-$55
China's Golden Dragon Acrobats swing into town for the New Victory Theater's nondenominational holiday show. Athletic feats are the focus here, like hand-to-hand and bicycle balancing, plate juggling and spinning, and aerial arts, all performed in gorgeous traditional costumes. This trailer gives you a peek at the awesome action. A great introduction to China's take on the ancient art of circus and an offbeat seasonal celebration.
American Ballet Theatre's The Nutcracker – Fort Greene
Friday, December 12-Sunday, December 21
$20-$190
There are a lot of Nutcrackers twirling around town right now of varying prices and quality. I realize that many families want to give their kids the classic Balanchine experience at New York City Ballet. But ABT's version at BAM definitely rivals Lincoln Center's, and this is the last year it will be presented. My daughter and I went when it debuted in 2010 and were totally blown away by the choreography, sets and especially the glorious costumes. At two hours it's the full ballet, not excerpts, but it's very easy to follow.
Hansel and Gretel – Upper West Side
Thursday, December 18-Thursday, January 8, 2015
$25-$175 but save money on tickets through our affiliate Goldstar
The Metropolitan Opera's holiday family production is the perfect introduction to opera for kids. This year, the Met's reviving its beloved mounting of Engelbert Humperdinck's opus in which two brave children go up against an evil witch. Director Richard Jones' production has garnered rave reviews in the past and features amazing costumes, sets and special effects. Since it's a little over two hours and dark (hey, it's the Brothers Grimm), it's best for school-age kids. The Met's holiday operas always seem to sell out so act quickly.
A Christmas Carol – Upper East Side
Saturday, December 20
$20-$30
At this time of year, there are lots of different versions of Charles Dickens' masterwork playing around town. But the best one for families is by TheatreWorksUSA at the Kaye Playhouse. This hour-long musical adaptation introduces kids to all the iconic characters, including Tiny Tim, Bob Cratchit and, of course, Scrooge himself. A wonderful way to celebrate the spirit of the holiday.
Find lots of other seasonal fun in our Holiday Guide and great gift ideas in our NYC Shopping Local Gift Guide.