Best Places to Trick-or-Treat on Halloween for New York City Kids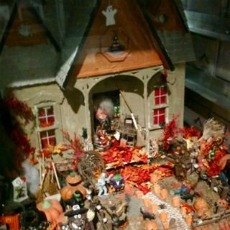 While trick-or-treating in your building is great for adults because it feels so safe and convenient, it's nowhere near as exciting for kids as getting to run around the city streets at night going door-to-door. One of my favorite childhood memories from growing up in NYC was Halloween in Greenwich Village. Back then, the Village Halloween Parade was just a couple hundred artists and freaks who marched through the neighborhood, so it felt more like a community affair. Afterward, we would trick-or-treat up and down the brownstone blocks. Everyone was really friendly, and we would come home with our shopping bags completely filled. It was magical.
Although the parade and Greenwich Village have changed a lot since then, your kids can still enjoy that kind of thrilling trick-or-treat experience in many other New York City neighborhoods. On Friday, October 31, join one of the smaller kid-friendly Halloween parades and then go trick-or-treating throughout the community with local families. Or hit an area where residents are well known for doling out candy. A few neighborhoods are so well organized, they even hand out maps of participating houses!
Over the years, we've expanded our list by asking our readers where they go, so we have a slew of spots to try in all five boroughs. If your favorite haunt is missing, please let us know in the comments. For more seasonal fun and important October 31 safety tips, check out our jam-packed Halloween Guide.
Upper West Side
For years there has been a huge party on 69th Street near Central Park West with candy, entertainment and cops controlling the crowds. In fact, it's gotten so popular the block association has decided to stop distributing treats around 7pm in order to get revelers to disperse. This is where many Upper West Side kids head for great door-to-door trick-or-treating so be prepared to battle the hordes.
Reader Howard says, "79th Street between Columbus and Amsterdam Avenues is great. All the prewar buildings decorate their lobbies and hand out candy to kids. Really cool." And reader Nina says to try 78th Street between Columbus and Amsterdam Avenues, too.
Amy, one of our readers, recommends 87th Street between Broadway and West End Avenue. "The whole block gets decked out, brownstone to brownstone!"
One of our contributors who lives in the neighborhood says that 90th Street between Columbus and Amsterdam Avenues is also a good bet, and a lot less busy.
Ani says that "95th Street between Columbus Avenue and Central Park West is closed to traffic and all the brownstones are decked out and hand out candy. Lots of fun!"
Upper East Side
For decades, 78th Street between Park and Lexington Avenues has been the go-to block for Upper East Side trick-or-treating, and readers report there's still plenty of fun to be had there despite the 2011 departure of the original organizers.
Every year, 92nd Street between Park and Madison Avenues is closed to traffic for a Halloween Spooktacular from 5 to 6:30pm. In addition to treats and ghoulish decorations, there's a costume contest with prizes awarded in different age categories, as well as best family and best pet.
The neighborhood on the whole seems to be wild about Halloween. Once you've had your share of fun on 92nd Street, head north. We've heard town houses and doormen on 94th Street between Park and Lexington Avenues dole out goodies and one of our readers, Amanda, recommends 95th Street between Park and Lexington Avenues. "Lots of candy and the brownstone mansion on the corner even has gaslights!"
Harlem
In recent years, Harlem has become a hotbed of Halloween activity. The Mount Morris Park Community Improvement Association sponsors trick-or-treating near Marcus Garvey Park. Visit the website on Thursday, October 30 to download a map of participating houses.
Astor Row, 130th Street between Fifth and Lenox Avenues, and Strivers' Row, 138th and 139th Streets between Adam Clayton Powell Jr. and Frederick Douglass Boulevards, are also good bets.
Harlem resident Jessica recommends Hamilton Terrace between 141st and 144th Streets. "The brownstones are all made up to look spooky. My family and I start around 147th Street and also visit some of the brownstone blocks between St. Nicholas and Convent Avenues and work our way down. The kids have a lot of fun and it almost feels like trick-or-treating in the 'burbs."
Washington Heights
Reader Pedro advises, "Hit Broadway between 168st and 181st Streets. High volume of all sorts of candy." Given the street, we're guessing it's mostly stores doling out sweets, not residents.
Inwood
Reader Beth says nothing beats 217th Street between Park Terrace East and Park Terrace West. "The house on the corner of 217th Street and Park Terrace West sets up a not-too-scary haunted house in its garage, and a nearby home puts some kind of window covering with huge eyes in its attic window. And there are always residents standing on their stoops with bowls of candy waiting for trick-or-treaters." We've also heard that many of the stores on Dyckman Street give out treats.
Greenwich Village
From 3-6pm, you can hit the Greenwich Village Children's Halloween Parade and Party in Washington Square Park. Afterward, stay far away from Sixth Avenue and the big Parade. Instead, make your way to the West Village for the real neighborhood experience.
East Village
Local mom Kathleen says, "Although there are no special blocks that do Halloween with a vengeance, Avenue A is fun because all the shops, bars and restaurants give out candy. Often, a large group of families meet at Tompkins Square Park and let the kids run around for a while, and then we all head out to trick-or-treat together. Just get the littlest ones home by about 8pm because there is a lot of drinking that night in the East Village."
Chelsea
This is a big one that we've done many times: Families gather in Clement Clarke Moore Park—known by locals as "Seal Park"—on Tenth Avenue at 22nd Street around 6pm, and then walk up and down the brownstone blocks around the General Theological Seminary. Expect 21st and 22nd Streets between Ninth and Tenth Avenues to be jam-packed, but you'll also find houses giving out treats between Eighth and Ninth Avenues. It's an unforgettable experience.
Tribeca
We typically don't like trick-or-treating in stores, but Tribeca businesses decorate to the hilt and throw open their doors to greet the kids. It's a nice scene and Japanese sweets from Nobu or homemade cookies from Bouley are hard to resist! The hot spots are Duane, Reade, Greenwich and Hudson Streets.
Lower East Side
One of our favorite NYC sweet shops, Economy Candy, hands out free treats to all costumed kids from 3:30-5:30pm. In fact, pretty much any candy, chocolate or dessert store is a good bet on October 31, even though that's not necessarily an authentic door-to-door experience.
Soho
Reader Katrin recommends the shops on Greene Street between Prince and Spring Streets. "It's the main destination for Soho kids."
Brooklyn
Brooklyn is home to an incredible number of kid-friendly Halloween parades. This year, there will be processions on Friday, October 31 in Park Slope, Cobble Hill, Dumbo, Greenpoint, West Midwood and Prospect Park South, after which kids trick-or-treat in those neighborhoods. Joining the parades is the best bet in terms of figuring out exactly which blocks to hit.
Reader Gabrielle recommends Fort Greene. "I would say anywhere around Clinton Avenue and Lafayette Avenue where the Halloween 313 House is [the exact address is 313 Clinton Avenue]." Every October 31 in addition to candy, families are treated to an original one-night-only Halloween-themed show. This year's edition is Nightmare on Clinton Avenue and you can catch it every half hour between 5:30 and 9:30pm.
Halloween is definitely big in Bay Ridge. There's the annual Haunted Halloween Walk & Fairytale Forest in Owl's Head Park, Colonial Road and 67th Street from 3:30 to 9pm ($1 suggested donation) featuring a pumpkin patch, coloring and costume contests, rides, face painting and sweets. But for trick-or-treating, reader Isabelle suggests, "Fifth Avenue between 68th and 86th Streets. It's full of stores waiting for kids with candy."
For the eighth year in a row, Bedford-Stuyvesant is hosting door-to-door trick-or-treating 4:30 to 7:30pm on Halsey Street, Jefferson and Putnam Avenues, between Tompkins and Throop Avenues. You can print out a trick-or-treat map, pick one up at many local stores, or just show up and follow the orange and black balloons.
Reader Iris turned us on to the Lefferts "Safe Walk" Trick-or-Treat Route. On October 31 at 5:30pm, the NYPD stops traffic on select neighborhood streets so families can go candy hunting door-to-door without having to worry about cars. This year's walk starts at Rutland Road and Flatbush Avenue and ends at the 71st Precinct on Empire Boulevard. You can find the exact route here.
Brooklyn Heights' charming streets are anything but dead on Halloween. The over-the-top Garden Place and Grace Court Alley are the epicenter of the Halloween celebration, but side streets offer laid-back trick-or-treating, too.
Another reader recommendation from Melanie: "Smith Street is a great spot for businesses handing out candy, and all the streets between Court and Hoyt Streets, especially Dean and Warren Streets. Everyone hangs out on their stoops passing out candy...honestly all of Brooklyn is pretty good!"
Queens
Queens also has lots of great trick-or-treating spots. A few years back, our Queens maven, Leni, offered this tip: "Kew Gardens is a little hamlet tucked away from the main drag of Queens Boulevard, and a little east of the very popular Forest Hills. The intersection of Austin Street and Lefferts Boulevard is Queens' best place to take kids of all ages to trick-or-treat. There are small stores up and down Lefferts that give out candy and even people walking the streets with bags of treats. The nearby apartment buildings from 83-33 Austin Street and down toward Hillside Avenue all open their doors to trick-or-treaters. These are great ideas for little ones who need to stay warm, or in case of rain."
Reader Jewels says, "I have heard Steinway Street in Astoria is a cool location for trick-or-treaters." Of course there are only businesses on Steinway, and reader Karol adds, "I go early, 4 to 5:30pm. After that, the stores often have signs saying, 'No more candy.'" Head to Crescent Street between Hoyt Avenue South and Ditmars Boulevard if you're looking to hit houses. Plus there will be a Halloween celebration on the blacktop next to the Astoria Heights Playground from 6 to 8pm with games, a costume contest and candy stations.
Of course, families also flock to the super-popular Jackson Heights Halloween Parade, and then stick around to trick-or-treat in the neighborhood. There are also parades in Maspeth and Ridgewood.
The planned community of Sunnyside Gardens in Sunnyside has been a major Halloween destination for years. Afterward, hit the nearby restaurants and stores along Greenpoint Avenue, Queens Boulevard and Skillman Avenue for even more loot.
A reader told us Flushing gets pretty busy. "166th Street between 45th and 46th Avenues gets 600 to 700 kids consistently every year. Everyone on the whole block typically sits in front of their houses dressed up and giving out candy."
The Bronx
The Morris Park section is surrounded by single-family houses. The homes on Morris Park and Hone Avenues always give out sweets.
Our Bronx blogger Sonia recommends Astor and Waring Avenues between Eastchester Road and Esplanade in Pelham Gardens. We also hear that the Pelham Bay area is great. People go all out with their decorations and hand out sweets.
Reader Angel advises to try "near Van Cortlandt Park on the west side" in the Kingsbridge/Riverdale section. Local stores along 231st Street near Broadway also give out candy.
The picturesque City Island is hosting its annual Halloween parade followed by trick-or-treating when families dole out treats from their porches.
Staten Island
Our Staten Island blogger Nataki says, "My family and I start in St. George and walk down to Stapleton. It's really fun!
Meanwhile, Ellie says, "The homes on Ward Avenue in Tompkinsville and Harvard Avenue in New Brighton are known for giving out candy."
Really, any part of NYC that has more houses than apartment buildings is a good bet for door-to-door trick-or-treating on Halloween. Just look around you!
Did we miss your favorite place to go trick-or-treating in NYC? Share the info in the comments below! We're always looking to add to our list.
For more seasonal fun, check out our Halloween Guide.
Sign up for our FREE newsletters to get posts like this delivered to your inbox.
A previous version of this post was originally posted in October 2008