Pumpkin Patches Near NYC Where Kids Can Pick Their Own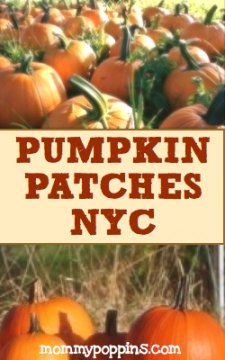 It seems as if every store has put up its spooky displays and decorations, so we can't deny it any longer: The Halloween season is upon us! And what's All Hallows' Eve without the perfect pumpkin? Sure you can grab one from the local farmers' market, grocery store or one of the few pumpkin patches right here in New York City in a pinch. But for a more immersive experience, head to the country to pick your own pumpkin this fall. Many of these farms and orchards offer additional activities for kids, such as hayrides, bouncy houses, corn mazes and apple picking, so you can extend your hunt into a family day trip.
Like our recent profile of nearby pick-your-own-apple orchards, these 12 pumpkin patches are all about an hour from Midtown Manhattan by car. We even found a few reachable via public transportation. 
Keep in mind, many of these farms set out pumpkins in a field for kids to "pick," so the fruit has already been cut from the vine. We've noted when this is not the case for purists looking for a more authentic (and labor-intensive) experience.
One important note: It's imperative that you call ahead to confirm hours, pricing, availability and attractions, otherwise you might find the crop gone or the place closed, and that's a Halloween season scare that isn't such a treat.
(Sign up for our FREE newsletters to get the latest Halloween coverage and more delivered right to your inbox.)
This tot takes a break from a fall pumpkin outing in New York. Photo by Lee Ruk via Flickr.
Westchester County, New York
Stuart's Farm – Granite Springs
62 Granite Springs Road
914-245-2784
Approximately 1 hour by car from Midtown Manhattan
The pumpkins here are actually on the vine, not trucked in from elsewhere and dumped on the ground. This family-run farm also offers no-frills apple picking. Don't worry if your little ones don't have the energy to trek around: The fields are stroller-friendly and there are hayrides on weekends.
Outhouse Orchards – North Salem
139 Hardscrabble Road
914-277-3188
Approximately 1 hour by car from Midtown Manhattan. Also accessible via Metro-North.
This apple picking favorite has added a pumpkin patch to its attractions, which include hayrides and a corn maze. Note: There is a fee for parking and, in past seasons, poison ivy, though it's always clearly marked. No car? No problem! You can take Metro-North to the Croton Falls Station and then catch a cab to the farm.
Harvest Moon Farm & Orchard – North Salem
130 Hardscrabble Road
914-485-1210
Approximately 1 hour by car from Midtown Manhattan. Also accessible via Metro-North.
Located directly across the street from Outhouse Orchards, this family-run farm offers a variety of pumpkins and gourds in its patch. On weekends from September 12 through October 31 (and Columbus Day), there are lots of additional attractions for kids, including hayrides, farm animals, bouncy castles and live music. This farm is also near the Metro-North Croton Falls Station.
Wilkens Fruit & Fir Farm – Yorktown Heights
1335 White Hill Road
914-245-5111
Approximately 1 hour by car from Midtown Manhattan. Also accessible via Metro-North.
While apple picking is already going on, Wilkens' pumpkin patch is scheduled to open on Thursday, October 1. The grounds are a bit hilly, so free hayrides are offered. No car? You can take Metro-North to the Croton-Harmon Station and then a 20-minute taxi ride to the farm. Be warned: This place reportedly gets very crowded.
RELATED: Pumpkin Picking in Westchester and Hudson Valley
A Dutchess County pumpkin patch by Tim Evanson via Flickr.
Morris, Bergen and Somerset Counties, New Jersey
Secor Farms – Mahwah
85 Airmont Avenue
201-529-2595
Approximately 40 minutes by car from Midtown Manhattan
While this picturesque farm specializes in flowers and plants, it also grows a bumper crop of pumpkins accessible via hayride. Other attractions include a corn maze and live animals.
Alstede Farms – Chester
1 Alstede Farms Lane
908-879-7189
Approximately 1 hour by car from Midtown Manhattan. Also accessible via New Jersey Transit.
In addition to pumpkin and apple picking, this farm offers a ton of activities including a 10-acre corn maze. Plus, you don't need a car to get here. Take New Jersey Transit to the Gladstone Station and call Village Taxi for a lift to the farm. There are various admission packages available.
Sun High Orchard – Randolph
19 Canfield Avenue
973-584-4734
Approximately 1 hour by car from Midtown Manhattan
A less commercial experience, this apple-picking place also features a pumpkin patch that is open daily through Halloween. Make sure you spend some time with the resident donkey and alpaca. Hayrides are also available on weekends.
Demarest Farms – Hillsdale
244 Wierimus Road
201-666-0472
Approximately 35 minutes by car from Midtown Manhattan
Just across the Hudson River, this popular apple-picking spot in northern New Jersey also offers pick-your-own pumpkins. Admission includes a hayride, fresh apple cider, donuts and time with the farm animals.
Riamede Farm – Chester
122 Oakdale Road
908-879-5353
Approximately 1 hour by car from Midtown Manhattan
Bring your own shears and snip a pumpkin right off the vine! Seriously, Riamede won't cut them for you—it's DIY. However, the farm does offer a complimentary hayride to the picking field on weekends and Columbus Day. You can also pick your own apples in several varieties including heirlooms.
RELATED: Find Pumpkin Patches in New Jersey for Kids 
Suffolk County, Long Island
Elwood Pumpkin Farm – Huntington
1500 East Jericho Turnpike
631-368-8626
Approximately 50 minutes by car from Midtown Manhattan
Kids can pick pumpkins off the vine right where they grow, take a hayride and navigate a tiny corn maze.
F&W Schmitt's Family Farm – Melville
26 Pinelawn Road
631-271-3276
Approximately 50 minutes by car from Midtown Manhattan
This Long Island spot is super-popular thanks to its giant corn maze, pumpkin patch playground and hayrides. For adults, there's a scary haunted house, and a milder version for older kids. Admission times and prices vary by date. Visit the website for a complete schedule.
Albert H. Schmitt Family Farms – Dix Hills
6 Bagatelle Road
631-549-3276
Approximately 50 minutes by car from Midtown Manhattan
Pick your own pumpkins at this local family nursery and farm, which also offers a slew of activities on weekends and Columbus Day, like hayrides, a bouncy house, a fire truck slide and a toddler play area.
RELATED: Best Pick-Your-Own Pumpkin Patches on Long Island
Things to Know Before You Go
We know we've said this before, but it's important so we're going to repeat ourselves: Make sure you call ahead to confirm hours, pumpkin availability and attractions. Many orchards are small, family-run establishments that close unexpectedly. A Mommy Poppins staffer once made a trip to a farm only to find the entire place shut down for a family funeral.
Keep in mind that the approximate driving times listed do not include traffic. And sadly, you're probably going to run into some.
Leave your pets at home. Most farms don't allow them.
If you're thinking of packing a picnic, call ahead to make sure the farm allows you to bring your own food.
Bring cash or call to confirm that the farm accepts credit or debit cards. Many of the smaller ones are cash only.
Pumpkin picking season usually starts around October 1. Don't wait too long to go, though, or you risk coming home without a jack-o'-lantern.
For other fun farm outings, including apple and pumpkin picking all over the tri-state area, check out our Farm Guide.
Sign up for our FREE newsletters to get posts like this delivered to your inbox.