Best Free Halloween Events for Kids in New York City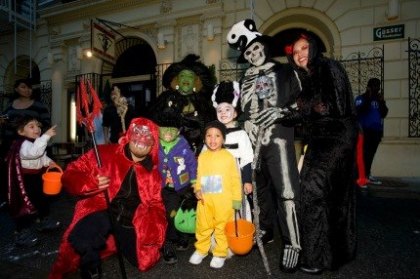 What's the one way to make a costume and candy filled Halloween celebration even sweeter? Make it FREE. In New York City there are so many no-cost fetes, we've decided to give parents a real treat: a roundup of FREE Halloween events for kids in all five boroughs, including big annual family favorites like Fort Greene's BAMboo! block party, the Halloween Parade and Pumpkin Flotilla in Central Park and the one-night-only theatrical spectacle at Brooklyn's Halloween 313 house.
So bring your trick-or-treat bags, but leave your wallets at home for these gratis happenings, and then check out our Halloween Fun Guide for details on the best costume parades, trick-or-treat spots and other seasonal activities.
Sign up for our FREE newsletters to get posts like this delivered to your inbox.
Click through to our listings for all the details, including address, time and recommended ages.
Weekend of October 10-11

Find your jack-'o-lantern at the Greenbelt Pumpkin Festival. Photo courtesy of the Staten Island Greenbelt.
Greenbelt Pumpkin Festival — Staten Island
Saturday, October 10
Head to the Carousel for All Children for face painting, performances of Tales of Brier Rabbit by the CityParks PuppetMobile, seasonal crafts and games, and a pumpkin patch. Note: All entertainment is FREE but merry-go-round rides cost $1.50.
Jefferson Market Garden Children's Harvest Festival — Greenwich Village
Saturday, October 10
Pick and decorate tiny pumpkins, make fall crafts and enjoy country fun like raking leaves and jumping in big bales of straw. The nearby Jefferson Market Library sponsors live entertainment, too. FREE
Bats at Belvedere — Central Park
Saturday, October 10
Get up close and personal with the nocturnal creatures who haunt Central Park all year long. Learn about the bats that live in NYC and how to spot them in the wild. FREE
Harvest Festival — Bay Ridge
Get into the spirit of the season at Narrows Botanical Gardens' annual celebration featuring a pumpkin patch and a canine costume parade. FREE
Weekend of October 17-18

Celebrate Day of the Dead at El Museo del Barrio.
Super Sabado! Día de los Muertos — East Harlem
Saturday, October 17
Technically El Museo del Barrio's fiesta marks Day of the Dead, not Halloween. However, a lot of the trappings are the same. Enjoy flower and skull face painting, holiday crafts, storytelling, dancing and a spooky procession from the nearby Dana Discovery Center to the museum. FREE
Fall Harvest Festival — Forest Hills
Saturday, October 17
Hit Forest Park for this annual shindig featuring pumpkins to pick, kiddie games, live entertainment and other seasonal fun. FREE
Rockaway Fall Festival — Rockaway
Sunday, October 18
Celebrate in Bayswater Park with a pumpkin patch, pony and hayrides, and live entertainment. FREE
Weekend of October 24-25
Haunted Lantern Tours — Bayside
Friday, October 23-Saturday, October 24
Are you brave enough to tour the historic Water Battery in Fort Totten Park after sundown? If so, join the Urban Park Rangers on a scary, historic adventure. FREE
Halloween Festival — Bayside
Saturday, October 24
More Halloween fun in Fort Totten Park! Hit the Parade Grounds for an afternoon fest featuring games, rides, crafts, a costume contest, a pumpkin patch and no-cost goodie bags while supplies last. FREE
Harvest Festival — Brooklyn Heights
Saturday, October 24
Hit Brooklyn Bridge Park's Pier 6 for a pumpkin patch, a photo booth, storytelling, volleyball games and an obstacle course. Live music rounds out the festivities. FREE
Halloween Harvest Festival — Long Island City
Saturday, October 24
Head to Socrates Sculpture Park for crafts, seasonal eats, a canine costume contest and face painting by the fabulous Agostino Arts. FREE
Children's Harvest Festival — Upper East Side
Saturday, October 24
Head to Carl Schurz Park for a small pumpkin patch, hayrides and a rocking concert by a local family band. FREE
Harvest Festival — Meatpacking District
Saturday, October 24
Enjoy a day of seasonal fun in Gansevoort Plaza courtesy of the Meatpacking District Improvement Association. Face painting, crafts, storytelling, live music and tasty eats from local restaurants are all on tap. FREE
Haunted High Line Halloween — Chelsea
Saturday, October 24
Trick-or-treat your way through the elevated park's creepy past. Dip into an old-time photo booth, get your face painted by Agostino Arts, go on a spooky scavenger hunt and enjoy seasonal stories and puppet shows.

Gawk at costumed canines at the annual Tompkins Square Halloween Dog Parade.
Tompkins Square Halloween Dog Parade — East Village
Saturday, October 24
Halloween truly goes to the dogs at this annual procession of pimped-out pooches. Bring your canine in costume and register at the door to compete for cool prizes, or just come and gawk at the adorable dogs. FREE to watch, suggested $5 to compete
Halloween Haunted Walk and Halloween Fair — Prospect Park
Saturday, October 24
Grab your tweens and hike to Lookout Hill, which will be filled with zombies, wolf men, headless horsemen, witches and other creepy characters. Afterward, head to the Nethermead for an all-ages Halloween-themed fair with games, treats and other fun. FREE
Creepy Crawly Halloween — Prospect Park
Saturday, October 24-Sunday, October 25
Head to the Audubon Center to watch a snake eat its live dinner, go on an insect walk and dissect owl pellets. FREE
Halloween Parade and Party — Tribeca
Sunday, October 25
Washington Market Park's popular annual party kicks off with a costume parade from CitiGroup Plaza to the green space. Once inside, a dozen free activities await including penny-in-a-haystack, a bone dig in the sandbox, a hay circle on the lawn and other classics. FREE
Halloween: Parade and Pumpkin Flotilla — Central Park
Sunday, October 25
Bring your jack-o'-lantern to the Dana Discovery Center and then watch it sail away at dusk on the Harlem Meer. Crafts, spooky stories, live music and a costume parade around the northeastern edge of the park are also on tap. FREE
Monday, October 26-Friday, October 30
NYC Parks Presents Walking Dead Invades — Lower East Side
Wednesday, October 28
Tweens should love this zombie-themed after-school fest, featuring a haunted house, pumpkin picking and decorating, and a "Dare Table." FREE
Fall Fest at Sherman Shriek Park — Washington Heights
Thursday, October 29
The usually serene Swindler Cove in Sherman Creek Park transforms into a Halloween destination with pumpkin decorating, face time with birds of prey, craft and costume making, and a screening of Hocus Pocus. FREE
Haunted Greenbelt Walk — Staten Island
Thursday, October 29
Tweens can take a nighttime hike through the green space while enjoying spine-tingling tales about the wild creatures all around them. FREE
NYC Parks Presents Circus of Horrors — Harlem
Friday, October 30
Hit the Jackie Robinson Rec Center for a not-too-scary afternoon of pumpkin picking and decorating, and carnival games. Costumes encouraged! FREE
Haunted House and Pumpkin Party — the Bronx
Friday, October 30
There's Halloween fun for all ages at the Williamsbridge Oval Recreation Center. Tots can enjoy pumpkin decorating, carnival games and a costume contest while teens can brave the haunted house with live zombies, scary clowns and indescribable creatures. FREE

Enjoy spooky fun at both Asphalt Green athletic complexes.
Asphalt Screams — Upper East Side & Battery Park City
Friday, October 30
Both Asphalt Green locations are throwing Halloween-themed shindigs. Grab a few ghoulish goodies and enjoy games of Zombie Freeze Tag, a Spooktacular Soccer Shootout and more. The first 500 children to arrive will snag goody bags. FREE but online RSVP required and donations encouraged.
Trick-or-Treat with Midtown East — Midtown East
Friday, October 30
Head to Tramway Plaza to pick up bags and then stroll through the neighborhood collecting treats along the way. Once you're loaded with loot, have your face painted, pose in the photo booth or head to Whole Foods for a screening of Hocus Pocus. FREE
Saturday, October 31
Brookfield Place Halloween Party — Battery Park City
Saturday, October 31
Hit the lovely Winter Garden glass atrium for high-end Halloween fun like a costume catwalk, geeky tricks by Carmelo the Science Fellow, live performances, trick-or-treating and a climactic neighborhood costume parade. FREE
Fort Greene Park Halloween Festival — Fort Greene
Saturday, October 31
One of the best bashes in Brooklyn! The green space comes alive with horse-drawn hayrides, old-fashioned games, face painting, stilt walkers, roaming entertainers, a costume parade, a pumpkin patch with more than 1,000 gourds to give away, and even a costume contest for dogs and their owners. Rain, snow or shine. FREE
Wonderween at Sony Wonder Technology Lab — Midtown East
Saturday, October 31
This activity-packed museum hosts its annual day of spooky screenings for the preschool set. Catch Elmo Says Boo, Halloween-themed Dora the Explorer, Go, Diego, Go and Yo Gabba Gabba episodes and the original Ghostbusters. Kids can also enjoy crafts and goodies. Note: Screenings require a separate ticket and reservations can be made beginning two weeks in advance. Call ahead 212-833-8100, ext. 3 or email swtlprgmsrsvp@sonyusa.com to reserve your seats. FREE
LC Trick-or-Treat — Upper West Side
Saturday, October 31
Don your costume for this brand-new celebration where wee ones can trick-or-treat throughout Lincoln Center's plazas, and join a costume parade with live music. FREE

Catch a one-night-only creep show at Halloween 313. Photo © Chris Franko.
Halloween 313 — Clinton Hill
Saturday, October 31
Every Halloween, the creative volunteers at this house (including lots of theater design pros) put on a one-night-only, one-of-a-kind, over-the-top creep show for all ages. This edition is titled Malice in Underland. Revelers come from all five boroughs to watch, so arrive early to snag your spot. FREE
BAMboo! — Fort Greene
Saturday, October 31
Kick off your trick-or-treating in the afternoon at BAM's annual free community event. This year's theme is Monster Mash and there will be plenty of treats, games and a costume contest to get your holiday off on the right foot. FREE
Halloween Festival — Flushing
Saturday, October 31
Head to Flushing Town Hall for this family-friendly fest. Come in costume to smash pumpkin pinatas, hear spooky stories, make your own mask and more. FREE
And if you're wondering about longtime favorites the Central Park Pumpkin Festival and Trinity Church's Hometown Halloween, neither are happening in 2015.
For more seasonal fun check out our Halloween Guide.
Top photo: Get all amped up for trick-or-treating at the Brooklyn Academy of Music's annual BAMboo! afternoon block party.
This post was originally published in October 2009.