32 Free Halloween Events for Kids in New York City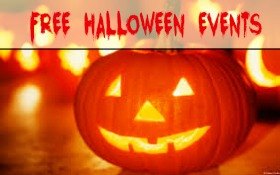 Every October, New York City hosts a terrifying number of Halloween activities. In fact, there are so many great ways to celebrate, you may need a Magic 8 Ball to decide where to go. Luckily, your kids will be so hopped up on candy, they'll probably have the energy to hit several events in one day.
In honor of the season, we've decided to give parents a real treat: Halloween fun that's easy on the wallet. We've rounded up 32 FREE Halloween events for kids in all five boroughs, including big annual family favorites like Fort Greene's BAMboo! street fair, the Halloween Parade & Pumpkin Flotilla in Central Park and the one-night-only theatrical spectacle at Clinton Hill's Halloween 313 House. Read on to find out where and when you can see spooky stilt-walkers, hop on hayrides, visit haunted houses and get the whole family dressed up--even the dog. Then check our Halloween Guide for even more ways to celebrate the season.
Sign up for our FREE newsletters to get posts like this delivered to your inbox.
Click through to our listings for all the details, including address, time and recommended ages.
Weekend of October 11-12
Greenbelt Pumpkin Festival – Staten Island
Saturday, October 11
FREE
Head to the wonderful Carousel for All Children for face painting, puppet shows, themed crafts, games and a pumpkin patch. Rides cost $1.50.
Jefferson Market Garden Children's Harvest Festival – Greenwich Village
Saturday, October 11
FREE
Pick and decorate tiny pumpkins, make seasonal crafts and enjoy country fun like raking leaves and jumping in big bales of straw. The nearby Jefferson Market Library sponsors live entertainment, too. Rain date: Sunday, October 12.
Bats at Belvedere – Central Park
Saturday, October 11
FREE
Get up close and personal with the nocturnal creatures that haunt Central Park all year long. This presentation will feature live bats, and teach families how to spot and identify these spooky critters in their natural habitat.
Children's Harvest Festival – Upper East Side
Sunday, October 12
FREE
Rescheduled from Saturday, October 11 due to rain. Head to Carl Schurz Park for hayrides, a pumpkin patch and a performance by Funkytown Playground.
 
Weekend of October 18-19
Fall Kids' Fest – Flatiron
Saturday, October 18
FREE
Madison Square Park's annual fest is a huge annual favorite. Enjoy no-cost treats, face painting, a pumpkin patch, live bands and a costume parade. New this year: the nearby Lego Store is hosting a Halloween-themed mini-model build and Downtown United will stage soccer games. Arrive early! It gets mobbed fast.
Super Sabado! Día de los Muertos – East Harlem
Saturday, October 18
FREE
OK, technically the theme of El Museo del Barrio's fiesta is the Day of the Dead, not Halloween, but a lot of the trappings are the same. Enjoy flower and skull face painting, traditional arts and crafts, storytelling, dancing and a spooky procession from the nearby Dana Discovery Center to the museum.
Meet R.L. Stine – Soho
Saturday, October 18
FREE
The author will read from his most recent Goosebumps Most Wanted book, Zombie Halloween, and share some of his all-time favorites. The spooky fun is best suited for children ages 6 and up.
Pooch Parade and Howl-Ween – Staten Island
Saturday, October 18
FREE
Costumed canines compete at Wolfe's Pond Park's annual holiday shindig. Categories include best costume, largest/smallest dog and best pet-parent match. There will also be a doggie obstacle course.
 
Weekend of October 24-26
Dracula's Castle – Harlem
Friday, October 24
FREE
Dare to enter the Jackie Robinson Recreation Center, which will transform into a vampire's lair for the evening. Halloween-themed games and tasty treats are also on tap.
Haunted Lantern Tours – Bayside
Friday, October 24-Saturday, October 25
FREE
Are you brave enough to tour the historic Water Battery in Fort Totten Park after sundown? If so, join the Urban Park Rangers on a scary, historic adventure.
Harvest Festival – Brooklyn Heights
Saturday, October 25
FREE
Hit Brooklyn Bridge Park's Pier 6 for a pumpkin patch, a photo booth, storytelling, volleyball games and an obstacle course. Live music from the Space Racers Band and Astrograss, and a dance party with DJ Kai Song round out the festivities.
Halloween Harvest Festival – Long Island City
Saturday, October 25
FREE
Visit Socrates Sculpture Park for an artsy fest. Enjoy crafts, harvest-themed foods, a canine costume contest and get your face painted by the fabulous artists of Agostino Arts.
Wonderween at Sony Wonder Technology Lab – Midtown East
Saturday, October 25
FREE
This activity-packed museum hosts its annual day of spooky screenings for the preschool set. Catch Elmo Says Boo, Halloween-themed Dora the Explorer, Go, Diego, Go and Yo Gabba Gabba episodes, and other holiday screenings. Kids can also enjoy crafts and goodies. Note: Screenings require a separate ticket. Call ahead to reserve your seats: 212-833-8100, ext. 3.
Harvest Festival – Meatpacking District
Saturday, October 25
FREE
Enjoy a day of seasonal fun in Gansevoort Plaza courtesy of the Meatpacking District Improvement Association. Face painting, crafts, storytelling, live music and tasty eats from local restaurants are all on tap.
Haunted High Line Halloween – Chelsea
Saturday, October 25
FREE
Trick-or-treat your way through the elevated park's creepy past. Brave the haunted tunnel made by local students, work on oversize seasonal crafts and go hunting for treats with history-inspired characters like the Mad Cookie Man and the West Side Cowboy.
Puppetry Arts Haunted Halloween Carnival – Park Slope
Saturday, October 25
Free admission but there are fees for certain activities
Hit the First Street Recreation Center for games and crafts, a haunted house, a bouncy house, a costume contest and appearances by Star Wars characters. The first 200 kids to arrive snag trick-or-treat bags filled with goodies.
Tompkins Square Halloween Dog Parade – East Village
Saturday, October 25
FREE
Halloween truly goes to the dogs at this annual procession of pimped-out pooches. Bring your canine in costume and register at the door to compete for cool prizes, or just come and gawk at the adorable dogs.
Fort Greene Park Halloween Festival – Fort Greene
Saturday, October 25
FREE
One of the best bashes in Brooklyn, the green space comes alive with horse-drawn hayrides, old-fashioned games, face painting, stilt walkers, roaming entertainers, a costume parade, a pumpkin patch with more than 1,000 no-cost gourds to give away, and even a costume contest for dogs... and their owners. Rain date: Sunday, October 26.
Halloween Haunted Walk and Carnival – Prospect Park
Saturday, October 25
FREE
Hike to Lookout Hill, which will be filled with zombies, wolf men, headless horsemen, witches and other creepy characters. Afterward, head to the Nethermead for a Halloween-themed carnival with games, treats and other fun.
Clifford's Halloween Parade – Soho
Saturday, October 25
FREE
Put on your holiday best and head to the Scholastic Store for a quick parade around the neighborhood. Afterward, hang out with Clifford the Big Red Dog, craft creepy treat bags and participate in a costume contest.
Creepy Crawly Halloween – Prospect Park
Saturday, October 25-Sunday, October 26
FREE
Head to the Audubon Center at the Boathouse for face time with spiders, worms and other icky creatures that are sure to make your skin crawl. Afterward, kids can make creepy crafts and participate in hands-on experiments.
Brookfield Place Halloween Party – Battery Park City
Sunday, October 26
FREE
Hit the lovely Winter Garden glass atrium for a host of high-end Halloween Fun. Enjoy a costume catwalk, a Freaky Photo Op Mosaic Wall, geeky tricks by Carmelo the Science Fellow, storytelling, live music, a virtual reality environment courtesy of Pixel Academy, trick-or-treating and a climactic neighborhood costume parade.
Halloween Parade and Party – Tribeca
Sunday, October 26
FREE
Washington Market Park's popular annual party kicks off with a costume parade from CitiGroup Plaza to the park. Once inside, a dozen free activities await including penny-in-a-haystack, a bone dig in the sandbox, a hay circle on the lawn and other classics.
Halloween: Parade & Pumpkin Flotilla – Central Park
Sunday, October 26
FREE
Bring your jack-o'-lantern to the Dana Discovery Center and then watch it sail away at dusk on the Harlem Meer. Other activities include arts and crafts, spooky stories, live music and a costume parade around the northeastern edge of the park. This event gets more and more crowded every year so arrive early! Bonus: Your kids can romp at the recently renovated East 110th Street Playground.
Shocktoberfest – Flushing
Sunday, October 26
FREE
Haunted hay rides, a pumpkin patch and inflatables highlight this annual Flushing Meadows Corona Park fete. There will also be crafts, games, live music and more.
 
Friday, October 31
Hometown Halloween – Financial District
Friday, October 31
FREE
Kids of all ages are invited to trick-or-treat in Trinity Church's historic graveyard. At 5:30pm, families with tweens and up can catch a screening of the silent 1925 classic The Phantom of the Opera inside the church with spooky organ accompaniment.
A Haunting We Will Go – Staten Island
Friday, October 31
FREE
Before you go out trick-or-treating, hit the playground for Halloween crafts, haunted games and a costume contest.
Haunted House Maze – Bronx
Friday, October 31
FREE
Zombies and ghosts take over the Williamsbridge Oval Recreation Center in honor of the holiday. Arts and crafts and trick-or-treating are also on tap.
Halloween Remixed – Flushing
Friday, October 31
FREE
Celebrate Día de los Muertos, Halloween and All-Saints Day at Flushing Town Hall's jam-packed multicultural fest where kids can make masks, All-Saints Day Medallions, Mexican sugar skulls and listen to ghost stories.
Asphalt Screams – Upper East Side & Battery Park City
Friday, October 31
FREE but online RSVP required
Both Asphalt Green locations are throwing zombie-themed shindigs. Grab a few ghoulish goodies and enjoy games of Zombie Freeze Tag, a Spooktacular Soccer Shootout and more. The first 400 children to arrive will snag goody bags. Although free, a $20 per family donation is encouraged.
BAMboo! – Fort Greene
Friday, October 31
FREE
Kick off your night of trick-or-treating at BAM's annual free community event. This year's theme is Around the World. There will be plenty of treats, games and a costume contest to get your holiday evening off on the right foot.
Halloween 313 – Clinton Hill
Friday, October 31
FREE
Every Halloween, the creative volunteers at this house (including lots of theater design pros) put on a one-night-only, one-of-a-kind, over-the-top creep show for all ages. This 20th-anniversary edition is titled Nightmare on Clinton Avenue, and it's an old-fashioned murder mystery inspired by the very first show back in 1994. Revelers come from all five boroughs to watch, so arrive early to snag your spot.
For more seasonal fun check out our Halloween Guide.
Sign up for our FREE newsletters to get posts like this delivered to your inbox.
This post was originally published in October 2009.