Chelsea with Kids: 50 Things to Do for NYC Families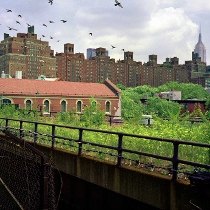 Chelsea has changed a lot over the past few decades. Back in the '80s, its streets were run-down and desolate, but in the '90s an influx of artists and gay professionals helped kick-start the area's transformation. Today, Chelsea is a mix of the old and the new. Rows of charming historic townhouses and housing developments stand across from luxury high-rises, and veteran residents rub shoulders with families who've moved here for its fantastic amenities. You'll find megastores on the avenues and high-end children's boutiques on the side streets; a slew of kid-friendly restaurants and eclectic art galleries; massive athletics complex Chelsea Piers; NYC landmarks like Chelsea Market and The High Line; and popular indoor and outdoor romping spots like appleseeds play space, Chelsea Waterside Park and Seal Park.
Throughout May we'll be taking an in-depth look at all Chelsea has to offer local and visiting families. Although Chelsea's boundaries are difficult to define, for the purposes of our posts we'll be covering 14th to 30th Streets, Fifth Avenue to the Hudson River. Here are our top 50 things to do with kids in Chelsea, NYC.