Register for Free Swimming Lessons for NYC Kids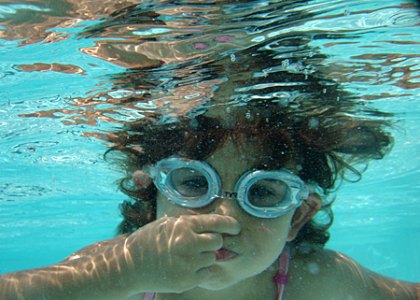 The New York City Parks Department offers FREE aquatic programs for children under 18 all year round.
During the fall, winter and spring the Parks Department's swimming lessons are held at indoor recreation center pools throughout NYC.
If you were too busy traveling and beach-hopping during the summer to make it to your local pool, fear not: The lottery for indoor fall lessons is open now.
Fall Programs
The Parks Department began its online lottery for fall swimming lessons on Monday, October 5. The lottery runs through Monday, October 12 at 11:59pm.
Results will be emailed by Thursday, October 15. Below are the programs that will be on offer. Locations and schedule info are available on the registration page.
If the Fall Session doesn't fit into your schedule, the Parks Department will hold lotteries for the Winter Session from January 6-12 and the Spring Session from March 23-29.
Fall/Winter/Spring Programs
Note: While lessons are FREE, you must be a member of the Recreation Center where you'd like to swim. Membership is FREE for children under 18 but there are fees for adults. That means children old enough to swim on their own (ages 6 and up) can learn at no cost.
For any child ages 1½ to 5, an adult is required to be in the water. We called Citywide Aquatics and confirmed that if you must accompany your child in the water, you also need to be a member of the Recreation Center. However, if your child is old enough to swim on his or her own, the parent does not need to buy a membership. Find out how to become a member on the Parks Department's website. If you run into registration issues, call Citywide Aquatics at 718-760-6969 ext. 0.
Below are the programs that are usually on offer. Locations and schedule info are available on the registration page.
Free Saturday Learn-to-Swim Lessons
All ages
FREE
Off-season learn-to-swim lessons are organized into three age groups: 1½ to 5, 6 to 17 and everyone else. Children ages 1½ to 5 must be accompanied by an adult in the water who is a member of the Recreation Center.
Free After-school Learn-to-Swim Lessons
Ages 6-17
FREE
Indoor pools across the city offer classes after-school on weekdays, usually starting at 4pm. Visit the website to enter the online lottery.
Free Swim Team
Ages 6-18
FREE
More advanced swimmers can hone their skills by joining a team. These sessions emphasize technique, endurance, speed and sportsmanship as participants train for the Borough Cup Championship. Tryouts are held on an ongoing basis. Kids must be able to swim 50 meters in reasonably good form in order to try out, and are required to submit a completed application and a copy of their birth certificate. Fill out the online form and then you'll be able to schedule a tryout. Questions? Call Citywide Aquatics: 718-760-6969 ext. 0.
Free Adapted Aquatics Instruction
All ages
FREE
This program for people with special physical needs offers adapted workouts for those suffering from ailments resulting from injury, disease or aging. It's offered at a handful of sites.
The Parks Department also offers learn-to-swim lessons during some school breaks so keep that in mind. There's no lottery, instead you contact the Recreation Center of your choice to vie for a spot.
Summer Swimming Programs for Kids and Adults
Summer Learn to Swim Lessons
Ages 1½-17
FREE
Children are organized into two age groups (1½-5 and 6-17) and taught basic water safety and swimming skills on weekday mornings. Note: Kids ages 1½-5 must be accompanied by a parent, and there's a required ratio of one parent to each child. So if you've got two, both of you must come along! (If you're got three or more, find a really nice friend.) Adult swimming lessons are also offered on weeknights as well as adult water aerobics classes.
Swim Team
Ages 6-18
FREE
Children who can swim freestyle for 50 meters or more with relative ease can try out. In addition to getting free training, they'll be able to compete in the annual Borough Cup Championship swimming competition. Call Aquatics at 718-760-6969 for registration information.
Lap Swimming
Ages 18 and up
FREE
During designated hours adults can hit the pool without having to worry about those pesky kids getting in the way. Every participant who swims 25 miles or more over the summer will receive a free T-shirt. Prizes will also be awarded to the top three male and female distance swimmers at each pool. To swim, you need to register online and you'll pick up a season admission card on the first day.
Senior Splash
Ages 62 and up
FREE
Seniors can keep in shape with water exercise classes, swim instruction and even water ballet during designated hours.
Adapted Aquatics
Ages 6 and up
Throughout July and August, swimmers with special needs can enjoy time in the water.
For more information about the Parks Department's swim programs, call 718-760-6969 or visit the website.
Photo by egarc2
This post was originally published in 2009.