Mommy and Me Swim Classes in NYC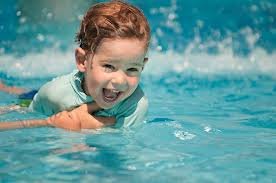 Mommy and me swim classes (or daddy and me) are a wonderful way to spend time with your baby or toddler. Ideally, these lessons should be enjoyable, stress-free, educational and a good source of exercise for kids and parents.
During the summer, swim lessons offer overheated families the chance to cool off while young kids become comfortable in the water, a skill they'll certainly use a lot in the coming years, what with all the great swimming pools and beaches in NYC.
Most classes for guppies and their caretakers take place in indoor pools. Except for the New York City Parks Department, which offers free summer swim lessons via lottery, mommy and me classes invariably cost something. We've rounded up a number of well-respected programs.
Asphalt Green – Manhattan
Various locations. See below or call 212-369-8890.
Although this popular Upper East Side (555 East 90th Street between York and East End Avenues) sports complex is known for its Olympic-size pool, its Water Babies and Water Tots classes for children ages 4 months to 3 years are held in a small, separate, heated kiddie pool. Asphalt Green's 52,000-square-foot, state-of-the-art facility in Battery Park City (212 North End Avenue between Murray and Warren Streets), is now open and offers an extensive swim program.
Camp Olympia – Park Slope
237 Seventh Avenue at 5th Street, 718-748-7084
911 Flatbush Avenue, 718-748-7084
This swimming program holds its sessions at John Jay High School and Erasmus Hall. Offerings include Water Angels (6 to 19 months), Water Tots (20 months to 3 years) and Angelfish with Caregiver (3- to 5-year-olds who aren't ready to go into the water without a caregiver).
The 14th Street Y – East Village
344 East 14th Street between First and Second Avenues, 212-780-0800
Baby Belugas (ages 6 to 16 months) and Little Dippers (ages 17 to 24 months) can learn how to swim at the Y's Aquatics for Kids program. Classes are reasonably priced with a discount for members.
Imagine Swimming – Citywide
Visit the website or call 212-253-9650
With 15 locations in Manhattan and Brooklyn—including its Tribeca flagship at 40 Harrison Street—Imagine offers classes to kids ages 6 months up. Students are introduced to the water through playful sessions that emphasize music.
The JCC in Manhattan – Upper West Side
334 Amsterdam Avenue at 76th Street, 646-505-4444
Instructors use games and songs to help acclimate little swimmers to the water in a heated, adjustable-depth pool. The program is separated into five age groups: Bubbling Babies (6 to 12 months), Starfish (12 to 18 months), Tadpole Toddlers (18 to 24 months), Tiny Turtles (24 to 30 months) and Little Fish (30 to 36 months).
The 92nd Street Y – Upper East Side
1395 Lexington Avenue at 92nd Street, 212-415-5500
The popular Upper East Side spot provides swimming lessons for Polliwogs (6 to 18 months), Minnows (18 to 36 months) and Guppies (3 to 5 years). Classes are offered year-round at the Y's large indoor pool.
Physique Swim – Various locations
Visit the website or call 212-725-0939
Parents and children under age 3 can participate in Me & My Shadow classes at eight Manhattan locations: the Financial District, Battery Park City, Midtown East, Harlem and three in the Upper East Side. Kids hone their swimming skills and also engage in sing-a-longs.
SwimJim – Manhattan
Visit the website or call 212-749-7335.
This company offers two mommy and me swimming programs at five Manhattan locations: Swimfants for ages 6 to 15 months and Swimbabies for 16 months to 3 years.
Take Me to the Water – Citywide
Visit the website for locations or call 888-794-6692.
The Baby and Me program offers lessons for children ages 6 months to 3 years, and has locations all over the city: Upper East Side, Upper West Side, Midtown, Tribeca, Battery Park City, Forest Hills and Park Slope, as well as New Jersey. Babes learn swimming skills through songs and games. As a bonus, children registered for classes are eligible for free swim times on weekends at select locations.
It's also worth contacting your local YMCA to see if it offers parent-child swim classes.
Also note that the New York City Parks Department runs free summer swimming lessons at outdoor pools. They offer free swimming lessons on Saturdays fall, winter and spring at indoor pools for children 18 months and up.
Check out more classes in our Classes Guide.