Free and Cheap After-school Classes and Programs for NYC Kids and Teenagers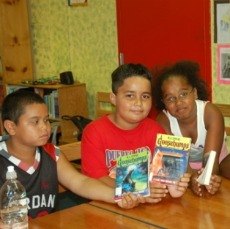 Back-to-school season is also back-to-after-school season, as families look for enriching and fun programs for their children.
There are tons of sports, arts, academics and other kinds of classes for New York City kids, many of them reasonably priced. In fact, a handful of high-quality after-school programs are actually free or super inexpensive!
Some places, like the Children's Aid Society and the New York City Parks Department, offer after-school coverage Monday through Friday. Other programs only meet once or twice a week. We've rounded up the organizations that offer these complimentary and cheap classes to kids and teens throughout the five boroughs.
Upstairs
We wrote about this group of young artists and educators when the organization launched its first series of no-cost drop-off art classes for kids. The fall semester starts in October at the group's Lower East Side Studio.  Although the program is free, there is a refundable deposit to ensure that students attend all seven sessions. Visit the website to register.
Good Shepherd Services
This nonprofit provides FREE after-school programs for more than 4,000 children and teens at 21 centers located in the Bronx and Brooklyn. Program activities include project-based learning, homework help, visual and performing arts, community service projects, and sports. Special events and shows during the year highlight students' accomplishments. Age requirements and hours vary by site. You can find a complete list of centers in Brooklyn and the Bronx on the website. Contact the location nearest you for more information, including registration deadlines and how to apply.
CAT Youth Theatre
The Creative Arts Team Youth Theatre runs a free program for middle and high school students. Participants do theater games and exercises, improvisation and scene work, and ultimately put on a show or two. No audition is required and students are admitted on a first-come, first-served basis. There's often a waiting list, and new members can join each semester. Participants must commit to being active collaborators. For more info, call 212-652-2828 or email Maureen.Donohue@mail.cuny.edu
Family Arts Saturday
In the past, City College on Convent Avenue in Harlem has offered free Saturday arts theater program for young kids in the spring. Last year there were two sessions for children ages 2 to 5, and ages 6-9. Please email educationaltheatre@ccny.edu to find out more.
Battery Park City Parks Conservancy
The Battery Park City Parks Conservancy offers free programs for preschoolers, kids, teens and adults. There are no-cost after-school programs in soccer, basketball, and art and games. In addition to these freebies, the conservancy has reasonably priced offerings, like gardening. For more info, email info@bpcparks.org.
New York City Department of Parks & Recreation
Registration has already begun for the Parks Department's free after-school program, which runs Monday through Friday 3pm-6pm at recreation centers all over the city. You can download a brochure on the website and then visit the location of your choice on the specified registration dates to find out about availability. The Parks Department also offers no-cost learn-to-swim lessons to children ages 3-14 at most indoor public pools, as well as a recreational swim team for kids ages 6-18. Since this is a very popular program, there's a lottery to snag a spot. Fall info should be posted here within a few weeks. The Parks Department also sponsors many free programs and sports leagues throughout the year. Visit the website for more info or call 212-360-3300.
New York Junior Tennis League
The NYJTL offers no-cost tennis lessons throughout the year in all five boroughs. Children may join at any location at any time during the season, however families must register in person with their kids. Fall info should be posted here within a few weeks. The Community Tennis Program includes instruction and match play, free books through reading clubs, special events and field trips. For more info, call 718-786-7110.
Harlem RBI Baseball
This East Harlem nonprofit runs after-school programs that go way beyond sports. Open to children ages 7-18, participants play and practice, but they also read books, and learn about team building and conflict resolution. The program's been getting a ton of attention of late due to the support of New York Yankees first baseman Mark Teixeira and his donation program, Dream Team 25. Enrollment starts on September 15 and is done at the organization's partner schools. Call 212-722-1608 for more info.
The Children's Aid Society
The nonprofit offers after-school programs at its centers throughout the city. Monday through Friday, participants do art projects, play sports, use technology and also learn leadership values. Tuition varies by location. The program at the East Harlem Center is 100% free; others charge reasonable rates and financial aid is available. Registration must be done in person and space is limited. Contact the center nearest you for additional info.
The Boys' Club of New York
For just a $5 annual fee, members can hang out in one of the three clubhouses (located in Flushing, on the Lower East Side and in Harlem) and get homework assistance, snacks, learn to swim, take music and art lessons, play sports and more. Certain activities require additional fees but they're nominal. To join, contact the center nearest you.
Police Athletic League
Another citywide organization, PAL offers after-school programs Monday through Friday from 3-6pm for students in first through eighth grades. Activities include sports, arts and academics. Like Children's Aid, tuition varies by location. For more info, call 212-477-9450 or email education@palnyc.org.
Bronx River Art Center
This Bronx nonprofit offers inexpensive art classes for children ages 8 and up. Participants can try their hand at ceramics, comic books, portraits and printmaking for a small fee. There's also the rigorous Teen Art Studio program, which is free but an application is required. For more info, call 718-589-5819 or email classes@bronxriverart.org.
American Museum of Natural History
Each school year, the AMNH hosts more than 40 after-school classes for NYC high school students. Topics include space exploration, the microscopic world of DNA, the evolution of dinosaurs and contemporary world cultures. Classes are affordable and kids attend either once or twice a week. Fee waivers and discounts are granted based on need. Call 212-496-3529 for more info.
The Museum of Modern Art
How much would you pay to take art classes at MoMA? Well, New York City teens don't have to spend a dime. The museum offers amazing art classes like photography, filmmaking, sculpting, digital media and more for free. No experience necessary. Applications are due in September. Visit the site for more info, or call 212-333-1252.
Art Club at the Frick Collection
This acclaimed museum teaches middle and high school students about its famous works of art for free. Registration required. Visit the website for details.
The Library
We have three public library systems in NYC: The New York Public Library, which comprises Manhattan, Staten Island and the Bronx, the Queens Library and the Brooklyn Public Library. Many branches offer programs for children at least once a week.
The NYPL also offers the free homeworknyc app, which allows students to search web and news articles in the NYPL databases, find free programs for teens and get live help with homework from NYC teachers using an online whiteboard.
For more great kids' programs, check out our Classes Guide.