Midnight Mass with NYC Kids: Family-Friendly Christmas Eve Services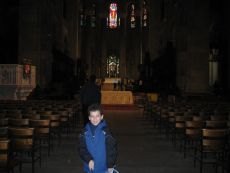 We've already shared festive ways to celebrate Christmas Eve with kids in New York City with you, but we know many families are looking for a more formal way to celebrate the season while praying for peace on earth and good will toward men.
While lots of NYC churches host kid-friendly religious services and pageants during the afternoon on December 24, you could also consider attending an authentic midnight mass with your family featuring the traditional Christmas Eve liturgy and caroling. We've found five Manhattan churches that welcome visitors to midnight mass with kids in tow—yes, even babies and toddlers (we're sure; we checked!). You don't need to be a regular parishioner to attend and they're not as jam-packed as St. Patrick's Cathedral, although arriving early is still recommended.
However you decide to spend Christmas Eve, we hope you find comfort and joy in the company of family and friends.
Church of Our Saviour – Midtown East
59 Park Avenue at 38th Street
This gorgeous church's stone flooring, high-gilt cassette ceiling, stained-glass windows, Stations of the Cross and parish halls were all recently renovated. Families wishing to check out this Midtown East showpiece are invited by Rev. George William Rutler to attend midnight mass on December 24. Carols begin at 10:30pm, followed by mass at 11pm. Infants and toddlers are welcome but if they make a fuss, they should be removed to the vestibule by the entrance. The room is encased in glass and boasts a sound system, so parents can still see and hear the service without imposing on others.
The Cathedral Church of St. John the Divine – Morningside Heights
1047 Amsterdam Avenue at 112th Street
Already well known to NYC parents for its fun and educational children's programming year-round, this Episcopalian church has a full day of family-friendly activities planned for December 24. At 4pm, there are Christmas Eve Lessons and Carols featuring larger-than-life puppets telling the story of Christmas. For a more traditional experience, try the 10:30pm Christmas Eve Festal Eucharist where, the staff assured us, guests of all ages are welcome without fear of being shushed. Seating is first come, first served, though a select number of reserved seating passes are available. Email callen@stjohndivine.org to request.
Trinity Wall Street – Financial District
St. Paul's Chapel, Broadway and Fulton Street
The famous downtown church also has a full day of celebrations and services planned, including a pair of interactive Christmas Eve Family Eucharists. But at 11:45pm, families are also welcome to attend the annual Christmas Eve liturgy, with Holy Eucharist, special music and candle lighting.
The First Presbyterian Church in the City of New York – Greenwich Village
12 West 12th Street at Fifth Avenue
Like St. John and Trinity, the First Presbyterian Church has a family service led by its Children's Music Ministry at 5pm. However, the staff stresses that infants and toddlers are welcome at the 10:30pm Candlelight Service. For families interested in checking out the congregation at another time, First Presbyterian also offers babysitting during its regular Sunday morning services.
Saint Jean Baptiste Catholic Church – Upper East Side
184 East 76th Street near Lexington Avenue
If you are searching for a church filled with stunning things for your kids (and you) to look at, this is the place. The altar alone rises 50 feet above the ground and is made of carved marble with a 26-foot base and eight arched gold panels. Look up at the ceiling for the mosaic of St. Michael and the 6-foot sunburst monstrance. Saint Jean Baptiste's primary Children's Mass is at 5:30, complete with a pageant. But, young kids are also welcome at the midnight mass, which begins with a concert of carols at 11:30pm.
Of course, by midnight on Christmas Eve, all you may want to do is sit at home and relax. So if you want the Holy Spirit to come to you, the midnight masses at St. Patrick's Cathedral and The Vatican will both be live-streamed online.
Find out about more seasonal activities in our Holiday Fun Guide.
This post was originally published in December 2012.