Best Places to Take Pictures with Santa in NYC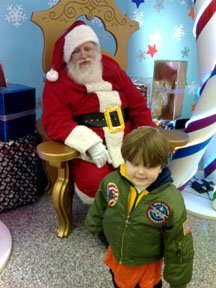 When it comes to Santa, my children have been around the block once or twice. They've sat on the laps of just about every Kris Kringle in town, making googly-eyes and whispering sweet nothings into their ears, as if each one were the only true Santa in their hearts, when really, they've got a different one in just about every neighborhood. So you've come to the right place to get the skinny on the fat man.
These days, you can find a Santa ho-ho-ho-ing it up at most holiday happenings in New York City. We've rounded up the best spots to pose with the big red guy, from department stores offering swanky photo packages like Macy's Santaland, to offbeat, one-off events where you can take your own festive pics. You can find more seasonal fun, including Santa brunches, in our NYC Holiday Guide.
Free & Cheap Places to Take Your Own Photos with Santa
ABC Carpet & Home – Union Square
888 Broadway between 18th and 19th Streets
Friday, November 28-Sunday, November 30; Saturdays, December 6, 13 and 20; Sundays, December 7, 14 and 21, times vary. Visit the website for the full schedule.
FREE
Visiting Santa at this fancy home goods store is a lavish, Victorian affair with a setting draped in crushed velvet and filled with sumptuous housewares. ABC's Santa has gotten more popular over the last few years, but it's still one of the best places to see St. Nick with little or no wait. Sometimes your kid even snags a small but stylish ornament as a freebie. The lighting isn't great so bring a camera that works well in low light.
Santa in Central Park – Harlem
Charles A. Dana Discovery Center, enter at 110th Street between Lenox and Fifth Avenues
Thursday, December 4 5:30-6:30pm
FREE
Meet Santa and pose for pics at the center's annual holiday lighting. In the past it's been a little crowded for a great photo op with the big red guy, but it's being held on a weekday this year, which may thin the hordes. Even if you don't get a good shot with St. Nick, the flotilla of trees on the Harlem Meer makes for an awesome seasonal backdrop. Plus you can check out the recently renovated East 110th Street Playground. Other activities include crafts, live music and hot chocolate. Bring your own camera.
Sinterklaas at the Wyckoff Farmhouse Museum – East Flatbush
5816 Clarendon Road near East 59th Street
Saturday, December 6
$5 for adults, $3 for children ages 3-9
Celebrate an old-fashioned Dutch Christmas at NYC's oldest house with a visit from Old St. Nick, who arrives on his horse, not with reindeer. Discover how Sinterklaas evolved into the American tradition of Santa Claus, and enjoy crafts, music and snacks. Bring your own camera.
Brooklyn Plantology – Canarsie
26 Brooklyn Terminal Market, East 87th Street and Foster Avenue
Saturdays, December 6 and 13 11am-4pm
FREE
This garden and plant wholesaler welcomes Santa on two consecutive Saturdays. All participants receive digital copies of their pics via Facebook.
Santa Rescue at the New York City Fire Museum – Hudson Square
278 Spring Street between Hudson and Varick Streets
Sunday, December 7 at 11:30am
Free to watch the rescue; $8 for adults, $5 for children ages 3-12 for party and pics
Enjoy an off-the-wall visit with the big red guy as old St. Nick gets stuck on the roof and the firefighters get out their hook and ladder to save him. While watching the outdoor rescue is free, you can only take pics with Santa at the indoor holiday party. This event is always super crowded so expect a long line and limited face time with Santa. We strongly recommend buying tickets in advance. Bring your own camera.
St. Nicholas Day at the Vander Ende-Onderdonk House – Ridgewood
1820 Flushing Avenue between Onderdonk and Seneca Avenues
Sunday, December 7 noon-4pm
$3 for adults, free for children
The historic Dutch stone house welcomes the jolly old guy to its annual holiday celebration. Bring your camera to snap a photo and stick around for period crafts, treats and live music.
Santacon – Manhattan
Various locations. Visit the website for more info.
Saturday, December 13
FREE
For those who dare, posing with one of the marauding Santas of Santacon can make for a wild pic—or a nasty altercation. This event started off as a kind of Santa version of the Mermaid Parade but it's devolved into a rowdy bar crawl. (My nine-year-old son calls it "drunk Santa day.") That said, I have gotten some fun pics of my kid and wild looking Santas in the past. So, if you're brave, follow Santacon on Twitter to find out where they'll be invading or just stop one on the street. Take your own camera and your chances!
Santa's Corner at Bryant Park – Midtown West
Bryant Park, 42nd Street and Sixth Avenue
Friday, December 19-Wednesday, December 24 1-4pm
Bryant Park has long been a seasonal destination thanks to its no-cost ice-skating rink, lovely Christmas tree and bustling holiday market. Now this year for the first time, Santa is setting up shop for five days in the green space. At 1pm each day, the big red guy and his helpers will parade around the park singing Christmas carols. From 1:45 to 4pm, St. Nick will pose for pics with his fans in Winter Village next to the rink. Bring your own camera and warm clothes!
Santa also frequently shows up at community Christmas tree lightings so check out our holiday illuminations post for other potential photo ops.  
Department Stores & Events with Photo Packages for Purchase
Macy's Santaland – Midtown West
151 West 34th Street between Broadway and Seventh Avenue, 8th Floor
Daily Friday, November 28-Wednesday, December 24, times vary. Visit the website for the full schedule.
Photo packages range from $20-$60
I've taken my son to sit on the lap of NYC's most famous Santa several times. The famed store mounts an entire North Pole village, with live elves, an enchanted forest featuring animatronic toys and a train display. Yes the line is always long but there is so much to gawk at the kids don't mind the wait (much). And once you finally do make it to the front of the line, there are multiple Santas on duty (all in private rooms so as not to ruin the illusion of one true St. Nick). If you're short on time or patience, register for an Express Pass, which allows you to skip much of the line. Check out our slide show of Macy's Santaland.
Bloomingdale's – Midtown East
1000 Third Avenue at 59th Street
Friday, November 28-Tuesday, December 23, times vary. Visit the website for the full schedule. Photo packages range from $22-$47
Bloomies has its own Santa Land, albeit a more modest one than Macy's installation. It's up on the eighth floor and we hear there is hardly ever a line.
Santa's Winter Garden – Battery Park City
Brookfield Place, 220 Vesey Street at West Street
Friday, December 5-Sunday, December 7 9am-1:30pm and 3-6pm
Photo packages start at $20
Visit with Santa, reindeer and some lively elves, and then have your picture taken by a professional photographer. All proceeds benefit Dancing Classrooms, and the instructors are even hosting free family dance lessons at 2pm on Saturday and Sunday. This is my favorite place to have my son photographed with Kris Kringle. The setting is beautiful and the Santa has a real twinkle in his eye. Be sure to get there early as the lines are long and they eventually get capped. Bonus: You snag a free skate rental with any photo package purchase so you can hit the ice rink outside.
The Shops at the Plaza – Midtown East
The Plaza Hotel Concourse Level, enter at 58th Street between Fifth and Sixth Avenues
Friday, November 28-Wednesday, December 24
Photo packages start at $29
Santa sets up a very swanky workshop right next to the pretty and pink Eloise boutique. For an even more memorable visit with the big red guy, consider splurging on a Rawther Fancy Tea with Santa. Also of note: The Plaza is partnering with SantaCares to provide private, sensory-friendly photo sessions for children with special needs and their families. Time slots can be booked at santacares.com.
Queens Center Mall – Elmhurst
90-15 Queens Boulevard between 57th and 59th Avenues, Level Three
Daily through Wednesday, December 24 except for Thanksgiving, times vary. Visit the website for the complete schedule.
Photo packages range from $30-$47
Santa meets his young fans in the mall's JCPenney wing, and kids walk away with a small free gift. Save 30% off select photo packages by buying in advance online by December 18.
Kings Plaza – Mill Basin
5100 Kings Plaza at Flatbush Avenue, located on the second floor directly above Guest Services
Daily through Wednesday, December 24 except for Thanksgiving, times vary. Visit the website for the complete schedule.
Photo packages start at $29.99
This Brooklyn mall Santa sticks around all season, which gives you ample opportunities to catch him. Plus word is there's rarely a line.
Skyview Center – Flushing
40-24 College Point Boulevard at Roosevelt Avenue
Daily through Wednesday, December 24 except for Thanksgiving, times vary. Visit the website for the complete schedule.
Photo packages start at $24.99
See Santa on Level D of this enormous Queens shopping center.
The Mall at Bay Plaza – the Bronx
200 Baychester Avenue
Daily through Wednesday, December 24 except for Thanksgiving, times vary. Visit the website for the complete schedule.
Photo packages start at $39.99
Santa sets up shop at the center court of this Bronx mall. Get a discount on your photo package by ordering in advance online.
Staten Island Mall – Staten Island
2655 Richmond Avenue
Daily through Wednesday, December 24 except for Thanksgiving, times vary. Visit the website for the complete schedule.
Photo packages start at $46.99
This Staten Island Santa welcomes kids every day and pets on Monday evenings. Like most mall Santas listed, save money on photos by buying before you go.
Want more old St. Nick sightings? Check out our roundup of breakfasts with Santa.
Check out our Holiday Guide for more seasonal fun and find great gift ideas in our NYC Shopping Local Gift Guide.
Sign up for our FREE newsletters to get posts like this delivered to your inbox.
This post originally published in November, 2009