Holiday Volunteering Opportunities with NYC Kids: Ways to Give Back as a Family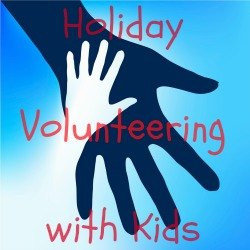 The holiday season is a time when we gather together with loved ones, enjoy delicious meals and celebrate the year gone by. Unfortunately for those New Yorkers without homes, food or family, this season can be a particularly difficult time. Volunteering is a wonderful way to help those in need, and it can be extra-special when the kids join in, too. It's a great way to teach children the true spirit of the season.
Since many volunteering projects in the city are only open to grown-ups, we've rounded up some resources and websites where you can find kid-friendly opportunities. No matter where you live, how old your children are or what your family is interested in, there is sure to be a program to fit your holiday volunteering desires.
Ways to Volunteer
New York Cares
One of the largest volunteering organizations in the city, New York Cares, leads many different initiatives, including its well-known annual coat drive. Volunteers are needed to donate, collect and help sort the coats that come in. More details can be found on the nonprofit's website.
New York Cares also operates a Winter Wishes program to fulfill the holiday dreams of more than 35,000 local children and families. Register online to grant a child's gift request, or create a team of Wish Makers in your local community. This is a great opportunity to involve your kids—take them shopping with you to purchase a present and encourage them to make cards to go along with it.
Other New York Cares family volunteering opportunities include delivering holiday meals, wrapping gifts, caroling, playing bingo with seniors and more. First-time volunteers must go through a brief orientation. You can search for volunteer projects in your neighborhood, and click the family-friendly filter to find ones that are good to do with kids.
Dorot
Dorot is a community-based organization that aims to alleviate social isolation among seniors. The nonprofit has won awards for its family programming and offers many opportunities throughout the year to volunteer with kids. Set aside one night of Hanukkah to light the menorah with a home-bound elderly client of Dorot. Together, you and your family will create a memorable and meaningful holiday tradition. Although online registration is closed, it's worth reaching out to the coordinator to see if last-minute help is needed.
Family-to-Family - Give It Up For Kids In Need
During the holidays, Family-to-Family runs an "empathy campaign," asking kids across the U.S. to give up one gift on their wish lists and go shopping with their parents to purchase a present for a child in need. Once the gift to donate is in hand, email the org and staff will connect your family with a local shelter where you can drop it off. Alternately, you can ship the present to a designated receiving community, or donate money instead.
Marble Collegiate Church
This community church in Murray Hill has many year-round volunteering opportunities including tutoring, delivering meals and visiting hospital patients. Around the holidays, volunteers are needed for special activities like delivering gifts and serving meals to the homeless on Thanksgiving and Christmas. One way to involve your children is to seek their help in collecting, wrapping and distributing presents to those in need.
Macy's Believe Campaign for Make-A-Wish
For the sixth year in a row, Macy's is partnering with Make-A-Wish to help make the dreams of critically ill children come true. Support their good work by having your child write a letter to Santa, printing it out and bringing it to the mailbox in Santaland. For every letter Macy's receives through December 24, the company will donate $1 to Make-A-Wish up to $1 million. Can't get to Macy's? You can also write and send your letter online.
Operation Santa Claus
This venerable USPS program allows anyone to play St. Nick by answering "Dear Santa" letters from local kids with a Christmas wish. New York City's program is one of the largest in the country, with tens of thousands of people adopting letters each year. This is a wonderful hands-on way to involve your children in helping someone in need.
Operation Santa Claus kicks off this Thursday, December 4 and runs through Christmas Eve. Families can pick up letters from the main post office at 421 Eighth Avenue (right across from Penn Station) Monday, Tuesday, Wednesday, Friday and Saturday from 9am to 4pm, and on Thursday from 9am to 7pm. You'll be asked to provide valid identification and sign a few forms. The "Elf-in-Charge" is Peter Fontana and he can be reached at 212-330-3000.
City Harvest
This nonprofit feeds hungry New Yorkers and has tons of volunteer opportunities throughout the year. One option that is particularly good for children is Food Drives. You and your kids can organize a food drive at your office, their school or your place of worship with the tools provided by City Harvest. Kids can help spread the word and get their friends to donate, too.
Toys for Tots
This U.S. Marine Corps Reserve program collects new, unwrapped toys during December. The playthings are then distributed as Christmas gifts to children in need in the community. Visit the website to find the drop-off location nearest you. If you would like more information or would like to volunteer to distribute toys, contact SSgt Dustin Ramirez, the Toys for Tots NYC Coordinator, at 347-450-8697 or volunteer@toysfortotsnyc.org.
What You Can Do at Home
Got really young children? There are ways they can help others without even leaving the house. With new toys rolling in around the holidays, take this opportunity to clean out their current crop. Worried they won't be too happy with this idea? Get them excited by explaining this special opportunity to help other children by donating toys and games they no longer use. It's also a great time to pass on clothes they've outgrown.
Places to Donate
Room to Grow
This unique organization provides essentials for babies born to families living in poverty, and continues to monitor their progress every three months until the child turns three. Room to Grow accepts donations of baby gear, clothing, toys and other essentials for children up to age 3. Donations can be dropped off at the Chelsea location or picked up by a messenger for a tax-deductible fee. Smaller items can also be donated through the mail.
Housing Works
Housing Works accepts donations at any of its thrift store locations throughout the city. If you've got a surplus of books or DVDs, its Bookstore Cafe will be happy to take them off your hands. Proceeds from all Housing Works stores benefit people living with and affected by HIV/AIDS.
Baby Buggy
With the motto "Love Recycled," Baby Buggy works with a network of more than 100 agencies across the U.S. to distribute necessary essentials to families in need. The org accepts donations of gear, diapers, coats and toys. Motivated to organize your own children's coat drive or a holiday gift drive? Baby Buggy will provide posters and items can be dropped off at its Midtown location (or you can pay a small fee for pickup). All items should be new or gently-used, and appropriate for children up to age 14.
To find additional kid-friendly ways to give back to the New York City community, subscribe to the FREE Doing Good Together/NY newsletter, a monthly roundup of local volunteer opportunities appropriate for families.
Find other holiday charity ideas in our Holiday Guide, and gift ideas in our NYC Shopping Local Gift Guide.