Volunteer as a Family This Holiday Season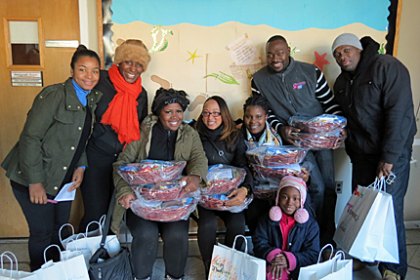 During the holiday season, families gather to enjoy delicious meals, exchange gifts and celebrate the year gone by.
But for a number of underprivileged New Yorkers the holiday season can be a particularly difficult time. Volunteering is a wonderful way to help those in need, and an ideal opportunity to teach children the true spirit of the season.
We've rounded up some of our favorite kid-friendly volunteering opportunities. No matter where in the tristate area you live, the age of your children or your family's interests, chances are there is a program to fulfill your holiday volunteering desires.
Ways to Volunteer
Catholic Charities
The Archdiocese of New York's chief charitable unit is kicking off the holiday season with a day for volunteers as young as age 2. Head to Cathedral High School on East 56th Street on November 21 to make Christmas cards, tote bags, decorations, fleece blankets and more for distribution to needy families. If you can't join that day, consider making a donation of supplies by purchasing them from Catholic Charities' Amazon Wish List.
City Harvest
This nonprofit that feeds hungry New Yorkers has plenty of volunteer opportunities throughout the year. Your family can organize a food drive at your office, school or place of worship with tools provided by City Harvest. Kids can spread the word and get their friends to donate, too.
Dorot
Dorot is a community-based organization that aims to alleviate social isolation among seniors. Its family programs have won a host of awards and it sponsors family-friendly volunteer opportunities throughout the year. Set aside one night of Hanukkah to light the menorah with a homebound elderly client, creating a memorable and meaningful holiday tradition for your family. Registration closes November 20 and families new to the program must attend an orientation.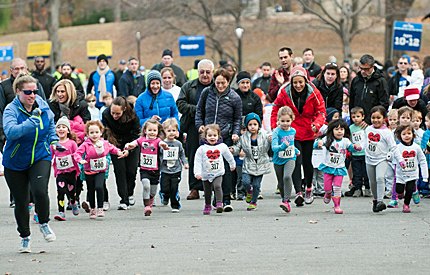 The Race to Deliver is the one of God's Love We Deliver's biggest annual fundraisers. Photo by Jessica Frankl/courtesy of GLWD.
God's Love We Deliver
God's Love We Deliver provides meals to 5,000 clients daily in New York City's five boroughs, plus the city of Newark and Hudson County in New Jersey. All clients are dealing with serious illnesses. Families can register to deliver a meal to a homebound client. Volunteers use their own cars. On November 22, the organization hosts its largest annual fundraiser, The Race to Deliver, a 4-mile run/walk in Central Park followed by several children's races.
Macy's Believe Campaign for Make-A-Wish
Macy's is again partnering with Make-A-Wish to help make the dreams of critically ill children come true. Support its work by having your child write a letter to Santa and deliver it to the mailbox in Santaland. For every letter Macy's receives through December 24, the company will donate $1 to Make-A-Wish, up to $1 million. Can't get to Macy's? You can also write and send your letter online.
New York Cares
One of the largest volunteering organizations in the city, New York Cares sponsors a series of holiday initiatives, including its annual coat drive. Volunteers are needed to donate, collect and sort coats. See the nonprofit's website for more details. New York Cares also operates a Winter Wishes program to fulfill the holiday dreams of more than 40,000 area children and families. Register online to grant a child's gift request or create a team of Wish Makers for your community. Other opportunities include delivery of holiday meals, wrapping of gifts, caroling, playing bingo with seniors and more. First-time volunteers go through a brief orientation. Search for volunteer projects in your neighborhood, and click the family-friendly filter to find those that welcome children.
New York Common Pantry
The New York Common Pantry provides more than 2,000 low-income families with Thanksgiving meals each year. In preparation for the holiday, families organize off-site food drives at their schools and places of business or worship. Donations must be given to the pantry by November 18. Pantry volunteers must be 14 or older for most on-site programs. However, during November 2015 younger volunteers can help prepare Thanksgiving food baskets. Families can work on site at the pantry or pick up a kit to bring home. In December, the New York Common Pantry distributes gifts to more than 1,000 low-income families. All gifts must be delivered to the pantry by December 16; for information, call 917-720-9700 or see the pantry's website.
Operation Santa Claus
This long-running Postal Service program allows anyone to play St. Nick by answering "Dear Santa" letters from local children. New York City's program is one of the largest in the country, with tens of thousands of people adopting letters each year. The program launches annually on December 1. 
Toys for Tots
This Marine Corps Reserve program collects new, unwrapped toys during December at locations throughout the city. The items are then distributed as Christmas gifts to needy children. Visit the website to find the drop-off location nearest you.
What You Can Do at Home
Got really young children? There are ways they can help others without even leaving the house. As new toys roll in around the holidays, why not clean out their current crop? Worried your kids won't be happy with this idea? Try explaining how this is an opportunity to help other children by donating toys and games your kids no longer use. It's also a great time to pass on clothes they've outgrown.
Places to Donate
Baby Buggy
With the motto "Love Recycled," Baby Buggy works with a network of more than 100 agencies nationwide to distribute essentials to families in need. The organization accepts donations of gear, diapers, coats and toys. Motivated to organize your own children's coat drive or a holiday gift drive? Baby Buggy will provide posters, and items can be dropped off at its Midtown location; items also can be picked up for a small fee. All items should be new or gently used and appropriate for children up to age 14.
Housing Works
Housing Works accepts donations at any of its thrift store locations throughout the city. Donations of surplus books or DVDs can be made to its Bookstore Cafe. Proceeds benefit those living with and affected by HIV/AIDS.
Room to Grow
This unique organization provides essentials for babies born to families in poverty. It continues to monitor their progress every three months until the child turns 3. Room to Grow accepts donations of baby gear, clothing, toys and other essentials. Donations can be dropped off at the Chelsea location or picked up by messenger for a tax-deductible fee. Smaller items can be donated through the mail.
To find additional kid-friendly ways of giving back to the New York City community, subscribe to the FREE Doing Good Together/NY newsletter, a monthly roundup of volunteer opportunities appropriate for families.
Find other holiday charity ideas in our Holiday Guide, and gift ideas in our NYC Shopping Local Gift Guide.

Organizing a food drive is a great way to get kids involved in giving back. Photo by Cydcor via Flicker.
Top photo courtesy of GLWD, Julia Masi