A Winter Garden: 16 Indoor Public Places to Get in Out of the Cold in New York City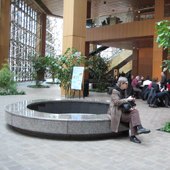 My son was born in the dead of winter. It was freezing cold everywhere and between nursing, naps, sleep deprivation, laundry and that overwhelming new parent frenzied feeling, I just couldn't get it together to go anywhere or do anything. For two months I sat on the couch with him and let people come to me. But one day I decided to venture out. 
With my little son in a front carrier I went looking for somewhere else to sit. Starbucks was out of the question, I was a little too nervous to drink hot coffee with his beautiful bald head so precariously close to the boiling java. Instead we found our way to an indoor, tropical, hideaway just a few blocks from our midtown apartment. 
New York City is full of many semi-secret indoor public spaces that are perfect for getting in out of the cold (or heat) when you just need somewhere to go.
My salvation was the lush, green, rainforest of a garden that occupies the atrium of the Ford Foundation building and is open to the public. On a typical day you may find people sitting on portable stools sketching the foliage, little kids learning to navigate the stairs and, of course, tourists. Children enjoy exploring the third of an acre jungle or throwing coins into the wishing well (all monies collected are sent across the street to UNICEF.) The space is open, airy and smells like summer - a great pit stop or destination where you can warm up and feel completely transported without ever really going anywhere.
The garden is impressive, but equally so is the landmarked building that houses it. Built in 1963 for the Ford Foundation, the building is a giant steel and glass cube, with a full-sized open atrium in the center.  And, it was green way before its time. In order to keep the beautiful oasis from becoming a drain on the city's water supplies the roof is equipped to collect water to use in the fountain and for watering the plants.
There is no seating or public bathrooms, people tend sit on the ledges and stairs. I don't recommend any sort of loud or boisterous activities here since it is an office building and definitely a quiet time sort of place. Perfect though for chatting, reading, nursing or drawing. If your children get too antsy and need to get running again – the Tudor City playgrounds are two minutes away and accessible by taking the stairs directly to the left once outside the 42nd street entrance.
The Ford Foundation Building
320 East 43rd Street: entrances on both 42nd and 43rd Streets west of First Avenue
Open to the public Monday-Friday 8am-4pm
Closed holidays
There are quite a few more indoor public spaces dotted around the commercial areas of Manhattan, thanks to a zoning initiative where the city granted buildings the rights to additional air space (i.e. taller buildings) in exchange for indoor and outdoor public areas. These public areas are child friendly and some are a real find. Most of them display art of some sort, too.
More indoor public plazas in NYC:
180 Maiden Lane
180 Maiden Lane between Front and South Streets
Open Monday-Friday 8:30am-5:30pm
Performances: Tuesdays 12:30-1:30pm
Light colored wood, brass and lots of glass, create an elegant, light-filled, atrium steps away from the South Street Seaport. Plenty of space to lounge in their well stocked seating areas. The space also offers a regularly changing gallery of artwork, currently showing photographs taken by NYC school kids. Extras include – free lunchtime musical performances from Juilliard students on Tuesdays and a newsstand/snack shop to pick up any of life's little necessities.
60 Wall Street Atrium
60 Wall Street between William and Pearl Streets
Open daily 7am-10pm
Looks like a grand hotel ballroom from yesteryear with soaring vaulted ceilings of silver tile, gigantic palm trees and lots of cafe tables and chairs. Chess and backgammon players get there early to stake out their table. Grab a bite at one of the two take-out eateries serving everything from hot meals to sushi to Ciao Bella gelato along side the requisite coffee and tea. The space is kind of cavernous and well used with a fair amount of seating and noise. Extras: Free wi-fi and easy access to the 2/3 subway.
The Winter Garden at the World Financial Center
220 Vesey Street near of West Street
Open daily 6am-midnight
This magnificent glass atrium, flanked by two massive marble staircases and decorated with enormous palm trees offers tons of shopping. Every store imaginable is here, along with many fine dining and take-out restaurants. Don't miss the world class views of the Hudson, especially at sunset. Extras: Free arts programs occur all year round, mostly in the evening. Note: The Winter Garden is currently undergoing renovations so it may periodically close.
Park Avenue Plaza
55 East 52nd Street between Park and Madison Avenues
Open daily 8am-10pm
In addition to the required seating areas and bathroom, this through block arcade offers the convenience of a shopping mall with some high end shops: a tennis store, Chartwell Booksellers, a Swiss chocolatier, Starbucks and the Dahesh Museum gift shop. Soaring ceilings and huge windows create and airy open space for relaxing. Also, in season, the atrium is home to one of the best animated Christmas displays in town. Extras: Live pianist Mondays through Fridays, noon to 3pm.
Sony Plaza
550 Madison Avenue between 55th and 56th Streets
Sony Wonder Technology Lab: Open Tuesday-Saturday 9:30am to 5:30pm
Public Space: Daily 7am-11pm
The 14,000-square-foot space is home to the popular and free Sony Wonder Technology Lab, a must-see for NYC kids. If hunger hits you, grab a bite at the coffee and sandwich kiosk or the Starbucks inside the Sony Style showroom.
590 Madison Avenue
590 Madison Avenue at 57th Street)
Open daily 8am-10pm
This glass structure is a real find in Midtown East. There is plenty of room and tons of tables and chairs. Get lunch, coffee or gelato at the Obika Mozzarella Bar and then take a seat to check out the current sculpture on display or watch the birds fly from bamboo thicket to bamboo thicket. Extras - Easy walk through to Trump Towers without going outside.
Trump Tower
Trump Tower, 725 Fifth Avenue between 56th and 57th Streets
Open daily 8am-10p, daily
Like its namesake, the space is over the top in every way. The public space has everything: marble walls, a huge waterfall, an ice cream parlor, a bar, a restaurant, shopping and tons of tourists. Take the elevators to landscaped garden terraces on the upper floors for a great view of the entire place.
United Nations NY Headquarters
405 East 42nd Street east of First Avenue
Monday-Friday 9am-5:30pm, weekends 10am-6pm
The United Nations may not seem like a place for a family to spend the day, but it is, once you make it through security. It has everything you need for an hour or a day out with kids. The lower concourse has a warm public seating area, an old school coffee shop and a few gift and book shops where you can pick up a gift for your child's next birthday party with some international flair. The upper entrance way has an ever changing display of global art. You can also take a tour as long as your child is over 5 years old. Extras - The UN has its own Postal Service and issues its own stamps. Send a postcard from the UN Post Office on the public concourse.
The warm and beautiful Glass Garden at the RUSK Institute in the NYU Medical Center is a winter favorite for both me and my son. See our review of the Glass Garden. Sadly, this garden has closed.
More public indoor spaces in Manhattan:
These spaces aren't a top destination, but they are there in case you need to make a quick pit stop:
1991 Broadway between 67th and 68th Streets): open daily 8am-midnight
120 Park Avenue at 42nd Street: open Monday-Saturday 7:30am-9:30pm; Sundays 11am-7pm
499 Park Avenue at 59th Street: Small, dark and elegant with art-lined walls and some bench seating. Open during business hours.
Citigroup Center, 153 East 53rd Street at Lexington Avenue: Feels like a mall with shops, restaurants and large escalators ringing an open seating area. Art exhibits on upper floors. Open daily 7am-11pm.
875 Third Avenue at 53rd Street: All the charm of a food court with lots of chain restaurants and take-out places. Live pianist noon to 2pm weekdays. Access to E, V and 6 trains. Open during business hours.
The Galleria, 115 East 57th Street between Park and Lexington Avenues
A smaller but vibrant atrium with a bona fide Mendy's sit-down restaurant and a take-away window selling hot dogs and knishes. Table and bench seating. Open Monday-Saturday 8am-10pm.
Find a complete list of indoor and outdoor public spaces in New York City.
You can read about more great indoor places to play in our Inside Activity Guide.