Holiday Train Shows Open: New York Botanical Garden, Grand Central and More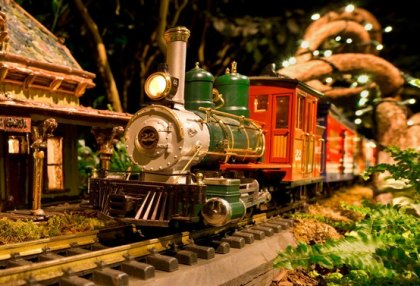 The New York Botanical Garden's Holiday Train Show, one of New York City's top seasonal attractions for families, opens Saturday, November 21 in the Bronx.
Little electric trains whiz by more than 150 NYC landmarks made out of acorns, twigs, bark, berries and leaves at this elaborate show. The 2015-2016 edition of the annual spectacle includes 3,000 extra square feet of tracks, trains and bridges, as well as a multi-sensory finale in the Conservatory's Reflecting Pool, plus a brand-new model of the New York Public Library. The landmarks and nearly a half-mile of train track of years past will also be on display.
My family and I make it a point to go every year as it's truly a quintessential New York holiday experience. There's a reason it's No. 53 on our list of the top 100 things to do with kids in NYC.
Read on for important tips, new photos and the scoop on everything there is to see and do at the 2015 Holiday Train Show, plus info on other seasonal train exhibits in NYC. 
The New York Botanical Garden's Holiday Train Show is a one-of-a-kind experience. Where else can families marvel at detailed miniatures of the Statue of Liberty, the old Yankee Stadium and other iconic NYC spots made entirely from natural materials? The trains weave in and out of these little landmarks, through tunnels, over bridges and even through waterfalls. It's a magical sight that grown-ups enjoy just as much as kids.
The train village is located inside the heated Enid A. Haupt Conservatory, making it a great destination, even in the dead of winter.
Designers of this year's show see it as a three-act play. The first act is an all-new video presentation that gives visitors a behind-the-scenes peek at how the buildings come to life, built by the team at Applied Imagination.

The first view of the trains is this sweeping tent where the Enid A. Haupt Conservatory takes center stage.
The main act is, of course, the trains. In addition to winding through the Conservatory, organizers have added a 3,000-square-foot tent at the entrance. Here, youngsters will be delighted with soaring bridges, a glittering model of the Haupt Conservatory, which debuted last year, and Grand Central Terminal's doppelganger.

The World's Fair models were in the Artist's Studio last year, but really shine in the 2015 finale.
The final act takes place in the Conservatory's Reflecting Pool, where models of the Unisphere and other famous World's Fair structures are highlighted by a music-and-light show projected on a screen behind them. The effect is subtle in the daytime, but should be spectacular at night.
The train show may be the highlight of the NYBG's holiday programming, but it's hardly the only seasonal attraction onsite. While you're there be sure to check out these other popular programs:
Evergreen Express
At hands-on stations in the Everett Children's Adventure Garden, kids can learn about evergreens, make pressings of conifer species and craft mini sachets. There are daily musical marching parades on weekends and school holidays. On weekends, children can make puppets inspired by famed puppeteer Ralph Lee. Since Lee is the artist behind the fabulous Mettawee River Theatre Company, we expect these workshops will be pretty great.
All Aboard with Thomas & Friends™
Preschoolers' favorite blue engine and his pals are back for another run in this mini-musical. After the show, kids can pose with the costumed characters. Visit the website for the complete schedule.
Cultural Performances
Other highlights that are free with Holiday Train Show admission include screenings of popular holiday movies, weekend a cappella concerts and the annual bird count.
A mini version of The New York Public Library.
A leafy Solomon R. Guggenheim Museum.
The Brooklyn Bridge looms large.

The old Yankee Stadium is a highlight for baseball fans.
A Grand Central Terminal replica wows even as the show takes a meta turn. 
 NYC's famous Midtown skyscrapers sparkle. 
The United Nations is represented here, too.
And trains at every turn!
Holiday Train Show Tips
Visit during off-peak times! The Holiday Train Show is extremely popular and gets jammed, especially on weekends and during the holidays. The NYBG combats the crowds by selling timed tickets. Still, if it all possible, try to go on off-peak days (weekdays or evenings in November, early December and January).
Buy tickets in advance. If you try to pay at the door, you might find the show sold out. Tickets can be purchased online.
Bring your camera. The decked out NYBG is a great place to snap a photo for your holiday cards. Awesome photo ops include the Christmas trees and other decorated greenery. See our other ideas for unique holiday photo ops in NYC.
Park your stroller. They aren't allowed inside the Holiday Train Show, but you can leave it in the anteroom.
Take mass transit to save money. There's on-site parking for $15 per vehicle, but the NYBG is accessible via public transportation. Take Metro-North to the Botanical Garden station, which is located directly across the street from the main entrance.
Come hungry. Dine in the Pine Tree Café or newly opened Hudson Garden Grill. A Bavarian-style snack shack, Frosty's Schnapps Haus, will host outdoor diners, too. The exit of the train show places visitors in front of the MasterCard-branded Gingerbread Cafe where lots of quick family-friendly bites await: hot dogs, tacos, burgers and of course, tempting holiday treats. If that sounds like sensory overload, you can always hit the Bronx's Little Italy a short drive away before or after your visit.
The New York Botanical Garden Holiday Train Show is on view Saturday, November 21-Monday, January 18, 2016. Prices range from FREE for members, up to $30 for adults at peak times. Visit the website for hours, dates and additional details.
Even at night the NYBG's train display dazzles. Photo by Ben Hider/courtesy NYGB.
Other NYC Holiday Train Displays
The Annual Holiday Train Show at the New York Transit Museum gallery annex in Grand Central Terminal is a cute but modest layout that takes visitors on an imaginary journey from the iconic station to the North Pole. FREE.
The New-York Historical Society's seasonal exhibit, Holiday Express: Toys and Trains from the Jerni Collection displays playthings dating from 1850-1940 by some of the top toy makers of the era. If you went in 2014, you might find this display a bit scaled down. Toys and trains are on view throughout the first floor of the museum. More trains move this year than last and a new multimedia presentation with theatrical lighting and sound effects adds to the immersive feel.
If you have preschoolers, consider visiting during the Historical Society's special All Aboard! Historic Train Weekend, featuring hands-on train-themed activities, a scavenger hunt and storytime. Free with museum admission.
Check out our Holiday Guide for lots of other ways to celebrate the season in NYC, and find great gift ideas in our NYC Shopping Local Gift Guide.
Top photo provided by the New York Botanical Garden. All other photos, except where noted, by Mommy Poppins.
This post, originally published in November 2009, is updated annually.