What's New at the New York Botanical Garden Holiday Train Show 2014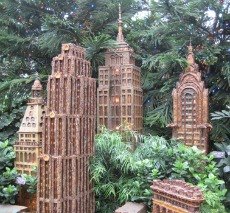 The New York Botanical Garden's Holiday Train Show celebrates its 23rd anniversary this year, and as always it's one of New York City's top seasonal attractions for families. Little electric trains go whizzing by more than 150 NYC landmarks made out of acorns, twigs, bark, berries and leaves. My family and I make it a point to go every year—it's truly a quintessential New York holiday experience. There's a reason it's No. 52 on our list of the top 100 things to do with kids in NYC.
For this edition of the annual spectacle, visitors will find more trains than ever before (nearly a quarter-mile of track!), a new slate of kids' activities and other enhancements. We've got great pics, important tips and the overall scoop on everything there is to see and do at the 2014 Holiday Train Show, which opens Saturday, November 15, plus info on other seasonal train exhibits in NYC. You can find even more fun in our Holiday Fun Guide.
The New York Botanical Garden's Holiday Train Show is a one-of-a-kind experience. Where else can families marvel at detailed miniatures of the Statue of Liberty, the old Yankee Stadium and other iconic NYC spots made entirely from natural materials? The trains weave in and out of these little landmarks, through tunnels, over bridges and even through waterfalls. It's a magical sight that grown-ups enjoy just as much as kids.
Since the Holiday Train Show is located inside the heated Enid A. Haupt Conservatory, it's a great destination, even in the dead of winter. Plus, the NYBG offers other seasonal attractions for families that are free with Holiday Train Show admission.
Evergreen Express
The kids' activities in the Everett Children's Adventure Garden have been completely revamped this year. At hands-on stations, kids can learn about evergreen plants and craft mini sachets. A scavenger hunt challenges them to identify different evergreens in the garden and there are daily musical marching parades. On weekends, famed puppeteer Ralph Lee is on hand to help kids make train puppets. Since Lee is the artist behind the fabulous Mettawee River Theatre Company, we expect these workshops will be pretty great.
All Aboard with Thomas & Friends™
Preschoolers' favorite blue engine and his pals are back for another run in this mini-musical. After the show, kids can pose with the costumed characters. Runs Saturday, January 3-Sunday, January 25, times vary. Visit the website for the complete schedule.
The Artist's Studio
In celebration of the 50th anniversary of the 1964 New York World's Fair, visitors can check out special replicas of Flushing Meadows Corona Park's Unisphere and Astro-View Towers in The Artist's Studio. This small gallery also offers a behind-the-scenes peek at how all the models are constructed by artist Paul Busse and his team at Applied Imagination.
Cultural Performances
Other highlights that are free with Holiday Train Show admission include screenings of popular holiday movies, weekend a cappella concerts and the annual bird count on Saturday, December 13.
Macy's Herald Square
The Solomon R. Guggenheim Museum
The Brooklyn Bridge
The Rose Center for Earth and Space at the American Museum of Natural History
The old Yankee Stadium
Grand Central Terminal
Some of NYC's famous skyscrapers
The Rockefeller Center Christmas Tree
The United Nations
Oh yeah, there are trains, too
Holiday Train Show Tips
Visit during off-peak times! The Holiday Train Show is extremely popular and gets jammed, especially on weekends and during the holidays. The NYBG combats the crowds by selling timed tickets. Still, if it all possible, try to go on off-peak days (weekdays or evenings in November, early December and January).
Buy tickets in advance. If you try to pay at the door, you might find the show sold out.
Bring your camera. The decked out NYBG is a great place to snap a photo for your holiday cards. Awesome photo ops include the Christmas trees and other decorated greenery. See our other ideas for unique holiday photo ops in NYC.
Park your stroller. They aren't allowed inside the Holiday Train Show however you can leave them in the anteroom.
Take mass transit to save money. There's on-site parking for $12-$15 per vehicle, but the NYBG is accessible via public transportation. Take Metro-North to the Botanical Garden station, which is located directly across the street from the main entrance.
Come hungry. Dine in the Pine Tree Café or Garden Café, or hit the Bronx's Little Italy, which is a short drive away.
The New York Botanical Garden Holiday Train Show is on view Saturday, November 15-Monday, January 19, 2015. Weekdays: $20 for adults, $10 for children ages 2-12. Weekends and peak days: $28 for adults, $16 for children ages 2-12. Visit the website for hours, dates and additional details.
Other NYC Holiday Train Displays
The Annual Holiday Train Show at the New York Transit Museum gallery annex in Grand Central Terminal is a cute but modest layout that takes visitors on an imaginary journey from the iconic station to the North Pole. The Lionel train show is on view Sunday, November 16-Sunday, February 22, 2015. FREE.
The New-York Historical Society's seasonal exhibit, Holiday Express: Toys and Trains from the Jerni Collection, runs from Friday, November 21-Sunday, February 22, 2015. The display features playthings dating from 1850-1940 by some of the top toy makers of the era. A 360-degree mountain landscape in the Judith and Howard Berkowitz Sculpture Court is the centerpiece, but toys and trains will be on view throughout the first floor of the museum. Although only some of the trains move, theatrical lighting, sound effects and large-scale multimedia screens give the exhibition an immersive feel.
If you have preschoolers, consider visiting during the Historical Society's special All Aboard! Historic Train Weekend on December 13 and 14, featuring hands-on train-themed activities, a scavenger hunt and storytime. Free with museum admission: $19 for adults, $12 for students, $6 for children ages 5-13, free for kids under 5.
Check out our Holiday Guide for lots of other ways to celebrate the season in NYC, and find great gift ideas in our NYC Shopping Local Gift Guide.
This post originally published in November 2009.