Apple Picking Near NYC: Pick-Your-Own-Apple Farms An Hour or Less From New York City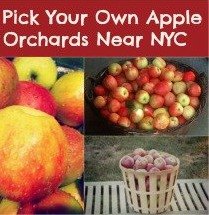 What's the sweet upside of summer coming to a close? The fact that apple picking season is about to begin. Starting around Labor Day weekend and continuing through late October, orchards throughout the tri-state area offer families the chance to pick their own apples. Some also host cool kids' attractions, like hayrides, petting zoos, bouncy houses and mazes, and sell home-baked treats such as doughnuts, homemade pies and freshly pressed cider.
Although there was a time when apple trees thrived in NYC (ever wonder how Orchard Street got its name?), today city families need to head out of town to pick their own fruit. While there are lots of wonderful apple orchards in upstate New York, New Jersey, Connecticut and on Long Island, many of them are quite a long drive from the city. And we know nothing derails a fun family outing like a long commute.
That's why we've rounded up 12 places to pick your own apples that are an hour (or less!) from midtown Manhattan by car. We've even found a few that are accessible by train. Before you go, make sure you call ahead to confirm hours, attractions and availability since those change constantly throughout the season.
Westchester County, New York
Outhouse Orchards – North Salem
139 Hardscrabble Road
914-277-3188
Approximately 1 hour by car from midtown Manhattan. Also accessible via Metro-North.
Outhouse Orchards (nope, not a joke, it's named for the family that owns it) dates back to the late 1800s. Its pick-your-own apples season starts on Saturday, September 6, and there are hayrides and a corn maze, too. Note: There is a fee for parking and, in past seasons, poison ivy, though it's always clearly marked. No car? No problem! You can take Metro-North to the Croton Falls Station and then catch a cab to the farm.
Harvest Moon Farm & Orchard – North Salem
130 Hardscrabble Road
914-485-1210
Approximately 1 hour by car from midtown Manhattan. Also accessible via Metro-North.
Formerly part of Outhouse Orchards but now its own independent business located right across the road, this family-run farm allows visitors to pick their own apples daily throughout the season. On weekends from September 6 through October 26 (and Columbus Day), there are lots of additional attractions for kids, including hayrides, farm animals, bouncy castles and live music. Harvest Moon also features a large farm stand where you can buy homemade doughnuts and cider, and fresh eggs and produce. This farm is also near the Metro-North Croton Falls Station.
Stuart's Farm – Granite Springs
62 Granite Springs Road
914-245-2784
Approximately 1 hour by car from midtown Manhattan
The Stuart family offers an authentic, no-frills experience with nine types of apples ripe for the picking at their farm, which happens to be the oldest in Westchester.
Wilkens Fruit & Fir Farm – Yorktown Heights
1335 White Hill Road
914-245-5111
Approximately 1 hour by car from midtown Manhattan. Also accessible via Metro-North.
An apple picking trip here includes a fun hayride out to the orchard. The farm rents picking poles so you can get fruit off high branches. Apple season begins Saturday, September 6 and there are dozens of varieties, so check the farm's schedule to see when your favorites will be ripe. And if you're already planning your holiday season take note: Wilkens offers pumpkin picking beginning around October 1 and cut-your-own Christmas trees starting the Saturday after Thanksgiving. No car? You can take Metro-North to the Croton-Harmon Station or the Peekskill Station, and then a 15-minute taxi ride to the farm.
Rockland County, New York
The Orchards of Concklin – Pomona
2 South Mountain Road
845-354-0369
Approximately 45 minutes by car from midtown Manhattan
On weekends from September 20 through October 19, head to this spot for apple picking, a kids haunted house, bouncy castle and slide, and the enticingly named Jurassic Adventure. Every visitor over age 3 is required to buy a bag for apples, whether or not you plan to pick. Picking poles are also available to rent. Before you leave, grab a snack from the on-site bakery: Concklin's apple cider doughnuts are legendary.
Dr. Davies Farm – Congers
306 Route 304
845-268-7020
Approximately 50 minutes by car from midtown Manhattan
This historic 35-acre orchard is home to 4,000 trees and is open for picking daily. (Be prepared to battle school groups during the week.) On weekends, families can also enjoy tractor-drawn hayrides. Bring cash as credit cards aren't accepted.
Read about other places to pick your own apples in upstate New York.
Long Island
Fort Salonga Farm – Northport
30 Meadow Glen Road
631-269-9666
Approximately 1 hour by car from midtown Manhattan
Although there are several places where you can pick your own apples on Long Island, the majority of them are in eastern Suffolk County. But this tiny farm, located in the western part of the county, is much closer to NYC. Fort Salonga has a variety of dwarf apple trees, which means even your littlest pickers should be able to pluck fruit off low-hanging branches. The farm also offers pick-your-own raspberries in season. Although you won't find any additional kids' activities here, Sunken Meadow State Park is only a few miles away and offers playgrounds, hiking trails and more. Since Fort Salonga is a small, family-run farm, it's important to call before heading out as it's not open daily or even every weekend. But the owners are good about updating their voice mail message with current hours.
Read about other places to pick your own apples on Long Island.
Morris, Bergen and Somerset Counties, New Jersey
Alstede Farms – Chester
1 Alstede Farms Lane
908-879-7189
Approximately 1 hour by car from midtown Manhattan. Also accessible via New Jersey Transit.
In addition to apple picking, this farm's weekend attractions include a corn maze, pony rides, hayrides and a bouncy house. Now that's agri-trainment! Even better: You don't need to rent a car to get here. Take New Jersey Transit to the Gladstone Station where the FREE I Love Chester Express shuttle bus picks up visitors on weekends at select times. Going during off hours? Village Taxi also offers service to the farm for a fee. There are various admission packages available.
Sun High Orchards – Randolph
19 Canfield Avenue
973-584-4734
Approximately 1 hour by car from midtown Manhattan
Kids can get up close and personal with the donkey and alpaca, and take a leisurely hayride to the apple trees. Apples are sold by the pound here, so only grab what you want to buy. Cap off the day with a trip to the farm stand for homemade ice cream.
Demarest Farms – Hillsdale
244 Wierimus Road
201-666-0472
Approximately 35 minutes by car from midtown Manhattan
Demarest has the distinction of being the closest apple picking place for NYC families. Just across the Hudson River, this popular farm offers apple picking every day beginning Saturday, September 6, and special attractions on weekends. Admission gets you a hayride, the corn maze and face time with the farm animals, and you pay a flat fee for a bag to hold the apples you pick.
Riamede Farm – Chester
122 Oakdale Road
908-879-5353
Approximately 1 hour by car from midtown Manhattan
Choose from more than 30 varieties of apples including heirlooms on this farm. Don't expect any bouncy castles or petting zoos. Riamede is all about apples, with the only extra being a complimentary hayride on weekends.
Ripple Hill Farm – Basking Ridge
181 Mountain Road
908-647-1300
Approximately 50 minutes by car from midtown Manhattan
Despite the name, there are no hills at this farm, which makes it a great place to pick, especially if you're pushing a stroller. It's only open on Sundays from noon to 4pm and offers about a dozen varieties of apples. The owners are good about keeping their Facebook page updated with what's available.
Read about other places to pick your own apples in New Jersey.
Things to Know Before You Go
We realize we already said this in our intro but it bears repeating: Make sure you call ahead to confirm hours, apple availability and attractions. Many orchards are small, family-run establishments that close unexpectedly. A Mommy Poppins staffer once made a trip to a farm only to find the entire place shut down for a family funeral!
Keep in mind that the approximate driving times listed do not include traffic. Sadly, you're probably going to run into some, especially at the entrances to popular farms.
Leave your pets at home. They aren't allowed at most farms.
If you're thinking of packing a picnic, call ahead to make sure the farm allows you to bring your own food.
Apple picking season starts around Labor Day and lasts through October. However, If you go too late, there often aren't many apples left on the trees. So don't wait until Halloween.
You picked the apples, now what? We've got some tasty and easy apple recipes for you to try.
For other fun farm outings, check out our Pick-Your-Own Guide.
Sign up for our FREE newsletters to get posts like this delivered to your inbox.