New York City Stores to Play Indoors for Free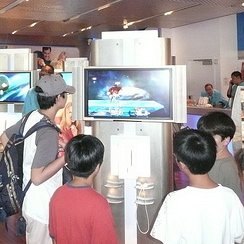 As the winter weather sets in, you might find yourself daydreaming of a tropical vacation. Alas, the economy still got your wallet? No problem! You can still give the kids and yourself a well-deserved break with a good old-fashioned "playcation" right here in New York City.
Take a day and go visit these play-friendly stores, without having to spend a cent. Do anything from shooting hoops to playing a tune on a giant piano, and maybe even get a little exercise in on the Wii Fit. The kids will be so exhausted by day's end, they might not even whine about not getting their own Nintendo system (fingers crossed).
The Apple Store - Various locations
Visit apple.com/retail to find your local store
Check out the latest Apple products and play computer games from the comfort of cozy bean bag chairs. For a store filled with so many electronic devices, there is definitely a lot of shameless playing going on. While you're discovering your new favorite app, your little gamer can sample some educational apps too, like PBS KIDS Photo Factory. In addition to in-store games, Apple provides free hands-on workshops and youth programs for kids ages 6-13. They'll learn to compose songs, create photo albums and produce movies using iLife and iWork applications (and all for FREE).
Nintendo World - Midtown West
10 Rockefeller Plaza, 48th Street between 5th and 6th Avenues
Simply put, this is a gaming paradise. Sample the newest games on the Nintendo 3DS system and the Wii U console. The kids will enjoy the DS sampling bar, where they can choose games from an extensive software library, and you may even pick up some healthy and tasty recipe ideas from Personal Trainer: Cooking. Be sure to check its site for upcoming (and of course, FREE) events such as a live Chat with Mario.
FAO Schwarz - Midtown East
Unfortunately FAO Schwarz closed in July 2015.

We'd be remiss if we didn't mention this extravagant fantasyland of a store. Though it can be a bit chaotic and tourist-filled at times, kids love playing sweet tunes on the BIG Piano, visiting the Muppet Workshop or walking around wide-eyed in the Barbie section. Even the littlest kids will gaze amazed at the larger-than-life stuffed animals on the first floor. For a special treat, stop for a delicious snack at FAO Schweetz—and don't forget to snap some photos with the toy soldiers outside.
Toys R Us - Times Square
1514 Broadway at 44th Street
Cheaper than Six Flags but with similar thrills and way more toys is the famed Times Square Toys "R" Us. The site boasts you'll "circle the center of the toy universe" and I can't argue with them there. The 60-foot tall indoor Ferris Wheel offers some great toy-scape views and an incredible amusement park feel. After your ride, visit Barbie's two-floor dollhouse and don't forget to check out the 5-ton, 20-foot-high, 34-foot-long T-Rex from Jurassic Park. There's also some arcade fun lurking in the "R" Zone, featuring the latest games, videos, CDs and DVDs, as well as awesome LEGO displays and a train table for the younger crowd.
Kidding Around - Chelsea
60 West 15th Street between 5th and 6th Avenues
You might not find your child's favorite characters in this indie store, but there are unique treasures to be discovered throughout this Flatiron gem. This extremely kid-friendly toy store welcomes its tiniest customers to sample all the goods it has to offer. Featuring favorites such as electronic trains and planes, musical instruments and dress-up costumes, Kidding Around is a great place to let the kids explore and be creative with their imaginations. Note: There's a second location inside Grand Central Terminal.
M&M's World - Midtown West
1600 Broadway between 48th and 49th Streets
Kids and chocolate lovers alike won't have an easy time leaving this store. M&M merchandise galore, a two-story wall full of thousands of the colorful candies, a 21-foot Miss Green M&M Statue of Liberty—this place has it all. You can spend money quite quickly and easily here, but you can also wander around without feeling the pressure to purchase one single brown M&M (though kudos if you can resist). Stop to take some photos with M&M mascots Yellow and Red, Miss Green and the whole M&M gang. Plus, the staff is happy to let kids play and run around, so go ahead and let them unleash all that sugar energy before you get home.
Disney Store- Times Square
1540 Broadway between 45th and 46th Streets
We visited the Disney Store when it first opened and despite the intense merchandising, we were impressed. It's certainly cheaper than a trip to Orlando! If you've got a princess or Cars fan on your hands, you won't want to miss this one. Check out the giant castle on the second floor or visit the Imagination Theater for some hands-on fun. The store also hosts free events—check their website for further details.
For more fun in NYC this winter, check out our Winter Fun Guide and Indoor Activity Guide.
Photo Credit: Rob Brooks.
This post originally published in January 2012.