Cool Mommy and Me Exercise Classes in NYC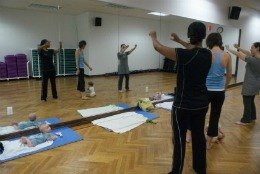 A few years ago, I never imagined that I'd become the kind of person who plans an entire day around my exercise class. I thought only old ladies and fitness nuts did that.
Not anymore. These days, I'm all over my Thursday morning Mommy & Me class. It's a great workout, and a lot of fun for me and my son. It really jump-starts our day.
We've written about Mommy and Me swim classes and stroller workouts before, but there are other ways you can get back in shape while bonding with your baby. Local YMCAs, gyms and other outlets now also offer parent and baby yoga classes, Pilates and, my class of choice, aerobics.
Not all Mommy and Me classes are the same, though. We're got the scoop on the differences, as well as a roundup of other parent and baby exercise options in NYC.
I've been attending various classes at my neighborhood Y since my now two-year-old daughter was just an infant, and I've found that "Mommy and Me" means different things to different teachers. Some instructors really involve the babies in the routines. They have you gently stretch out those plump little legs (I'm talking about the baby's!) or use your child as a weight.
Other teachers focus on keeping the kids entertained by incorporating songs and hand movements into the exercises. (Who knew "I'm a Little Teapot" could be such an inspiring workout song?) Then there are teachers who merely tolerate the presence of babies. These classes work best when your babe's very little and still finds lying on a blanket and staring up at the lights top-notch entertainment.
Regardless of which kind of class you go for, they all have certain things in common. The instructors know that you just had a baby (the one right there drooling on the exercise mat) and thus tailor workouts for recent postpartum bodies. Also, all of these courses allow parents to do some exercise (as much as baby allows, anyway) and meet other families with young children. For parents with more than one child, like me, they're also a nice way to do something alone with your new addition, who probably spends most of his or her day getting dragged around on the older sibling's schedule.
Every Thursday morning until my son starts walking, you'll find me and my baby sweating it out as Buffy (her real name!) leads us in stretches and squats and baby-bicep-lifts. No, I don't feel silly. Well, not any more so than usual.
Here are places and programs that regularly offer parent and baby exercise classes in New York City.
Parent and Baby Yoga or Pilates – Park Slope
Prospect Park YMCA
357 Ninth Street between Fifth and Sixth Avenues
718-768-7100
Parent and Baby Yoga or Pilates  – Park Slope
YMCA Sports Complex at Park Slope Armory
361 15th Street between Seventh and Eighth Avenues
212-912-2580
Mommy & Me Yoga – Midtown East
Vanderbilt YMCA
224 East 47th Street between Second and Third Avenues
212-912-2500
Mommy & Me Yoga – Various Locations
Prenatal Yoga Center
Various locations including the Upper West Side, Upper East Side, Chelsea, Tribeca and Cobble Hill, Brooklyn
212-362-2985
Aerobics – Various Locations
Strollercize
Central Park and various locations. See the website for details.
Check out more classes in our Classes Guide.