Cool Mommy and Me Exercise Classes in NYC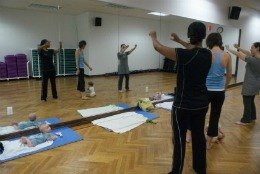 A few years ago, I never imagined I'd become the kind of person who plans an entire day around my exercise class. I thought only old ladies and fitness nuts did that.
Not anymore. These days, I'm all over my Thursday morning Mommy & Me class. It's a great workout and a lot of fun for me and my son. It really jump starts our day.
We've written about Mommy & Me swim classes and stroller workouts before, but there are other ways you can get back in shape while bonding with your baby. Local YMCAs, gyms and other outlets also offer parent and baby yoga classes, Pilates and, my class of choice, aerobics.
Not all Mommy & Me classes are the same, though. We've got the scoop on the differences, as well as a roundup of other parent and baby exercise options in NYC.
I've been attending various classes at my neighborhood Y since my now 2-year-old daughter was just an infant, and I've found that "Mommy & Me" means different things to different teachers. Some instructors really involve the babies in the routines. They have you gently stretch out those plump little legs (I'm talking about the baby's!) or use your child as a weight.
Other teachers focus on keeping the kids entertained by incorporating songs and hand movements into the exercises. (Who knew "I'm a Little Teapot" could be such an inspiring workout song?) Then there are teachers who merely tolerate the presence of babies. These classes work best when your babe's very little and still finds lying on a blanket and staring up at the lights top-notch entertainment.
Regardless of which kind of class you go for, they all have certain things in common. The instructors know you just had a baby (the one right there drooling on the exercise mat) and tailor workouts for postpartum bodies. All of these courses allow parents to do some exercise (as much as baby allows, anyway) and meet other families with young children. For parents with more than one child, like me, they're also a nice way to do something alone with your new addition, who probably spends most of his or her day getting dragged around on the older sibling's schedule.
Every Thursday morning until my son starts walking, you'll find me and my baby sweating it out as Buffy (her real name!) leads us in stretches, squats and baby-bicep-lifts. No, I don't feel silly. Well, not more so than usual.
Here are places and programs that regularly offer parent and baby exercise classes in New York City.
The YMCA of Greater New York – City Wide
Visit the website to find a location near you.
With 22 locations throughout the five boroughs, it's likely there is a YMCA near you. Parent and me classes range by location, but include parent and me yoga and Pilates. Some locations also offer family Zumba and specialized "Rumble & Tumble" classes geared toward honing motor skills in kids with parental support.
Prenatal Yoga Center – Upper West Side
251 West 72nd Street between Broadway and West End Avenue
This Upper West Side standby offers classes in post-natal yoga, where babies are welcomed, in addition to a Mommy & Me class that focuses more on establishing a bond with your baby. Music for Babies classes can also be taken here or at one of the satellite locations on the Upper East Side, in Chelsea, Tribeca or Brooklyn.
Strollercize – Upper West Side
Central Park
This aerobic program turns your stroller and the paths in Central Park into your own gym. Classes run four times a week and begin near the Delacorte Theater.
14th Street Y – East Village
344 East 14th Street between First and Second Avenues
This members-only East Village community hot spot offers postnatal Pilates for moms and babies. Class schedules change often, so visit the website for current offerings.
92nd Street Y – Upper East Side
1395 Lexington Avenue between 91st and 92nd Streets
Mommy & Me Yoga is among the myriad of group fitness classes offered at this neighborhood standby.
Check out more classes in our Classes Guide.
This post originally published in August 2011.