Learn Spanish: Language Classes for NYC Kids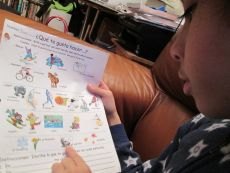 Like many multicultural families in our melting pot of a city, we speak multiple languages in our home including English, Russian (that's where I'm from) and a couple of others thanks to Hebrew school and regular school. My oldest son is currently learning Spanish and really loving it. He certainly gets many opportunities to practice it in daily life in NYC.
Many New York City public schools offer wonderful dual-language Spanish programs (as well as other tongues). But there are also other options. NYC is filled with places where young kids can learn how to habla Español. Some spots offer foreign language classes for preschoolers, while others have lessons for elementary students, a great enrichment option if your child's school doesn't offer a second language. Here are 11 of our favorite Spanish classes for New York City kids:
The Language Workshop for Children – Upper East Side
888 Lexington Avenue between 65th and 66th Streets
With drop-off classes for children ages 3 to 8, The Language Workshop for Children uses the Thibaut Technique, which employs music, props and play to teach Spanish (as well as French, Italian and Chinese) in a group setting. All classes come with a weekly Songs & More Workbook/CD set, and an LWFC Storybook of words they're learning in class. Children under 3 can take Languages for Tots classes with a caregiver starting at 6 months. There is also a summer enrichment program, and a Language Immersion Preschool.
El Taller Latino Americano! – East Harlem
215 East 99th Street between Second and Third Avenues
As of the fall of 2015, this UWS standby has found a new home in East Harlem. During the after-school Latin American Workshop, kids study "Spanish of the Americas" through music, theater, arts and crafts, and conversation. Students start by learning how to say hello, name their body parts, order food, and identify colors and common objects. Though the class is taught in a bilingual format, beginners are welcome. An immersive Spanish Arts Summer Camp is also available for school-age children.
Lango: Foreign Languages for Kids – Brooklyn
Visit the website for locations.
Afternoon classes are available for preschoolers through second graders in Park Slope, but Lango will also come to you in either Brooklyn or Manhattan for customized group lessons. Summer camp is also offered.
I'm Bilingual! Languages Through Music – Upper East Side
122 East 88th Street at Lexington Avenue
Children under age 7 can learn the language through music and art classes. A summer-camp like program is also available for ages 2-5 years.
Tribeca Language – Tribeca
22 Harrison Street between Greenwich and Hudson Streets
Maurice Hazan, the owner and founder of this school, developed the QTalk Method, which associates a specific picture to every word for easier learning. Kids under 2 and their caregivers are welcome in the Baby & Me classes, and there are drop-off sessions for ages 3 and up. The goal is to teach children a core 300 or so words that will make imaginative play possible, and then build from there.
Hola! A Playgroup in Spanish – Chelsea & Queens
Visit the website for locations.
Toddlers can start getting comfortable en español at age 1 through this program. There are also after-school, ballet, Flamenco, music and summer programs with elements like radio lab, exploring cultures and yoga, all conducted in Spanish.
Bilingual Birdies – Citywide
Visit the website for locations.
In addition to group Speakin' Spanish classes for children up to age 5, Bilingual Birdies also offers private sessions in your home, plus birthday parties and family concerts around the city.
Juguemos a Cantar – Brooklyn
Visit the website for locations.
This program for children ages 18 months to 4 years offers a preschool alternative, after-school, playgroups, classes, camps and even a drop-in option.
Brooklyn Beanstalk – Brooklyn
Visit the website for locations.
With multiple outposts in Brooklyn, this program offers Spanish language immersion classes in small groups for ages 16 months to 8 years. Students learn how to speak through songs, dramatic play, games and everyday interactions.
For other ways to experience the Spanish language, read our post about learning about Hispanic culture in NYC. And check out our Classes Guide for more enrichment programs in NYC.
This post originally published in March 2013.