This Week: Kids' Concerts, Where to See Cherry Blossoms, Birthday Freebies, Children's Theater Festival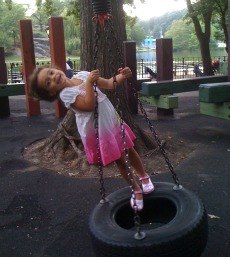 The spring culture season is really heating up in the city. This week, we rounded up 13 awesome kids' concerts, including four taking place this weekend. We're also very excited about the first-ever New York Children's Theater Festival, which kicks off this weekend on the Upper West Side. The outdoor festival season is also in full swing with the Tribeca Family Festival Street Fair and the Brooklyn Botanic Garden's Cherry Blossom Festival coming up next weekend. (Glad they're not this weekend, since it's supposed to rain on Saturday and Sunday.)
Earth Day is the main event on our sister sites. You can celebrate our planet at lots of festivals this weekend on Long Island, in New Jersey and Connecticut—many of the events are inside so you don't have to worry about the weather. Our NJ site also did a really cool post about Geocaching with your kids, a kind of technological treasure hunt. And if you're planning on taking a trip with young children anytime soon, be sure to check out our tips for traveling alone with a baby or small kids.
Here's what else we shared this week on our NYC site.
Since it's spring, we picked out our favorite places to see cherry blossoms.
We continued our series of Dumbo posts with a roundup of the neighborhood's best family-friendly restaurants.
Kid got a birthday coming up? Find out about all of the great birthday freebies your child can get courtesy of Toys R Us, Baskin-Robbins and more.
The New York Children's Theater Festival debuts on Friday and has a really impressive slate over the next three weekends.
Get out your calendar: We've rounded up 13 cool kids' concerts this spring. We also have the scoop on all of the awesome Tribeca Film Festival family events happening this month.
One of our bloggers took her son on a fun-filled tour of Little Airplane Productions, Inc., a.k.a. the place where they make the hit Disney Junior TV show Small Potatoes.
Our news roundup includes details about free comic book day, a new Bronx fatherhood program and a way to donate outgrown toys.
Celebrate honor National Poetry Month all year round with these 10 wonderful poetry collections for kids.
Best bets for the weekend include lots of Earth Day festivities, the Bronx Zoo's Animal Tales Extravaganza and the kick off for Central Park's A Clearing in the Forest family performance series.
Tags: