14 Fun and Free Ways to Celebrate Your Kid's Birthday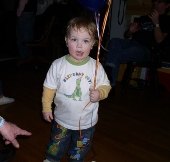 Have you ever experienced birthday burnout? You know, the feeling that overtakes your whole family when you're completely cupcaked, partied and goody bagged out by the time your kid's "real" birthday arrives? These days, birthday burnout can be intensified for kids that have multiple celebrations leading up to their birthday—in school, at relatives', at after-school—and sometimes the big day can be kind of anti-climatic.
This year, banish the burnout with 14 super-simple and fun ideas to make your kid's birthday as special as they are without big presents, treats or spending a lot of money These ideas focus on creating a little bit of magic, making the birthday child feel special and just having fun together.
1. Start the day out with a special birthday breakfast, complete with candles and a round of "Happy Birthday." If possible, get up extra early and make your kid's favorite breakfast, or find the time to make it together. Do this all over again at lunch and dinner.
2. While they're at school, fill up their room with helium balloons, or decorate it with tons of streamers and other birthday decor.
3. Blow up a bunch of regular latex balloons early in the morning while your kid's still sleeping and cover the floor with them for a fun surprise.
4. Write "Happy Birthday!" on the bathroom mirror or window with shaving cream.
5. Put a surprise birthday note or card in their lunch bag, backpack or coat pocket telling them how much you love them.
6. Announce special upcoming activities you have planned, like a vacation or something they've been wanting to do forever. Even if you were going to do it anyway, say it's a special birthday gift.
7. If there is something on the horizon like the addition of a pet, or an increase in their allowance, do the big reveal. We told our son we would be moving his bedtime by one hour on his birthday, which made it seem more important.
8. We realize we may catch some flak for this but, if possible, you and your kid can play hooky so you can do something fun together. C'mon, it's one day a year!
9. Take an identically posed photo of your kid every year on the big day. When you have enough pictures, turn them into a digital slide show or put them into an album. Review it each year on their birthday.
10. Celebrate the exact minute of their birth as if it were midnight on New Year's Eve. Bang pots and pans, throw confetti and blow horns.
11. Write your child a birthday letter every year. Wrap up the year; say how you've seen them grow and change, and why they are so special. If your kid isn't yet old enough to cherish these letters, save them for later. Make sure to read them together ever year.
12. Do an annual sweep of their possessions, and donate unwanted books and toys to charity. Not only is it a great way to help others and bond, you're making room for all of the inevitable presents coming your kid's way. Read our post on other ways to give back at birthday time.
13. Reminisce about the day they were born. Look at the baby photos, reread any cards you still have, watch home videos, share funny stories (in our case, how Daddy locked his keys in the car during a huge snowstorm). Move on to more recent milestones, like the first day of school or another special occasion.
14. Let the birthday kid call the shots for the day. They should choose dinner or the days' activities. Maybe even let them break a couple of rules or stay up past bedtime.
Find more fun ways to celebrate birthdays in New York City in the Mommy Poppins Birthday Guide.