Little League Baseball, Softball and T-Ball for New York City Kids 2014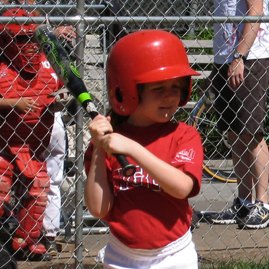 The Yankees and the Mets aren't the only ones stepping up to the plate this spring. Thousands of kids across the city are eagerly dusting off their cleats in anticipation of Little League's 75th annual official opening day on Saturday, April 5 (though some teams kick off on Sunday, April 6 and throughout the rest of the month).
Joining a Little League team (or any other youth baseball organization) is great fun for the entire family. Parent participation isn't just encouraged, it's mandatory. Moms and dads volunteer to help manage the leagues, coach the teams, run the concession stands and maintain the grounds. Since it's nonprofit, the registration fees are relatively affordable. Most cost under $200 for the entire season, and that includes those nifty uniforms. If that's still out of your range, some leagues offer financial assistance.
Because of high enrollment, many teams have pretty strict geographic boundaries. Normally kids need to register based on their home address and proof is required, but this year some teams are opening up league play to children who attend schools in the designated zone. With opening day coming up next month, some teams are full, but many are still open for registration and most offer wait lists—and unlike other wait lists in this town, I hear that these actually move.
Find out how to join a T-Ball, baseball or softball team in New York City this spring. If your kids would prefer to cheer from the sidelines than get in the game, we've got the scoop on some great Little League opening day bashes, too.
Manhattan
If you live below Canal Street but not on the Lower East Side, Downtown Little League offers team baseball for children ages 5 years and up. There's also softball for girls ages 8 and up. This year the league's opening day parade takes place on the morning of Saturday, April 5 as and includes a street fair between City Hall and the Battery Park City Authority Ballfields on West Street between Murray and Warren Streets.
If you live between 57th and 120th Streets between Central Park West and the Hudson River, the West Side Little League offers co-ed T-Ball for 5-year-olds and baseball for children ages 7 to 18. Girls ages 8 to 17 interested in softball, kids who attend school in the catchment area and children with special needs who'd like to play in the league's Challenger Division, can live outside of those boundaries.
If you live in Manhattan above 181st Street or in the Bronx, the Inwood Manhattan Little League (NYC's oldest Little League team, which started back in 1950!), offers baseball for children ages 4 and up. Kids that live in other parts of NYC can play on this team, too, but don't get to participate in the end of the season tournaments. The opening day parade is on Saturday, April 5 at noon.
If you live between 59th and Canal Streets west of Broadway, the Greenwich Village Little League, which is celebrating its 30th anniversary, is for you. This large league with 800 kids on 60 teams offers T-Ball for 5- and 6-year-olds, team baseball for older kids and girls' softball starting at age 4. There will be an opening day party on Saturday, April 5 on Pier 40 at Houston Street and the Hudson River at 10:30am.
If you live between 110th and 120th Streets between Frederick Douglass Boulevard and Fifth Avenue, or between 120th and 160th Streets, try Harlem Little League for baseball starting at age 5. There are a few changes for 2014: There's no softball this year however, if you have a 4-year-old dying to play, you can register him early but you'll need to volunteer as a coach. Also, kids who live elsewhere but go to school in the zone are eligible to play. Opening day is Saturday, April 5, when teams will parade through the nabe and play their first game.
If you live between 86th and 125th Streets between Fifth Avenue and the East River, East Harlem Little League offers T-ball and baseball for children ages 4 to 12, and travel teams for older kids. The opening day parade is on Saturday, April 5 at 10am from St. Cecilia Church on East 106h Street near Lexington Avenue to the field on 112th Street between Madison and Park Avenues.
If you live between South and 14th Streets between Third Avenue and the East River, Felix Millan Little League, named for the famous NY Mets player, offers team play for children ages 6 and up and girls' softball.
If you live between 14th and 72nd Streets between Fifth Avenue and the East River, Peter Stuyvesant Little League offers baseball for kids as young as 5 and softball for girls starting at age 6.
Although the four groups below aren't part of the Little League organization, they also offer team baseball in Manhattan:
Manhattan Youth Baseball offers baseball citywide year-round. There are also classes for toddlers, as well as league play and camps for elementary-schoolers.
Manhattan Babe Ruth League plays in Central Park, and every player attends a pro baseball game during the season. It's open to kids from all over the city ages 5 to 11.
Harlem RBI offers baseball and softball league play to children of all ages. East Harlem residents are given first priority, but kids from other areas are welcome to apply.
Yorkville Youth Athletic Association is the largest baseball program in Manhattan offering baseball citywide during the fall and spring as well as after-school play for kids in pre-K through seventh grade for girls, and pre-K through 12th grade for boys.
Brooklyn, Queens, the Bronx & Staten Island
The other boroughs have Little Leagues as well as other organizations like schools, churches and nonprofits that run team baseball for kids. These groups often don't have Little Leagues' rigid geographical boundaries. To find leagues near you, look for flyers at your school and around your neighborhood. Also ask other parents, or go to your local field on a Saturday and talk to the teams. Visit the Little League website for more information.
There are way too many leagues to list, so here are just a few.
Holy Name Fathers Guild – Brooklyn
This organization provides sports for boys and girls in the Holy Name Roman Catholic Church Parish in Windsor Terrace. There's T-ball for 5- to 7-year-olds, baseball for older kids and softball for girls. The older kids play against teams in Prospect Park.
78th Precinct Youth Council – Brooklyn
This org offers tons of play: T-ball, co-ed teams, girls' softball and a travel team, the Brooklyn Bulldogs, for older kids.
Brooklyn is a borough that really knows how to get its game on! On Saturday, April 5, the Brooklyn Little Leagues do a full-fledged parade with more than 2,000 players and coaches strutting down Seventh Avenue and Carroll Street into Prospect Park, gathering at the band shell for the first toss of 2014. The celebration kicks off at 10am sharp and is over by 12:30pm.
Ridgewood-Glendale-Middle Village-Maspeth Little League – Queens
The oldest and reportedly largest league in the borough has been playing baseball longer than the Mets! These teams take the sport seriously and have three stadiums. Opening day is Saturday, April 5 at 8:30am. Watch the teams step off for a parade at 65th Street and Myrtle Avenue.
Parkchester Little League – the Bronx
This team has been around since the 1960s and is part of the Babe Ruth League. Offerings include T-ball, baseball for all ages and softball for girls.
Great Kills Little League – Staten Island
This league offers many teams, including options for children with special needs.