February Break: 35 Fun Things to Do with NYC Kids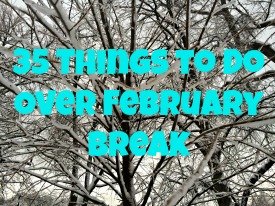 Kids can stop praying for snow days. Starting this Saturday, public school students have nine days off for midwinter recess. If you need to work during the week and are in need of child care, there are lots of enriching school break camps all over NYC. But if you're lucky enough to have the time off, too, there's lots of winter fun to be had in all five boroughs.
Spend your staycation watching fabulous family theater shows, exploring cool museum exhibits or celebrating the Lunar New Year. Or enjoy seasonal sports in the city, like ice-skating and sledding, or take a day trip to a nearby skiing and snow tubing resort. Plus lots of museums run special family programs over break, where kids can enjoy a wide variety of hands-on activities.
To help you make the most of the school recess, we've rounded up our top 35 things to do with kids in New York City over February break, which runs from Saturday, February 14 through Sunday, February 22. Some of our picks only take place on specific dates, others run the entire time and all are great ways to celebrate the freezin' season. Be sure to click the links for all the details, including address and time.
You can find additional options in our Event Calendar, our Winter Fun Guide and our Indoor Activity Guide.