Where to Ski with Kids in New York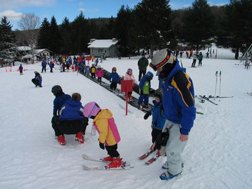 One of the things that makes NYC the ultimate place to live with kids is that you never have to travel far to find great family-friendly recreational activities. When the winter months roll around, skiing tops the list for many families. Wondering where you can find the best places to go skiing with your kids? Depending on what kind of skier you are and whether you want to ski together with your kids or drop them off at ski school and hit the slopes yourself, we've got some suggestions for you, all located within a few hours' drive. Read on for our rundown of the best family ski centers near New York. Happy Skiing!
Closest to NYC:
Campgaw Mountain Want to jump in the car and be on the slopes in less than an hour? Campgaw Mountain is your place. This tiny slip of a slope is about 20 miles north of the George Washington Bridge so it's perfect for a day trip. This is a great destination if your kids are young or just learning to ski. There's a designated beginner area with magic carpets for transporting little (or big) kids back up the hill. Individual and group lessons are also available, and there's a special children's program for ages 4-6. Campgaw can get busy, but it's definitely not as crowded as some of the bigger resorts.
All-inclusive:
Rocking Horse Ranch Looking to escape for the weekend and indulge in some wintertime fun? Rocking Horse Ranch, just 90 minutes from NYC, has plenty to keep your family busy—skiing, tubing, ice skating, sleigh rides and even an indoor water park. The resort is all-inclusive so you don't have to worry about a thing: lodging, meals, activities and entertainment are all covered. Rocking Horse also offers a nursery for ages 0-5 and a day camp for ages 6-12 if you want to visit the spa or simply take a nap.
Best Ski School:
Windham Mountain Windham's ski school is ranked among the best in the country. Your kids will be in good hands at the Children's Learning Center, which provides lessons for ages 4-12. Children ages 2 to 7 can be dropped off at the Center for half- or full-day supervision, too, while you freely explore the 53 trails. Windham is a family-friendly resort with many wonderful services, such as a full-service ski shop, choice of eight dining facilities and nearby lodging, so it's the perfect choice for a weekend getaway.
Newest Facilities:
Tuxedo Ridge at Sterling Forest This wonderful ski center was renovated a few years back—the lodge, kitchen and bathrooms were overhauled and all new rental equipment was purchased. Located just 35 miles from the George Washington Bridge in Tuxedo, NY, it has something for everyone: downhill skiing, snowboarding and tubing are all available, as well as a ski school.
Originally published December 19, 2008