5 Fun Finds at the American Museum of Natural History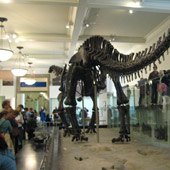 Although I consider myself lucky to be close enough to the American Museum of Natural History that I can bring my child as often as he likes, the monthly visits tend to get a little repetitive. Especially since he really likes the whale room and needs to take a full inventory of it each time he visits. Add in a few bathroom breaks and a lunch break and it is time to leave before you have seen anything else in the museum. 
So, we've taken to exploring the museum specifically to unearth new places to add to our repertoire when we visit. There is so much in there it could easily take a lifetime to see it all, but, we have turned up enough cool stuff to make for a fun afternoon. On your next visit, bypass the whale room (or the dreaded dinosaur floor) and try visiting one of these fun finds:
1. The Discovery Room, 1st Floor
You've passed by this room on your way to a special exhibit and most likely saw a crowd gathered outside and thought they were waiting for the elevator. Inside all the museums specialties are represented in an understandable way for the school aged set. In the hands-on mini museum, kids can dig for dinosaur bones, play games, curl up with a good book or search for animals on the big baobab tree. There are also stuffed and live animals, microscopes and a huge cabinet filled with all sorts of cool stuff like bones, feathers, shells and rocks, for inspecting. During the museum's peak times they give out timed admission tickets, but often during the morning you can just walk in. The educators here also offer story time for preschoolers on Monday mornings and a "Meet the Scientist" program for older kids.
2. Take a free tour or hang out with the explainers
You are guaranteed to see something new on a docent led tour. Daily tours of the museums highlights start outside the African Mammals hall on the second floor at 15 minutes after the hour. Children love the explainers because they can touch everything on their carts.  Last week the 4th floor explainer let kids touch an enormous alligator skull. Explainers are normally found in the Space Center and on the Dinosaur floor but we have also found them in the Ocean Life hall, too.
3.  The Astor Turret, 4th Floor
Not an exhibition, just a cool and quiet place in the massive museum. In the southwestern corner of the Dinosaur floor is this lovely, round, little space, with benches and windows overlooking Central Park West. It is the perfect place to take a quick rest and away from the crowds of dino-fans.
4. Warburg Hall of NY State Environment, 1st Floor
This is my absolute favorite part of the museum and it hasn't changed one bit from when I visited with my parents thirty years ago. This section has so much to engage the kids and it is never crowded. We love the cool dioramas of NY State farms and orchards with tiny barns, tractors and trees, the cutaways of soil with animals digging maze-like tunnels and burrows, and kids will just love the models of dog sized millipedes, mosquitoes and other bugs. Don't leave with out checking out the display on maple sugaring. Plus, you just have to love the paneling.
5. The Gottesman Hall of Planet Earth, 1st floor
A huge bronze globe greets you as you enter the dark hall hidden in the corner of the Rose Center for Earth and Space. Kids can turn the metal earth on its axis with some help from mom and dad or feel for sharp mountain ranges, oceans or other geographical highlights. Then look up to see the 8 foot in diameter, Dynamic Earth Globe, which projects a view of the earth from space and watch how in 12 minutes the earth does a complete rotation. 
For more great museums visit Mommy Poppins Culture Guide.