Best Sledding Hills in New York City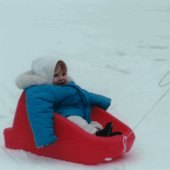 Many of my favorite memories from growing up in NYC involve snow days. The outdoor parking lot on my corner would plow all the snow into one corner, making our own private sledding hill. We would use garbage can lids or pieces of cardboard to sled down this very short, but very steep hill. We also liked to tunnel in between the parked cars to create forts.
Ah, but times have changed. My street urchin days are over and now we use real sleds and real hills to go sledding. Here are some of the best places to go sledding in New York City, as recommended by my family and our readers. Feel free to add your favorites in the comments.
Central Park Sledding
By far the most popular sledding hill in Manhattan is Pilgrim Hill in Central Park. Just north of the 72nd Street entrance at Fifth Avenue. Pilgrim Hill is a steep slope with a gentle end for lots of speed and not too rough of a ride. When Pilgrim Hill is too crowded, head to Cedar Hill between 76th and 79th Streets just south of the Metropolitan Museum of Art or hit the hill next to the Conservatory Garden by 106th Street and Fifth Avenue.
Riverside Park Sledding
Riverside Park is less crowded and has many different hills. The one near Hippo Playground at 91st Street is extremely popular as is the hill at 103rd Street.
Harlem
Harlem has many large parks, and almost all are built on steep hills. The hill at 135th Street in St. Nicholas Park is quite popular, as are the slopes at 110th Street, 113th Street and 122nd Street in Morningside Park.
Highbridge Park
This Washington Heights green space is where the Parks Department hands out free hot cocoa and sleds on official snow days near the Field House. Sledding is nearby at 174th Street and Amsterdam Avenue.
Inwood Hill Park
This uptown park has perhaps the best and least known sledding hill in Manhattan.
Upper East Side A reader also recommends 91st Street between Second and Third Avenues, a steep street that's permanently closed to traffic and very popular with neighborhood kids.
Prospect Park Sledding
There's a great sledding hill right inside the park at 9th Street and Prospect Park West. Brooklynites also love the sledding hills all around the Nethermead, a great field that feels like you're in the middle of the woods. On official snow days you'll find the Parks Department near the Tennis House.
Fort Greene Park Sledding
Fort Greene Park is like a mini-Central Park and has four hills, including one gentler one. Don't be tempted to sled down the stairs. It looks smooth, but people have been injured.
Brooklyn Heights Sledding A reader recommends the dog run at the end of Orange Street.
Colonial Road and 68 Street in Bay Ridge's Owl's Head Park is also beloved for its sledding slope.
Queens Sledding
Forest Park: The popular spot is the golf course where, technically, sledding is not allowed because it's deemed unsafe by the Parks Department. But it's the fact that it's steep that makes it so popular. There's also a hill in Forest Park at the Mary Whalen Playground at 79th Street and Park Lane. Readers have also recommended Juniper Valley Park at 75th Street and Lower Highland Park and that's where the Parks Department is on official snow days.
Bronx Sledding
People like to sled at Ewen Park because it has stairs for climbing back up the hill. Its long steep hill is considered one of the best sledding hills in the city, but sledders have to bail at the bottom before hitting the hay bales the Parks Department puts up to keep people from going out into the street.
Van Cortlandt Park has nice gentle hills for little kids. Also, Crotona Park at Fulton Avenue around East 172nd Street which is the official snow day location.
Staten Island Sledding
Clove Lake Park is the official sledding spot on Staten Island, but kids love Dead Man's Hill in Silver Lake Park.
Where do you like to sled? Let us know in the comments below.
Find more seasonal fun in our Winter Activity Guide.