Free & Fun Things to Do this Weekend for NYC Kids: St. Patrick's Day Parades, Kids Food Festival, NYICFF Opening March 2-3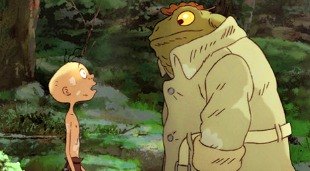 The first weekend of March is jam-packed with exceptional family fun in NYC, like the kickoff of the month-long New York International Children's Film Festival and the annual Kids Food Festival in Bryant Park. There are also some wonderful multicultural celebrations, including a pair of St. Patrick's Day parades in Queens and the JCC in Manhattan's big Purim carnival. Looking to rock out? There are some cool kiddie concerts, too, like Brooklyn Kids Rock featuring four local bands, Boston singer/songwriter Alastair Moock at 92YTribeca and the Deedle Deedle Dees at Symphony Space.
These are just a few of the great events this weekend. All of our best bets are below. You can find additional options in our Event Calendar and our Winter Fun Guide. And if you like to plan ahead, check out our March Go NYC List, which highlights the absolute best things to do with kids throughout the month.
All Weekend
New York International Children's Film Festival – Manhattan
The month-long film fest kicks off this weekend with screenings for both school-age kids and tots, like the East Coast premiere of The Day of the Crows, Rompe Ralph, the Spanish version of the U.S. animated hit Wreck-It Ralph and other wonderful family films from around the world. Buying advance tickets is a must. $13-$16
Topsy-Turvy: A Camera Obscura Installation – Flatiron
Madison Square Park hosts cool public art displays throughout the year and this new one sounds pretty awesome. Visitors can actually step inside Sandra Gibson and Luis Recoder's old-school camera and watch it snap photos of the surrounding area and then project them upside down. FREE
Kids Food Festival – Midtown West
Citi Pond at Bryant Park hosts this second annual fest, which aims to make healthy eating fun for families. Kids can try to score a free goody bag by participating in a healthy food scavenger hunt, watch chef demos, catch sets by Song for Seeds, Little Club Heads and the Dirty Sock Funtime Band, strike a pose with Karma Kids Yoga or create something new out of recycled materials with ScrapKins—all for FREE. Well-known chefs lead the kids' cooking workshops, which cost $25 per child.
Little Orchestra Society: Meet the Maestro – Upper East Side
Find out how important conductors really are in this interactive Lolli-Pops concert for preschoolers featuring works by Beethoven, Bach and Ravel. $15-$45
Show Way – Upper West Side
It's your last chance to catch Vital Children's Theater's musical based on Jacqueline Woodson's Newbery Honor-winning book. The hour-long show touches on friendship, responsibility and how African-Americans united during slavery, the civil rights movement and beyond to make the world a better place for everyone. Mommy Poppins contributor Nataki brought her family to see it a few weeks back and was very moved. Best for children ages 7 and up. $25
 
Saturday, March 2
Queens County St. Patrick's Day Parade – Rockaway
Don your best green duds for this early holiday celebration. This is NYC's second-largest St. Patrick's Day procession and it features bagpipers, marching bands, dance troupes, floats and community organizations marching down Rockaway Beach Boulevard toward Shore Font Parkway. We expect this edition to be particularly emotional, since the community survived the wrath of Hurricane Sandy. FREE
Brooklyn Kids Rock – Fort Greene
Rock out to four local family bands: Jeremy Plays Guitar, Captain Kirk Douglas (best known for his work with The Roots), AudraRox and the Anna Banana Band. Other attractions include face painting, arts and crafts and carnival games, all to benefit Brooklyn's Maple Street School. In advance: $14, $48 for a family four-pack; at the door: $17. $20 for activity bracelets for the extra attractions
The Deedle Deedle Dees – Upper West Side
More great music: Catch one of our favorite and funniest family bands at Symphony Space, where the members will take kids on a tour of NYC's melting pot musical styles, including hip-hop, klezmer, old jazz, punk rock, mariachi and salsa. The Dees will also debut some new tunes written in collaboration with Haitian orphans. $20 for adults, $13 for children
Meet the Artist Saturdays: A Cinderella Moment – Upper West Side
Head to Lincoln Center's David Rubenstein Atrium to hear selections from the revamped version of Rodgers and Hammerstein's Cinderella, which is currently playing on Broadway. FREE
Trusty Sidekick Theater Company: Shadow Play – Lower East Side
This multimedia shadow puppet and live-action show tells the story of Flash and his mischievous shadow, which breaks free. Best for preschoolers. $15 for adults, $5 for children
First Saturdays for Families: What's in a Portrait? – Lower East Side
Explore the New Museum's exhibit NYC 1993: Experimental Jet Set, Trash and No Star, which showcases offbeat portraits, and then head upstairs to the Sky Room to create your own in unexpected mediums. FREE
Guess How Much I Love You? & I Love My Little Storybook – Greenwich Village
Watch the esteemed Mermaid Theatre of Nova Scotia's take on these two classic picture books at the NYU Skirball Center. My son and I saw the troupe's adaption of The Very Hungry Caterpillar and Goodnight Moon last fall and were mesmerized. The puppets are really gorgeous. $28
MAD Fun: Family Day – Midtown West
Hit the Museum of Arts and Design to make 3-D objects inspired by the works on display, see animated shorts and more. All materials are included and arts educators lead the workshops. $30 per family
National Girls and Women in Sports Day – Flushing
Young ladies can head to the Al Oerter Recreation Center in Flushing Meadows Corona Park for a slew of sports clinics, health and fitness demos, and a meet and greet with youth karate champion Destiny Vergara. FREE
Sunday, March 3
Penguin Party Festival – Little Neck
Hit the Samuel Feld Y for a goodbye to winter festival featuring bouncy houses, arts and crafts, games, food and other festivities. Bonus: Kids who come in costume or bring canned goods for donation snag two free activity tickets. Free admission with fees for certain activities.
St. Patrick's For All Parade – Sunnyside
As the name implies, this Queens parade is completely inclusive, allowing everyone to feel Irish in honor of the holiday. The result is a spirited multi-culti affair that features Bolivian dance troupes and Caribbean performers alongside Celtic drummers and other traditional Irish entertainment. FREE
Alastair Moock – Tribeca
Groove to the Boston-based kiddie rocker's folksy tunes at 92YTribeca. $15, free for children under 2
Purim Family Carnival – Upper West Side
Although Purim was officially last week, you can still celebrate the Jewish holiday at the JCC in Manhattan's annual carnival. Festivities include bouncy houses, arts and crafts, live music, a petting zoo, face painting, and lots of games where kids can win little tchotchkes. Free admission but activities cost extra.
Outside NYC
Maple sugaring season continues throughout the Northeast. For an extra special treat, visit Cornwall's Hudson Highlands Nature Museum for its annual Maple Sugar Festival on Saturday featuring crafts, games, tree-tapping contests, Native American storytelling and seasonal snacks around an outdoor camp fire.
Head to the Morris Museum in Morristown, New Jersey to celebrate the birthday of the incomparable Dr. Seuss.
Don't forget: There are lots of other options in our Event Calendar.
Tags: