St. Patrick's Day for NYC Kids: Free Parades, Celebrations & Irish Culture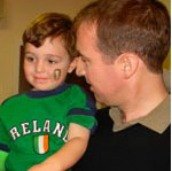 Everyone feels a wee bit Irish around St. Patrick's Day, especially here in NYC where we have a large population of Irish folk. If your days of celebrating 'til you're green around the gills are a distant memory, don't worry: There are plenty of kid-friendly ways to mark St. Patrick's Day in New York City.
This year, St. Patrick's Day falls on Tuesday, March 17, but the festivities begin weeks earlier, with a pair of popular local parades stepping off this Sunday, March 1. In addition to St. Patrick's Day processions in all five boroughs (Queens and Brooklyn actually have two each!), there are step-dancing performances, Gaelic workshops, kids' flicks and even a leprechaun hunt. Or you can always celebrate as a family at one of NYC's many kid-friendly Irish pubs.
Here are our favorite ways to celebrate Irish culture and St. Patrick's Day with kids in New York City. Sláinte!
Click through to our listings for all the details, including address, time and recommended ages.
St. Patrick's Day Parades
St. Patrick's For All Parade – Sunnyside
Sunday, March 1
FREE
As the name implies, this Queens parade is completely inclusive, allowing everyone in the diverse neighborhood to feel Irish in honor of the holiday. The result is a spirited multicultural affair that embraces community groups, children's bands, Irish organizations, religious groups and LGBT contingents.
Staten Island's St. Patrick's Day Parade – Staten Island
Sunday, March 1
FREE
Head to the isle for this 51st annual procession, which travels through the borough's West Brighton neighborhood on Forest Avenue, with viewing stands at the Blessed Sacrament R.C. Church.
Queens County St. Patrick's Day Parade – Rockaway
Saturday, March 7
FREE
This year marks the 40th anniversary of this annual Queens parade, which struts down Rockaway Beach Boulevard, connecting the Irish enclaves of Belle Harbor and Rockaway Beach with plenty of pageantry.
Throggs Neck St. Patrick's Day Parade – the Bronx
Sunday, March 15
FREE
The 17th annual Throggs Neck Benevolent Association's celebration starts with mass at St. Benedict's Church followed by a complimentary breakfast in the church's hall, and culminates in a parade around the Bronx neighborhood.
Brooklyn St. Patrick's Day Parade – Park Slope
Sunday, March 15
FREE
This small, family-friendly parade features bagpipers and lots of local Irish charm. The procession makes a loop: It kicks off at Prospect Park West and 15th Street, heads to Seventh Avenue where it goes to Garfield Place, then returns to Prospect Park West and marches up to 15th Street.
NYC St. Patrick's Day Parade – Manhattan
Tuesday, March 17
FREE
Manhattan's procession is the biggest and oldest (since 1762!) St. Patrick's Day Parade anywhere, full of pomp, pageantry, blaring bagpipes and countless enthusiastic spectators. A Mommy Poppins writer who frequents this parade reports that it isn't nearly as wild as its reputation, but there are still huge crowds and a few tipsy revelers. If you're bringing kids, watching at the northern end is your best bet since it's typical a bit calmer.
Bay Ridge St. Patrick's Day Parade – Bay Ridge
Sunday, March 22
FREE
The intimate Bay Ridge Parade marches down Third Avenue after mass at St. Patrick's R.C. Church.
Other St. Patrick's Day Celebrations
Craic Fest: Kids Film Fleadh – Tribeca
Saturday, March 7
$10
Celebrate all things Irish at the Craic Fest's annual family day featuring award-winning short films, Irish step-dancing and storytelling, and complimentary tea, coffee and scones.
Irish New York Walking Tour – Financial District
Saturday, March 14-Sunday, March 15
Best for tweens and up, this special two-hour tour explores the former "Little Ireland" on the Lower East Side, once home to more Irish folk than Dublin. You'll learn why St. Patrick's Day is more popular in NYC than in Ireland, and other Irish lore while visiting historic sites.
St. Patrick's Day Open House – Midtown West
Sunday, March 15
FREE
The Irish Arts Center's annual fete features crafts like make-your-own fairy costumes, football (that's soccer to us Americans) skills with the Manhattan Gaels, a dance party with DJ Púca, and a slew of Irish culture workshops where kids can learn to play the tin whistle or speak Gaelic.
Leprechaun Hike – Staten Island
Sunday, March 15
FREE
Naturalists lead families on a one-mile hike at the Greenbelt Nature Center, searching for elusive leprechauns in honor of St. Patrick's Day. The program is FREE, but advance registration required. Call 718-351-3450 or email naturecenter@sigreenbelt.org.
If you've got preschoolers who are too young to appreciate these celebrations, tot hot spots the Brooklyn Children's Museum, the Children's Museum of Manhattan and the Staten Island Children's Museum are all hosting St. Patrick's Day activities the weekend of March 14-15.
Find out about other great NYC cultural events in our Event Calendar or check out our roundup of family-friendly Irish pubs.
This post originally published in February 2009.
Tags: