Best Things to Do with NYC Kids: March GoList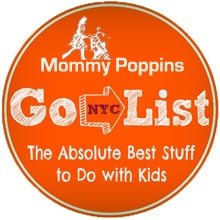 The coming of spring isn't the only thing to look forward to this March. The month is blooming with awesome family events, and our top picks are featured in our latest NYC GoList. In addition to annual favorites like Macy's FREE Flower Show, family-friendly St. Patrick's Day celebrations and Purim carnivals, we're also highlighting some brand-new experiences like a star-studded spectacular at Radio City Music Hall, an immersive Björk retrospective at the Museum of Modern Art, and a few exceptional family theater shows, including a kids' musical by '90s pop singer Lisa Loeb.
As always, if an event piques your interest, be sure to click through to our listing for all the details, including address and time. And keep in mind: In NYC, really cool things to do with kids often get booked up quickly. So buy your tickets ASAP or, in the case of FREE events, arrive as early as possible to try to beat the crowds.
Now get your calendars ready! Here are the top 12 things to do with kids in New York City this March.
Purim Carnival – Upper East Side
Sunday, March 1
You don't have to be Jewish to celebrate Purim. The holiday is inspired by the biblical story of Queen Esther, who stood up to her husband's evil adviser, Haman, in order to save her people. Although there are lots of festive Purim parties around town, the 92nd Street Y's annual bash is one of our favorites. Don your costume to enjoy carnival games, a petting zoo, a bounce house, a Purim play and a magic show. Plus kids can make the holiday's traditional pastry, hamentashen, and create mishloach manot (treat-filled Purim baskets). $12 for adults, $17 for children
Björk – Midtown West
Sunday, March 8-Sunday, June 7
While the Museum of Modern Art's latest exhibit is not aimed at children, you're never too young to appreciate the wondrous work of Icelandic icon Björk. Learn about her groundbreaking multimedia career by exploring her music, films, photos, instruments, objects, costumes and performances, including a brand-new, immersive film and music experience. Afterward, pop by MoMA's Art Lab: Places and Spaces for hands-on creative projects for kids. Free with admission: $25 for adults, free for children under age 17
New York Spring Spectacular – Midtown West
Thursday, March 12-Thursday, May 7
Move over Christmas! After a false start last year, the legendary Rockettes finally have a new spring show. This eye-popping spectacular celebrates the season and the city that never sleeps, and features 3D effects, large-scale puppets, amazing recreations of NYC landmarks, Tony Award winner Laura Benanti, Derek Hough from Dancing with the Stars, and the voices of Whoopi Goldberg, Tina Fey and Amy Poehler (as the Statue of Liberty, and the New York Public Library's iconic lions Patience and Fortitude, respectively). Along with the Rockettes' famous synchronized dance numbers to original songs and pop favorites like Taylor Swift's "Welcome to New York," there will be dozens of video cameos from notable New Yorkers such as Donald Trump, Kelly Ripa, Mariano Rivera and Martha Stewart along with Despicable Me Minions, Paddington Bear and the Easter Bunny. We hear there's a story, too, but let's face it, that's not why we're going. $46-$150
Pinocchio – Midtown West
Friday, March 13-Sunday, March 22
Forget the old Disney movie. This moody, multimedia adaptation of Pinocchio at the New Victory Theater puts a wild, psychedelic spin on Carlo Collodi's 19th-century classic. The often scary adventures of the rebellious wooden boy are realized through live actors, a wide variety of puppets, trippy projections and videos, and authentic rock songs (not that soft stuff). Recommended for ages 7 and up and clocking in at two hours, this Pinocchio is definitely not for the preschool set, but it's great for think-they've-seen-it-all tweens and teens (and their parents). $14-$38
Paper Bag Players: Hot Feet and Theater & Art Workshop – Upper East Side
Sunday, March 15
We're longtime fans of the Paper Bag Players, the half-century-old, NYC-based children's theater troupe that crafts costumes, sets and props out of cardboard and paper. The company's latest revue, Hot Feet, features some of the Players' most beloved skits from their lauded history including "Move Over" set on a crowded rush hour subway, "Happy Day" about a stolen lunch box and the popular "Polar Bear" sing-along. Catch the show at the Jewish Museum on March 15 and children ages 6 to 10 can also enjoy a creative theater and art workshop with the troupe before the performance. Show and workshop: $28 for adults; $20 for children; pricing for just the show or workshop also available
St. Patrick's Day Open House – Midtown West
Sunday, March 15
Everyone feels a wee bit Irish around St. Patrick's Day. Although the holiday and Manhattan's iconic parade officially fall on Tuesday, March 17, there are plenty of other celebrations throughout the month that are much more family-friendly. Our pick for the best way to celebrate: The Irish Arts Center's annual open house featuring crafts like make-your-own fairy costumes, football (that's soccer to us Americans) skills with the Manhattan Gaels, a dance party with DJ Púca, and a slew of Irish culture workshops where kids can learn to play the tin whistle or speak Gaelic. FREE
Passover Palooza – Lower East Side
Sunday, March 15
For 90 years, Streit's Matzo Factory has been making delicious unleavened bread for Passover on the Lower East Side. But after this holiday season, the family business is moving out of NYC due to the ever-rising rents. Come say goodbye to this old New York institution at its annual Passover celebration featuring a no-cost concert by kiddie rockers the Mama Doni Band and a tour of the facility where you can watch the signature eat being prepared. While this event skews young, it is literally your last chance to check out Streit's so expect crowds and revelers of all ages.
Hakanaï – Fort Greene
Friday, March 20-Sunday, March 22
Equal parts dance spectacle and visual installation, BAM's offbeat show features a lone performer moving within a mysterious cube, interacting with wall projections, and tracing figures with his limbs, hands and feet. Want to step into this immersive environment yourself? You can make a reservation to check it out for free on Saturday or Sunday afternoon before the show. $12
Camp Kappawanna – Chelsea
Saturday, March 21-Sunday, April 12
If you're a Gen Xer like me, you'll probably be just as excited as I am about Atlantic for Kids' new musical with songs cowritten by '90s dorky diva Lisa Loeb. (Stay! We missed you!) Inspired by her own summer experiences back in the day, this musical chronicles the misadventures of 12-year-old Jennifer, who's leaving home for the first time to go to sleepaway camp. $20 for adults, $15 for children
Bindlestiff Cavalcade of Youth – Coney Island
Sunday, March 22
Kids can run away and join the circus (or just watch) at the Bindlestiff Family Cirkus' 10th annual youth variety show at Coney Island USA. All of the performers in this one-day-only showcase are under age 21 and children love seeing their peers up onstage juggling, hula hooping, tumbling, clowning, plate spinning and even snake charming! Is your kid more interested in being in the spotlight than sitting on the sidelines? The Bindlestiffs are still looking for acts and we've got the scoop on how to vie for a spot in the show. $15 for adults, $10 for children, free for participating performers
Macy's Flower Show: Art in Bloom – Midtown West
Sunday, March 22-Saturday, April 4
Every year, Macy's glorious installation of blossoms ushers in spring in the city. For 2015, the megastore is mounting a colorful, multidimensional display exploring the connection between art and nature. Traditionally, Macy's hosts a slew of FREE events in conjunction with its Flower Show but the details for this edition aren't yet finalized. We'll be sure to update this post and our event listing once the info is available. FREE
Brooklyn Kids Rock – Fort Greene
Saturday, March 28
This fifth annual music fest is like Lollapalooza for the preschool set (especially now that Kindiefest is no more). This year's concert takes place at Roulette and the lineup includes Rolie Polie Guacamole, The Good Ms. Padgett, Timbalooloo, Jeremy Plays Guitar, Raga Bye Baby and Katie Mullins, plus games and eats. Proceeds benefit Brooklyn's Maple Street School. In advance: $15, $50 for a family four-pack; at the door: $18
And don't forget about our February GoList pick the New York International Children's Film Festival, which runs through Sunday, March 22!
Honorable Mentions
NYC always has so many amazing things going on, it's difficult to choose. So here are a few more cool events worth considering for your March calendar. Be sure to sign up for our free newsletters so you can get our weekly picks in your inbox.
Groove to the cool tunes of Grammy-nominated Brooklyn duo The Pop Ups at the Jewish Museum on Sunday March 8.
Get creative at Artopia, Wingspan Arts' annual fest where kids can participate in creative workshops at the Anderson School on Saturday, March 14. FREE
Ring in Nowruz, a.k.a. the Persian New Year at the Asia Society with traditional music and dance performances, and craft projects on Saturday, March 14.
Catch the wacky new puppet show The Magic Garden, or, the Princess Who Grew Antlers at Theater for the New City from Thursday, March 5-Sunday, March 22.
Head out to Coney Island for Luna Park's opening day on Sunday, March 29.
Go on a maple sugaring day trip in New Jersey or on Long Island to see how sap is turned into syrup.
And remember to check our Event Calendar as we're always adding new listings.