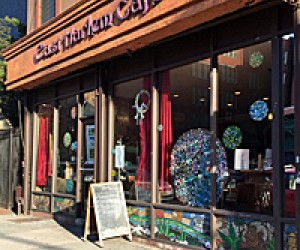 Family-Friendly Restaurants in East Harlem: From Tacos & Pizza to Croissants & Carrot Cake
Since East Harlem is also known as Spanish Harlem, it's no surprise that the neighborhood is filled with fabulous Latin food options. But did you know it's also home to a beloved French bakery, a busy continental cafe serving .99-cent pancakes, and an old New York pizza joint that used to serve the likes of Frank Sinatra, Dean Martin and Joe Dimaggio back in the day? So once your family works up an appetite exploring all of the cool things to do in East Harlem, here a baker's dozen worth of restaurants where you can grab a bite with kids in the neighborhood—Spanish and otherwise.
El Paso Restaurante Mexicano
1643 Lexington Avenue between 103rd and 104th Streets
This spacious Mexican restaurant has a busy bar area in front and a serene dining room in back with a skylight and colorful cultural decor. While there's no kids' menu, there are plenty of traditional options to please picky eaters like cheesy quesadillas on homemade tortillas, and nachos, burritos and tacos served with (or without) all the fixings. A bonus for grown-ups: the extensive tequila list and killer margaritas. El Paso runs two other outposts in the neighborhood, on East 116th Street and a small take-out joint on East 97th Street, but the Lexington Avenue flagship is the local favorite.

Unfortunately, this restaurant closed in early 2016.
East Harlem Cafe
1651 Lexington Avenue at 104th Street
I'm a regular at this cozy gem of a coffee shop. I go by myself for a cup of coffee in the morning and often linger for hours working on my laptop. I love the sandwiches and my kids are overjoyed when we stop by after school for a baked treat like a brownie, cupcake or muffin. On Fridays, you can snag 99-cent pancakes all day. The vibe is very laid-back, and the owner often mingles with the customers at the counter. The cafe also displays cool pieces by local artists on its walls and windows.

Joy Burger Bar
1567 Lexington Avenue at 100th Street
Warning: This no-frills joint sits at the peak of a very steep hill but its burgers and fries are worth the workout to get here. Walk right up to the grill to place your order, and watch your beef, turkey or veggie patty sizzle on the spot. Sandwiches, salads and awesome finger foods like onion rings, zucchini sticks, chicken fingers and sweet potato fries are also available. There are only a few seats inside and it's often crowded, but in nice weather, grab your order to go and see if you can snag at bench at nearby Sunshine Playground.

Patsy's Pizzeria
2287 First Avenue between 117th and 118th Streets
Before it became Spanish Harlem, the neighborhood was known as Italian Harlem, and remnants of that era still exist over on First and Pleasant Avenues. Patsy's has been a local institution since 1933 and although there are other locations, the East Harlem outpost is the original that once served the likes of Dimaggio and Sinatra. (Yes, you'll spy pictures of them and other celebrity diners decorating the brick walls.) In addition to coal-fired pies (no slices), there's a hearty selection of pasta dishes and Italian entrees. Be sure to bring cash—it's so old-school, credit cards aren't accepted.

Sam's Famous Pizza
150 East 116th Street near Lexington Avenue
Thought not as storied as Patsy's, this pizzeria serves up slices that are huge and authentic for just a couple of bucks apiece. There's no sit-down space, so it's best to take your meal to go.

Cascalote Latin Bistro
2126 Second Avenue between 109th and 110th Streets
This family-owned Latin eatery has received high praise from my fellow mom friends for its friendly service and willingness to accommodate picky eaters. If your kids refuse to touch anything on the massive menu, which includes Hispanic staples like tacos, burritos, soups, salads and even burgers, I'm told the staff will happily whip some up chicken fingers and fries if requested. For more adventurous palates, brunch has some really great options like tres leches pancakes and Peruvian-style roasted half chicken, tostones, salchipapas, rice, beans and rocoto aioli.

Cuchifritos 116
168 East 116th Street between Third and Lexington Avenues
I don't think you can call yourself a New Yorker until you've eaten in a cuchifritos, a traditional Puerto Rican take-out spot serving ethnic eats like rice and beans, barbecue chicken and mofongo. A friend of mine recently passed off the chicharron de pollo as chicken fingers so don't worry that it's too offbeat for your brood.

Harley's Smokeshack & BBQ
355 East 116th Street between First and Second Avenues
This Southern-style smokeshack serves family-style meals straight from the kitchen's smoker along with made-from-scratch side dishes. Numerous daily specials make a family night out easy on the wallet, too.

La Marqueta
Park Avenue between 112th and 116th Streets
Admittedly, a visit to La Marqueta is more about the unique experience than the eats. Housed under the Metro-North line, this market was originally established in 1936 and has gone through as many booms and busts as the neighborhood. Since its revitalization is ongoing, it can be a bit of a ghost town. But it's currently home to small local businesses like Hot Bread Kitchen, which helps low-income women establish financial independence, and Urban Garden Center, and occasionally hosts food trucks.

La Tropezienne Bakery
2131 First Avenue near 110th Street
A renowned French bakery in the middle of El Barrio? Well, why not? The sweet spot's signature treat is the Tropezienne heart, a sugared brioche filled with cream and topped with almonds and powdered sugar. But there are plenty of other home-baked options both sweet (muffins, madeleines, tarts) and savory (baguettes, croissants, quiches).

Coco Le Vu
202 East 110th Street between Second and Third Avenues
This colorful old-fashioned candy shop is owned by two sisters who were raised in the neighborhood. Browsing the treats is like taking a walk down memory lane with all kinds of retro candies plus 20 different kinds of homemade fudge. The spacious party room in back is a great place for parties.

Dough Loco
24 East 97th Street between Fifth and Madison Avenues
The artisanal doughnuts come in a variety of tantalizing flavors, from the staid (vanilla confetti cake, chocolate-glazed yeast) to the exotic (maple miso, raspberry Sriracha). There's a small counter to lean on while you nosh, but when I come here with my kids, we usually head to nearby Central Park.

Lloyd's Carrot Cake
1553 Lexington Avenue between 99th and 100th Streets
If you're a carrot-cake lover, you've undoubtedly heard about Lloyd's, which has won numerous awards over the years. Its East Harlem outpost is take-out only, so swing by for a slice of its namesake treat on your way home.
See all of our posts about exploring East Harlem with kids.