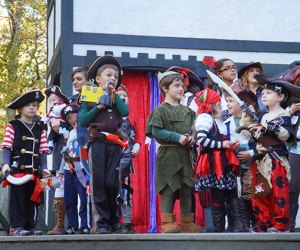 Weekend Fun for Boston Kids: Happy Labor Day Weekend, Sept 2-4
And just like that, Labor Day is here and the final hurray of summer is upon us. While lots of families are heading north to the woods of Maine and NH or south to the beaches of the Cape, those who are planning a travel-free staycation will have plenty of things to do here in Boston this weekend. Music is in the air at this festival in Cambridge and this one in Newburyport, or set sail at this festival in Gloucester. New England's beloved King Richard's Faire opens for the season, the final Astronomy Night for 2017 is on Saturday, there's a special birthday party at Stone Zoo, and everyone is invited to a tour of Fresh Pond.
Head to Edaville for Military Appreciation, or the Bread & Roses Festival to celebrate heritage. Whatever you choose to do, we at Mommy Poppins wish you a warm, happy, and healthy Labor Day Weekend!
Also on Mommy Poppins this week:
Need more family fun ideas? Check out our full events calendar.
All Weekend

You never know what you're going to find at Ren Faire. Photo courtesy of King Richard's Faire
King Richard's Faire - Carver
A visit to King Richard's Faire, New England's largest and longest-running Renaissance festival that is tucked away on 80 acres of enchanted forest, offers a full day of live, interactive entertainment.
Campfire Festival - Cambridge
Club Passim's Campfire Festival combines the idea of musicians sitting around the campfire playing music with a commitment to developing new talent in the Boston area.
Military Appreciation at Edaville - Carver
As a salute to America's bravest, all military members receive free admission, and immediate family members receive 50% off full priced admission with a valid ID and at the gate only.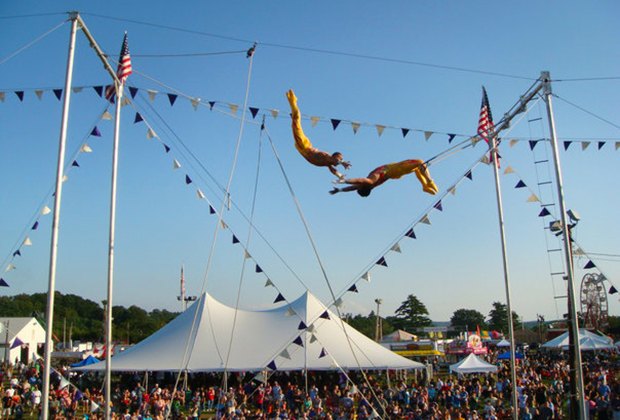 Enjoy food, rides, and flying trapeze at The Spencer Fair. Photo courtesy of The Spencer Fair
The Spencer Fair - Spencer
This is an old time, traditional country fair including ox and horse pulls, cattle, rabbit and poultry shows, hall exhibits, midway, and outdoor entertainment.
Gloucester Schooner Festival - Gloucester
Spectators can see large boats and small boats, from newly built to over 100 years old. The Parade of Sail takes place on Sunday morning, as the participating schooners make their way through the harbor and out past the breakwater to the Mayor's Race.
Saturday​​

Practice your pitch at the Red Sox Showcase. Photo courtesy of the event
Red Sox Showcase - Wrentham
​The Red Sox Showcase is a Green Monster-inspired truck featuring interactive baseball activities like batting cages, pitching stations, base-stealing contests, giant Jenga, and a Red Sox virtual reality experience.
Gibbon Birthday Party at Stone Zoo - Stoneham
White-cheeked gibbon dad Kien and his son Paddy are both celebrating birthdays in September, and guests are invited to join the festivities for Kien's 16th birthday and Paddy's 6th birthday on September 2.
Welcome to Fresh Pond! @Kingsley Park - Cambridge
Join Ranger Jean for an introductory tour of Kingsley Park covering the rich human and natural history of the land, as well as new improvements. It's a great opportunity to bring questions or to see what Fresh Pond Reservation is all about.

Make a mess at Dirtopia. Photo courtesy of the The Discovery Museums
Dirtopia - Acton
Bring your boots, prepare to get messy, and discover the infinite potential of dirt.
Astronomy Night at Robbins Farm Park - Arlington
This popular summer series continues at Robbins Farm Park with at least one telescope out to view objects in the night sky.
Downtown Playdates - Boston
The Greenway is hosting fun, family-friendly activities each Saturday throughout the summer.
Rosalita's Puppets charm kids and adults with new productions each week.
Class participants can paint and decorate sticks with bursts of color, or enhance the natural beauty of the wood with stains and finishes.
Sunday

Get your groove on at the Boston Children's Museum. Photo by Lex Piccione/courtesy of the museum
Music & Movement at the Boston Children's Museum - Boston
Sing along to tunes that get all ages moving, and where infants, toddlers, and preschoolers interact through sound, sight, and touch while they enjoy live music.
Monday
Newburyport Riverfest - Newburyport
​This is a free annual festival with music and food all along the waterfront.
Bread and Roses Heritage Festival - Lawrence
The festival presents music, theater, dance, story-telling, food vendors offering international specialties, information booths, arts & crafts, and merchandise vendors from across the globe.
Top photo: Kids get into the spirit at Saint Richard's Faire. Photo courtesy of the faire.