Queens Dance Classes for Kids: 12 Studios for Ballet, Tap, Hip-Hop and More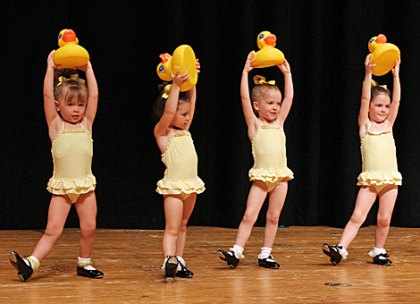 Hey Queens parents: Do you have a kid who's pleading for dance lessons but you dread the thought of schlepping to Manhattan or Brooklyn? That was my worry when my preschooler started begging for ballet. But after doing a little research and talking to many of my fellow Queens moms, I was happy to discover that I don't need to leave the borough to find quality dance studios for children. Bonus: Dance classes in Queens tend to be significantly less expensive than their Manhattan and even Brooklyn counterparts, and many offer scholarships or sliding-scale tuition for those who qualify.
Some Queens dance studios are local favorites that have been serving their communities for years, like Landrum in Whitestone and Heavenly Bodies Dance Studio in Ozone Park. Others, like Astoria's Sol Dance Center, are part of the wave of new kid-friendly businesses opening up throughout the borough. And if you have a dance-loving boy, don't worry: Most of these programs offer classes for boys, including ballet and hip-hop.
Here are 12 Queens dance studios offering classes for kids and teens who are serious about ballet, tap, modern and other dance styles. You can find other enriching programs in our Classes Guide.
Sol Dance Center – Astoria
30-16 Steinway Street between 30th and 31st Avenues
Opened in 2009, this dance studio has a wide array of classes for movers of all ages. The children's programs are aimed at ages 3 to 16 and include ballet, jazz, tap, hip-hop and belly dance. There are even family choreography workshops for special events like weddings and Sweet 16s.
Astoria Dance Centre – Astoria
42-16 28th Avenue at 43rd Street
Although this performing arts hub offers acting lessons, dance is its primary focus. Its slate of recreational and pre-professional classes starts at age 2 and goes through adulthood. Choose from ballet, tap, hip-hop, modern, jazz and Broadway plus boys' programs.
All Star Studios – Forest Hills
108-21 72nd Avenue between Austin Street and Queens Boulevard
This popular performing arts studio offers kids' classes in multiple dance styles including ballet, hip-hop, jazz, tap, acrobatics and more.
Studio E School of Dance – Flushing
187-16 Union Turnpike between 187th and 188th Streets
A true Queens staple, Studio E has been around since 1969. Children ages 5 and up can study ballet, jazz, hip-hop, tap and contemporary, and there's a separate program for preschoolers.
Queens Dance Project – Bayside
214-26 41st Avenue between Bell Boulevard and 214th Place
This studio has classes for ages 6 months through adulthood. For the toddler set there are Parent & Me options and ballet, hip-hop, jazz, tap, modern, lyrical and acrobatics for older children.
Nadia's Performing Arts Centre – Bayside
208-42 Cross Island Parkway at Union Turnpike
Nadia's moved to Bayside in the summer of 2013 and specializes in small classes with lots of individualized attention. Classes are offered for ages 18 months and up, and placement is based on age and ability. You'll find the usual selection here including ballet, hip-hop and tap, and there are a variety of audition-only performing companies.
Landrum School of Dance – Whitestone
11-02 Clintonville Street at 11th Avenue
A neighborhood favorite that's been around for more than six decades, Landrum offers classes in 16 different dance genres in its spacious, three-studio location. Classes cater to students as young as 2.
Moves & Motions School of Dance – Middle Village & Glendale
Visit website for locations.
This mini-chain has two studios in Queens and one in Long Island. Here, dancers can learn all the standard styles including ballet, tap, jazz, hip-hop, modern, etc. There are also audition-only competitive dance teams.
Louise Benes Dance Company – Richmond Hill
87-18 114th Street between Jamaica and 89th Avenues
With more than three decades of experience, this dance studio offers lessons for all ages from toddlers to adults. Find a complete list on the website including creative movement, ballet, pointe, jazz, tap and more.
Heavenly Bodies Dance Studio – Ozone Park
85-20 101st Street between Jamaica Avenue and 85th Road
Founded in 1982 and located under the Christ Evangelical Lutheran Church, this studio offers classes for ages 3 and up including ballet, tap, jazz, hip-hop and pointe.
City Kids Dance! – Sunnyside
Visit the website for locations.
A great option for younger kids, City Kids Dance! offers lessons for children ages 6 months to 9 years. Little kids can enjoy a range of programs including play-based Parent & Me options and drop-off sessions for ages 3 and up in ballet, tap and creative movement.
New York Irish Center – Long Island City
1040 Jackson Avenue at Davis Street
Queens' Irish Arts Center offers step dance classes taught by the renown Niall O'Leary School of Irish Dance. Lessons are for ages 4 to adult for all skill levels and take place weekly. Niall's dancers perform every year in the St. Patrick's Day Parade and they're amazing.
Find out about other enriching programs for kids in our Classes Guide.
This post originally published in August 2013.
Photo credit: Flikr, Jim, the Photographer.