NYC Carousels: Get Merry and Go Around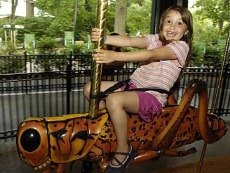 There's something wonderfully nostalgic about kids getting a thrill from a ride on a carousel. There are a dozen merry-go-rounds in our great city, with one brand-new one slated to open later this year.
Carousels have a long and lovely history in NYC. With spring in full swing, it's a great time to take your first spin of the season. There are merry-go-rounds in all five boroughs, which means there's probably one near you.
Manhattan
Le Carrousel – Midtown West
Bryant Park, 40th Street between Fifth and Sixth Avenues
Open year-round. Hours vary.
This petite, European-style merry-go-round features a menagerie of animals in addition to horses. It spins very slowly to French cabaret music, making it ideal for younger children.
Central Park Carousel – Central Park
Mid-park at 64th Street
Open daily April-October, weekends November-March. Hours vary.
All NYC families know about this famed merry-go-round. With nearly life-size horses, it's one of the biggest in the country. It goes surprisingly fast, so consider riding in one of the chariots if your kid's not a speed freak.
Pier 62 Carousel – Chelsea
Hudson River Park, Pier 62, 23rd Street at the Hudson River
Open daily spring, summer and fall. Hours vary.
Kids can take a whirl alongside the Hudson on one of the beautifully carved animals, most indigenous to our area (Atlantic sturgeon, harbor seal, horseshoe crab—we're guessing the butterfly unicorn's not from around here). A green roof decorated with twinkling LED lights adds to the magic.
Totally Kid Carousel – Harlem
Riverbank State Park, enter at Riverside Drive and 145th Street
Open June-October. Hours vary. 
Local artist Milo Mottola built this funky carousel. The designs were all based on children's drawings of animals, making it truly one of a kind. It's a gorgeous merry-go-round, and offers stunning views of the Hudson River and the George Washington Bridge. Be warned: The hours are sporadic, even in the summer.
SeaGlass – Battery Park City
Scheduled to open Aug. 20! Although it's been delayed many times now, this aquatic-themed carousel is shaping up to be absolutely stunning. Kids don't sit on fish; they ride inside gorgeous sea creatures. Definitely click through to see the photos and expect a full post once it's up and running.
Brooklyn
Prospect Park Carousel – Prospect Heights
Use Willink park entrance, at Ocean and Flatbush Avenues and Empire Boulevard
Open late March-mid-November. Hours vary.
Almost as famous as its Central Park counterpart, this classic carousel, featuring 53 carved animals, opened in 1912! It's also wheelchair accessible.
(Photo credit: Jane's Carousel/ Kristine Paulus)
Jane's Carousel – Dumbo
Empire-Fulton Ferry Park in Brooklyn Bridge Park
Open year-round. Hours vary.
It was a project that took years and millions of dollars. But as of September 2011, Jane's Carousel—formerly on stationary display in a gallery at 56 Water Street—was installed and spinning at Brooklyn Bridge Park.
B&B Carousell – Coney Island
Steeplechase Plaza, the boardwalk between West 16th and West 19th Streets
Open mid-April-October. Hours vary.
Built in 1919, this historic relic from Coney Island's past was saved from the auction block by the Bloomberg administration in 2005. After a painstaking restoration process, the merry-go-round was installed in a pavilion with ocean views alongside the derelict Parachute Jump. Operated by Luna Park, it's the only ride on the west side of the boardwalk and a stone's throw from the Brooklyn Cyclones MCU Park.
Queens
Flushing Meadows Carousel – Flushing
Flushing Meadows Corona Park, enter at 111th Street and 55th Avenue
Open late March-October. Hours vary.
This merry-go-round, which was cobbled together from two other carousels, debuted at the 1964 World's Fair. Some kids may enjoy the wind whipping through their hair, while others will be stoked to ride a giant lion. Since the 2013 season, it's served as the centerpiece of the mini-amusement park Fantasy Forest.
Forest Park Carousel – Forest Park
Woodhaven Boulevard and Forest Park Drive
Open late March-October. Hours vary.
This merry-go-round closed back in 2008 when the operator and the city got into a disagreement over money, but thanks to a new operator, the carousel is turning again.
Staten Island
Carousel for All Children – Staten Island
Willowbrook Park in the Greenbelt
Open May-October. Weekly schedule varies.
This gorgeous Victorian carousel really stands by its name by accommodating children with physical disabilities.
Conservation Carousel – Staten Island Zoo
614 Broadway
Open seasonally during zoo hours.
The zoo debuted this brand-new merry-go-round in summer 2014. Housed inside a glass pavilion, the carousel features two-dozen wooden endangered creatures to ride, including a Komodo dragon, a koala, a rhinoceros, a polar bear and a Tamandua, all handcrafted by Ohio-based Carousels & Carvings.
The Bronx
The Bug Carousel – The Bronx Zoo
Open year-round during normal zoo hours.
Don't get creeped out when your kids ride these giant insects. They're actually pretty cool.
Find out where else you can go round and round with our roundup of Long Island carousels.
Find more inexpensive or even free things to do this season in our Spring Fun Guide.