Coney Island with Kids: A Brand-new Roller Coaster, the Mermaid Parade & Other Family Fun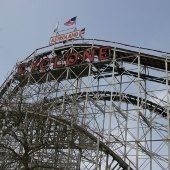 The shores at Coney Island and Brighton Beach open for the season this Memorial Day weekend, and boardwalk staples like the New York Aquarium and Luna Park are already going strong. Sounds like it's time for a Brooklyn daycation!
Unlike last year, when damage from Hurricane Sandy was still obvious, Coney has almost completely bounced back, though the Aquarium is still only partially open and all of the businesses could really use your patronage. There are also some brand-new attractions, like Luna Park's highly-anticipated Thunderbolt roller coaster scheduled to open June 14, plus old favorites like Deno's Wonder Wheel, the recently restored B&B Carousell, Nathan's hot dogs and more. Here are the best things to do in Coney Island with kids this season.
Hit the beach
Yes, we realize this sounds like a no-brainer. But you'd be surprised how many folks are afraid to dip even a toe into the water. (Urban beaches get a bad rap.) Well, we love swimming at Coney. Kids will dig the 2½ miles of oceanfront. If you are planning on swimming, make sure you come in your bathing suit: Changing in the public bathrooms isn't allowed. If you're caught doing it you will be yelled at!
Enjoy family rides at Luna Park and Deno's Wonder Wheel Amusement Park

Deno's Wonder Wheel Amusement Park has been around a while, although not as long as its namesake Ferris wheel, which began turning in 1920. The park has 17 carnival rides for kids, like spinning dragons, a tame roller coaster and a carousel, plus a handful of "adult" rides, including the Wonder Wheel, which offers breathtaking views of the neighborhood. Since it has no height requirement, you can even take babies on (I did!). If you don't want your stomach jumping into your throat, choose a stationary car; it goes higher but is less scary. If you want to raise your heart rate, grab a car that swings; it's positively terrifying—even for grown-ups! Print out this coupon to save $2 on a 10-pack of kiddie ride tickets.
Luna Park, which opened in 2010 and is run by the same folks behind Victorian Gardens, also has a bunch of family-friendly rides. If you've been to Victorian Gardens, many of them will be familiar, including the Balloon Expedition, the Happy Swing and the Big Top Express. Although it's located outside of the park on the boardwalk, Luna also manages the beautifully restored B&B Carousell, a true must-see. Looking for more of a thrill? There are a bunch of high-octane rides like the Cyclone, which is No. 26 on our list of 100 things to do with kids before they grow up, and the soon-to-open Thunderbolt roller coaster (opening date is Saturday, June 14). Prices are steep so check out all of your options online before you go so you don't faint at the tab once you're there.
Catch a baseball game
At the western end of the boardwalk you'll find MCU Park, home of minor league team The Brooklyn Cyclones. Games are short, inexpensive ($10-$16) and extremely family-friendly. The stadium is small, so every seat has a great view, and there are lots of promotions, giveaways and special activities, like fireworks on Saturdays or the chance to run the bases on the field at select games. Plan ahead: The Cyclones are really popular so tickets sell out quickly. The season opener is Saturday, June 14. Read more about minor league and other non-MLB baseball in the NYC.
See fireworks
On select summer nights, the Coney Island sky comes alive with fireworks. On Friday nights from June 20 through Labor Day weekend, the beach and boardwalk area are lit up at 9:30pm courtesy of Deno's Wonder Wheel. Meanwhile The Cyclones set off blazing displays after select games, usually on Saturdays. Click here for the schedule.
Visit the New York Aquarium
NYC's only aquarium was absolutely devastated by Hurricane Sandy. Even more than a year later, it's only partially reopened, and you can see the long-lasting effects of the storm first-hand. Admission has been reduced to just $11.95 for ages 3 and up, so it's a great time to visit and show your support. And there are still plenty of wonderful creatures to meet!
Gawk at the Coney Island Circus Sideshow
Admittedly, this won't be every family's cup of kooky, but there is a children's price ($5, adults pay $10) and I've brought my kid before—afternoon performances are good old-fashioned not-too-freaky fun. Six performers tackle 10 outrageous acts, everything from magic to contortion to sword swallowing to fire eating to snake charming. Upstairs, the Coney Island Museum showcases relics of the past, including parts of old rides. Admission is $5 for adults, $3 for kids.
See a free film on the beach
We're still waiting on the official word about whether this annual outdoor movie series will be back for 2014. In the past, family-friendly flicks were screened on Monday evenings in July and August on a giant inflatable screen. We'll update this post once we confirm it's happening.
Attend an iconic annual event like the
There's always something wild going on in Coney, but there are certain annual celebrations every family should try at least once. Warning: These events are usually insanely crowded!
The Mermaid Parade – Saturday, June 21
The procession kicks off at 1pm, but revelers sporting sea-themed ensembles begin arriving much earlier. You can still register to march (it's fun but younger kids may get bored as there's a lot of waiting around) or just watch. Take the subway as parking is next to impossible. Even the NY Aquarium and MCU Park lots tend to fill up long before noon.
 
Nathan's Famous Hot Dog Eating Contest – Friday, July 4
The name says it all: Hearty eaters compete to see who can chow down on the most franks. Come see if champion Joey Chestnut, who set a new world record last year by downing 69 Nathan's Famous Hot Dogs and Buns in 10 minutes, can hold on to his title.
 
Sand Sculpting Contest and Unity Day – Saturday, August 16
This annual gathering attracts pros and neophytes, all of whom show off their best sand sculpting skills in this friendly competition. Lots of families participate, including actor Vincent D'Onofrio and his brood—they've even won!
Eat unhealthy food
C'mon, it's just one day. Totonno's Pizza, highly regarded in the world of pizza, started on Neptune Avenue back in 1924. The restaurant's Brooklyn-style, brick-oven pies are seriously good. Go hungry or with friends: Totonno's only sells pizza by the pie, no slices here, and it's cash only.
Nathan's Famous serves delicious hot dogs, of course, but you can also have burgers, beer, clams on the half shell or chicken.
Boardwalk snacks include cotton candy, candy apples and other treats. Williams Candy, right next to Nathan's on Surf Avenue, is another Coney Island landmark. It's an old-school candy store that makes its own sweets, like marshmallow caramel balls. Kids will literally eat it up, as will parents. There's also an outpost of the slick gift and treat emporium IT'SUGAR, but we say avoid the national chain and stick with local businesses. They need and appreciate your support!
Looking for more summer fun? Check out our Summer Fun Guide.
 
This post was originally published in May 2010.