Best Boat Rides for Families in NYC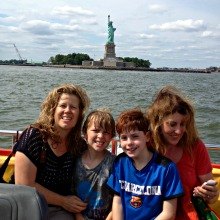 There's something magical about being out on the water in New York City. Whether you sail down one of our rivers, row out on a lake or cruise on the ocean, it's a lovely and relaxing activity, and a great way to stay cool on a hot summer day. It's also an opportunity to see the city from a whole new perspective.
Since much of NYC is surrounded by water, there are countless operators offering all kinds of boat tours. So the big question for families is, which ones are truly family-friendly? After all, once you're on the water, you're committed to the ride, regardless of tantrums, seasickness or plain old boredom. So you want to make the right decision.
To help you figure out which NYC boat ride works best for your family, we've broken them down by type (great for tots, wildlife watching, DIY rides, etc.) and highlighted some of our kids' personal favorites. You can find more seasonal activities in our Summer Fun Guide.
Best for Getting Wet
Shark Speedboat Thrill Ride
Departs from Pier 16 at the South Street Seaport
$28 for adults, $19 for children ages 3-12. Must be 40 inches tall to ride.
May-August
The Beast
Departs from the Circle Line dock on Pier 83, 42nd Street and Twelfth Avenue
$29 for adults, $23 for children. Must be 40 inches tall to ride.
May-September
If your family's objective isn't just to get out on the water but to get wet, too, then the Shark or The Beast are for you. Both rides are high-adrenaline, 30-minute speedboat tours that go out into New York Harbor, zip past the skyline, stop for photo ops by the Statue of Liberty and then race home, splashing loads of water onto their passengers. That'll cool you down! I did The Beast last summer with my then 8-year-old son and his buddy and it was quite a thrill.
Best Virtual European Vacation
Venetian Gondola Tour
Departs from the Loeb Boathouse in Central Park, 72nd Street and Park Drive North
$30 per half hour
Year-round weather permitting
Can't make it to Venice this year? Then head over to Central Park for an authentic Venetian Gondola Tour on the Lake. Doing this ride takes a bit of planning, since you must reserve your spot in advance, but it's sure to leave a lasting impression. The boats can fit up to six passengers. Call the Boathouse at 212-517-2233 to make your reservation.
Best for Playing Tourist
42nd Street Circle Line
Departs from the Circle Line dock on Pier 83, 42nd Street and Twelfth Avenue
$41 adults, $27 for children
Year-round
Downtown Circle Line
Departs from Pier 16 at the South Street Seaport
$31 for adults, $19 for children
April-December
Yes they're for out-of-towners, but these rides offer million-dollar views of Manhattan's glittering skyline. You really should try one at least once. From its Midtown location, the Circle Line cruises all the way around Manhattan and pauses for photo ops near the Statue of Liberty. (If you want to actually visit the Lady, that's an entirely different boat ride.) For an upscale touristy experience, catch Circle Line's Zephyr at the South Street Seaport, which sails past the Statue of Liberty and Ellis Island.
East River Ferry
Departs from various locations on the East River
Year-round
$4 one-way weekday, $6 one-way weekend, $1 for bicycle, free under age 6
While it's definitely more of a commuter boat than a sightseeing vessel, taking the East River Ferry is a relaxing way to the waterfront neighborhoods in Queens and Brooklyn, and my family's favorite way to get to Brooklyn Bridge Park. You can even buy an all-day pass so you can hop on and off as much as you'd like—much better than those tour buses. Download our handy guide to find out what to do at each stop along the way.
Best for Do-It-Yourselfers
Rowboats
Departs from the Loeb Boathouse in Central Park, 72nd Street and Park Drive North
$12 for the first hour, $2.50 for each additional 15 minutes. $20 cash deposit required.
April-November
If you want to be the captain of your own vessels, then a rowboat's the thing. Rowboats can be rented from Central Park's Loeb Boathouse and enjoyed on the adjacent 22-acre Lake. Read about other paddling options in NYC.
Kayaking
Departs from various locations.
FREE
Mid-May to mid-October
A number of volunteer-run organizations offer walk-up, no-cost kayaking to anyone who can swim at locations in Manhattan, Brooklyn, Queens and on Staten Island. Rules and schedule vary so be sure to read our in-depth kayaking with kids post for more info.
Lakeside in Prospect Park
Departs from the LeFrak Center at Lakeside, 171 East Drive in Prospect Park
Single pedal boat: $20/hour; double pedal boat: $30/hour; Single kayak: $15/hour, $30/half day, $40/full day; Double kayak: $25/hour; $35/half day; $45/day
Late May-September
Pedal boating and kayaking kicked off in 2014 at the Lakeside complex on Prospect Park's freshwater lake and return again this summer. The pedal boats hit the water in May and kayaks will soon follow.
Best for Playing Pirate
Clipper City Sail
Departs from Slip 2 at the Battery
May to mid-October
$39-$45 for adults, $17-$20 for children ages 3-13; $5 for children under age 2
Manhattan by Sail offers a wide variety of sightseeing trips aboard its two magnificent sailboats, including a voyage on the Clipper City where junior pirates, mermaids and sailors cruise to the Statue of Liberty by day or by night.
Best for Catching Your Own Dinner
Marilyn Jean IV
Departs from Pier 6, 2100 Emmons Avenue in Sheepshead Bay, Brooklyn
$50-$60 no discount for children
Year-round
This deep-sea fishing party boat provides everything you need to catch the big one: rod, reel and bait. Plus, the crew cleans up and packs your catches, which, depending on the season, may include striped bass, bluefish, sea bass or cod. During peak season, the boat offers day and night jaunts, and you can bring a cooler with snacks if you don't want to buy them on board. You must reserve your spot in advance.
Best for Watching Wildlife
Audubon EcoCruises
Departs from Pier 16 at the South Street Seaport
$35-$60 for adults, $$25-$50 for children ages 3-12
Various dates, see website for complete schedule.
On select summer Sundays, New York Water Taxi hosts eco-tours with Audubon Society naturalists. Head north to the Bronx or east to Queens to marvel at the birds that live right here in NYC, including black-crowned night-herons, the glossy Ibis, double-crested cormorants, and egrets. We went on the Jamaica Bay Eco Cruise and it's great for older kids interested in nature.
Whale and Dolphin Watching Adventure Cruises
Departs from Riis Landing at the intersection of State and Heinzelman Roads
$45 for adults, $30 for children ages 5-12
Weekends, May 23-28, 1pm-5pm; Wednesday-Friday, June 17-August 27 noon-4pm
The American Princess Fleet is the only whale watching operator in all of NYC. Cruises depart from Queens' Jacob Riis Park. These summer-only outings recently started for the season and already passengers have spotted some playful dolphins in our waters.
Best for Penny-pinchers
Staten Island Ferry
Departs from Whitehall Terminal at State and Whitehall Streets
FREE
Year-round
See the Statue of Liberty from afar at no cost on the Staten Island Ferry. A one-way trip takes 30 minutes and offers magnificent views of the Harbor. While waiting for your return ride, check out the Manhattan skyline from the terminal's outdoor patio, watch the fish swimming in the two giant freshwater aquariums in the waiting room or grab a snack. Better yet, explore the family-friendly neighborhood of St. George.
Ikea Water Taxi
Departs from Pier 11 at South Street and Gouverneur Lane
FREE to $5
Year-round
The Ikea ferry is a convenient way to get to the megastore in Red Hook, Brooklyn, but also a fun and sometimes free ride. If you go on the weekend, the trip is gratis. On weekdays, you pay $5 each way, but you can redeem your ticket for a credit toward your purchase of $10 or more. Children under 12 ride for free at all times. Whatever you buy, remember it has to fit in a large Ikea bag otherwise it won't be allowed on the boat.
Best for Landlubbers
Model Sailboats
Kerbs Boathouse Cafe and Central Park Sailboat Concession, 75th Street on the eastern side of Central Park.
$11 for 30 minutes
If you prefer the kids do their boating from solid ground, they might enjoy sailing a model boat around the Conservatory Water in Central Park. Miniature boats can be rented for a classic New York scene that was immortalized in E. B. White's Stuart Little.
Looking to get even wetter? Check out our Water Fun Guide for info on beaches, water parks, swimming lessons and more.
This post was originally published in June 2010.