Water Feature: 20 Best Water Playgrounds in NYC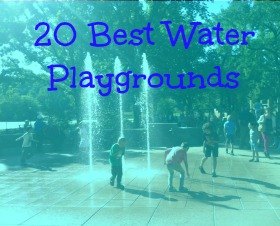 When we were growing up, playgrounds had sprinklers. Now playgrounds have "water features." You know, fountains, geysers, rivers, pumps and beautiful spraying statues. The kids just love them, and we parents prefer to go to these newfangled playgrounds because they're pretty and cool, and make us feel like our exorbitant NYC housing costs are justified.
Sprinkler season (or whatever we call it these days) is in full swing and with the sweltering summer we're having, it's good to know where to find the wildest and wettest playgrounds around. There are hundreds of water features in city parks but some are cooler (literally and figuratively) than others, and more amazing ones seem to open every year. When we first published this post in 2008, we had five favorites. Now we're up to 20 fancy playgrounds where kids can get wet in NYC. See if your favorites made our list (and if not, clue us in).
For even more ways to cool off in the city, check out our Water Fun Guide.
Sign up for our FREE newsletters to get posts like this delivered to your inbox.
You can find a comprehensive list of all NYC sprinklers on the Parks Department's website.
Ancient Playground – Central Park
Enter at 85th Street and Fifth Avenue
Situated right next door to the Metropolitan Museum, this adventure-style playground is a great destination for kids of all ages. The play structure of pyramids, catwalks, tunnels and slides also has water running along the bridges, so kids can splash through it or stand under a mini-waterfall in an area with water jets. Younger kids will be fascinated by the water squirting from nozzles set into the walls. Read our full review of this playground.
Beach 30th Street Playground – Rockaway
Beach 30th Street and the Rockaway boardwalk
The completely renovated, 27-acre Rockaway Park debuted in August 2012... and then Hurricane Sandy hit. For years, many of its attractions were closed for renovations, including the incredible water play area at Beach 30th Street. We're happy to report that now it's been completely repaired and is a must-do for young water lovers. H2O sprays forth from a variety of features, including circular pipes and built-in water guns. Plus there's a play boat and traditional sprinklers of different heights, and the beach is literally steps away. Read our full review of Rockaway Park.
Brooklyn Bridge Park Waterlab at Pier 6 – Brooklyn Heights
Enter at Furman Street and Atlantic Avenue
Ever since we first visited when it opened in 2010, Brooklyn Bridge Park's Pier 6 has been one of our favorite play destinations. The Waterlab area, one of four distinct sections, is phenomenal. Sprinklers shoot water all over an enclave enclosed by small man-made cliffs. It's gorgeous and fun but also slippery. Be very mindful of younger children! Read our full review of this playground.
Chelsea Waterside Park – Chelsea
23rd Street and Eleventh Avenue
The name of the park says it all. Water is everywhere! There's a small wading spot, and water rushing all over the play area thanks to three fantastical blue fountains that spray H20 straight up into the air, down onto the ground, and horizontally at kids. Read our full review of this playground.
East 110th Street Playground – Central Park
Enter at 110th Street between Lenox and Fifth Avenues
In 2013, the Central Park Conservancy completely renovated this playground, transforming it into one of the best play destinations in the entire 843-acre green space. One of its most impressive attractions is its water feature. Geysers shoot up into the air, sometimes as high as 12 feet! Although kids activate the water with the touch of a button, you're never sure how high or in what pattern it will gush out, so it keeps everyone guessing...and giggling. Read our full review of this playground.
East River Park – Lower East Side
Delancey Street and the FDR Drive
We stumbled upon these spray showers near the Williamsburg Bridge one summer while biking along the East River, and we were instantly taken with them. The park has slate pavers, and tall grass waves in the breeze, giving it a very pretty and natural atmosphere. The bronze harbor seals are really cute and fun to climb on. As for the water, it shoots up randomly from different geysers. It's like a giant Whac-A-Mole game as kids run from spot to spot, trying to guess where the water will emerge next. To get to the spot, head to the end of Delancey Street and cross the FDR Drive, then head south. It's also easily accessible via the bike path.
Gantry Plaza State Park – Long Island City
Enter at 47th Road and Center Boulevard
In summer 2012, a state-of-the-art water play area complete with a lifeguard (!) debuted. Water shoots at kids from all over the place, making it one of the best places to get wet in NYC. But be warned: swimsuits are required to enter and its hours are sporadic since you need to wait for the lifeguard to show up! If you drop by and it's closed, console your kids by exploring the rest of Gantry Plaza State Park, which is pretty fabulous.
Harmony Playground – Prospect Park
Enter at Prospect Park West between 9th and 11th Streets
Taking its inspiration from the nearby band shell, this playground has an interactive music motif, including xylophones that kids can play. But the real draw is the plethora of water features. The designers really covered all the bases here: geysers, spraying animal sculptures, misters and a shower. It's got it all.
Heckscher Playground – Central Park
Central Park South and Seventh Avenue
The biggest playground in Central Park offers two ways to get wet. The first is up on the giant climbing structures, which connect via small pathways with water flowing through them. The second is at the awesome sprinkler section, where water rains down from tall tubes and shoots up from jets in the ground. Read our full review of this playground.
Hudson River Park Pier 51 Water Park – Greenwich Village
Hudson River at Horatio Street and West 12th Street
Fresh off a new renovation, this water-filled playground along the Hudson River is beloved by many families (which is why it's perpetually crowded). It's got a fun little replica of Minetta Brook, perfect for clogging with sand, as well as geysers and buckets that dump water on kids with the touch of a button. Take note: There is absolutely no shade.
Hudson River Park Pier 25 Play Area – Tribeca
Hudson River at North Moore Street
Further south in Hudson River Park, you'll find this fabulous playground featuring a cool water play area with water guns, sprayers and buckets that fill up and dump H2O all over you. When the kids tire of getting wet, there's a seasonal mini-golf course on the pier that costs just $5 for children and $6 for adults. Read our full review of this park.
Imagination Playground – South Street Seaport
Burling Slip, South, John and Front Streets
This innovative play spot, which was designed by celebrated architect David Rockwell, opened to great fanfare in summer 2010. While it doesn't have a sprinkler, it does have an amazing water play area with pools and fountains that's surrounded by wooden steps that parents can lounge on. Kids manipulate the water with piping and other tools while getting drenched. It's truly a one-of-a-kind play experience. Read our full review of this playground.
Imagination Playground – Prospect Park
Enter at Ocean Avenue between Parkside Avenue and Lincoln Road
No relation to the South Street Seaport spot, this charming, kid-lit-themed playground boasts a black-and-white play structure, and a statue of Peter and Willie (of Ezra Jack Keats fame). But the hot weather draw is the gorgeous bronze dragon fountain that gets the kids good and soaked. Find out about other fun things to do in Prospect Park.
Lakeside Splash Pad – Prospect Park
171 East Drive
There's water, water, everywhere at the new LeFrak Center at Lakeside. While one rink is used for roller skating in summer, the other transforms into a water play area featuring dozens of water jets shooting out of the walls.
Madison Square Park Playground – Flatiron
26th Street between Fifth and Madison Avenues
Due to its close proximity to multiple family-friendly neighborhoods, this playground is always packed. The space itself is tiny and the jungle gym is huge. There's also a neat spinning wheel that dumps water from the top of a 15-foot pole straight onto kids waiting below, as jets shoot water out of the ground.
Rockefeller Park Playground – Battery Park City
North end of Battery Park City, west of River Terrace
Everybody seems to know about this playground and with good reason. I really appreciate the way that the water features are separated by age group. Let's face it: Toddlers often dislike sprinklers (water in the face freaks them out), which is disappointing because we want them to have fun and cool down. Here's a water feature that won't frighten them: The Tom Otterness bronze sculpture of a dodo bird that gently drips water and forms a puddle around its feet. Toddlers can splash in the pooled water, and play at the water and sand table. Older kids have a ball over by the fabulous sprinkler area, which means toddlers are safe from their rowdy play. Read our full review of this playground.
Seaside Wildlife Nature Park – Staten Island
Nelson Avenue and Tennyson Drive
Located right on the water, this playground features one-of-a-kind equipment like a shipwrecked boat to explore, a shark to climb, and play units inspired by the Staten Island Ferry and a lighthouse. Of course the seafaring theme wouldn't be complete without actual water, so thankfully, spray showers abound. Read our full review of this playground.
Spiral Fountain – Financial District
Battery Place and State Street
While I normally don't encourage my kid to play in fountains (they're not sprinklers!), this one was created specifically for frolicking. Kids will love the jets of water that burst up out of the ground, and parents will appreciate the fact that the water drains, so they don't end up jumping round in a pool of filthy water. Find out about other great things to do in Battery Park.
Teardrop Park – Battery Park City
Warren Street and Murray Street, East of River Terrace
Swooshing down the long, perpetually wet slide is addictive, so don't be surprised if your kids do it over and over and over again. Water jets spout water up into the air, as kids climb over the funky wet rocks.
Washington Square Park Fountain – Greenwich Village
Kids can practically swim in this play fountain, which shoots water high up into the air until it comes crashing down into a large enclosed pool that gets a few feet deep. My daughter adores jumping in here but there are a few downsides. It's so dark and murky you can't see the bottom, and it's not pristine down there (my kid cut her foot here on who knows what—twice). Water shoes do the trick, though. I also don't see adequate drainage going on, so yes, your kid may be splashing in semi-dirty water. But there are worse things in life (and you can also go to the nearby playground to wash off in the sprinklers).
Readers have also shared some of their favorite playgrounds for kids to cool off. While most of these are old-school style sprinklers, recommendations include Tribeca's Washington Market Park; Riverside Park's Elephant Playground; Clement Clarke Moore Park (a.k.a. Seal Park) and Sandbox Park in Chelsea; Downing Street Playground in the West Village and Hell's Kitchen Park.
Did we still miss your favorite water feature? Share your go-to water playgrounds in the comments.
For more seasonal fun, check out our Summer Fun and Water Fun Guides.
Sign up for our FREE newsletters to get posts like this delivered to your inbox.
This post was originally published in May 2008.