Destination Playground: Nelson A Rockefeller Park in Battery Park City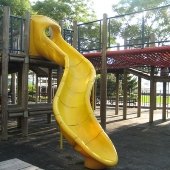 Most playgrounds in New York City have the same stuff in them – climbing things, swings, places to run, a slide or two and maybe a water feature or a sandbox.  And there are some playgrounds that have all these things – but they are just a little cooler, more fun or different – with features not usually seen at most other playgrounds.  The playground in Nelson A. Rockefeller Park (the big park in the northern part of Battery Park City) is one of these playgrounds.  Whenever I take my son to play here I want to move to the area, it is such a fun playground in a beautiful park, but it is always a huge ordeal to get home with my exhausted son.  Even so it is still worth the trip.  
Across from the Irish Hunger Memorial and as far west as you can go in lower Manhattan is Rockefeller Park and inside this park is a great playground for kids of every age.  The park boasts two play structures for big kids, one for toddlers and even an infant area.  The big kids play structures have lots of bells and whistles,  like the southern one, where half of the second 'floor' is made up of red webbing for kids to bounce on like a trampoline.  Right next to it, is another play piece I haven't seen at any other playground before, a merry go round that kids can spin using bike pedals or pushing each other, covered by a sort of gazebo to help block the sun.

The northern structure has tons of bridges that incline and decline for running up and down, wobbly walkways and a huge chain link climbing net. It also is conveniently placed over the sand area letting kids slide right into the large sand box.  In addition to the traditional sand box it also has an awesome kid sized sand table that even has cut outs that let the kids get closer to the sand so they don't have to lean over. 
The entrance to the water area, along the east side of the park, is flanked by whimsical concrete hippo and elephant water fountains for riding on and playing with and the back wall has sculptural dog heads spitting water into a trough for kids to play with.  
Toddlers have their own smaller wooden play structure and a little sandbox for themselves complete with a little slide, while the infants have an area smaller still--yet with a mini water feature and bucket swings.
The playground itself has plenty of trees, picnic and cocktail tables (along side park benches) for parents and the ground is covered in that springy black material instead of concrete. Much of the sitting and the infant areas are shaded with a wooden arbor. There are water fountains in the playground and the all important and very clean, public bathrooms are adjacent to the park on River Terrace and Park Place West.
A perfect day trip destination with a lot to do, if kids get tired of playing, there is the entire park to explore and Teardrop Park with it's very cool slide is less than five minutes away. There are also some big kid swings and basketball courts in the park north of the playground.
And did I mention the view?  The playground is a little semi circle in the middle of the park and basically faces west over the greenery in the park and the Hudson River.

Nelson A. Rockefeller Park Playground
North end of Battery Park City, west of River Terrace
 
Read our reviews of other parks and destination playgrounds.