10 Fun Things To Do with Kids at South Street Seaport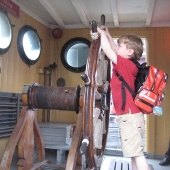 While South Street Seaport is currently in the middle of a huge transition as the closed Pier 17 is completely redeveloped, the waterfront neighborhood remains a major draw for tourists and locals alike. If you only remember it as that place where you used to drink back in your preparenting days, or where you took out-of-town friends, you'll be surprised by how much South Street Seaport has changed. Yes, its cobblestone streets and historic attractions remain but gone are the Pier 17 mall and cheesy vibe. There are still plenty of bars and tourists traps, but there are fun things for families to do, too. Visiting here is actually kind of like being a tourist in your own city, which is a cool thing to do every now and then.
Although the Seaport can get crowded on summer weekends, it's one long party all season long with street performers, FREE outdoor music and movies, and more. Next time you take a trip to the Seaport, bring your kids, bypass the bars and check out one of these fun finds.
1. Ride a bike on the East River Greenway or one of the other bike-friendly streets downtown. If you don't have a bike, Blazing Saddles rents them for the whole family, even kids' bikes, tag-a-longs and tandems. It's located right on Pier 17 and even offers fun guided bike tours over the Brooklyn Bridge.
2. Take a seat outside on the decks of Pier 16. You'll see amazing views of the bridges and the East River that even little kids can appreciate.
3. Hit the renown Imagination Playground designed by famed architect David Rockwell. Its signature blue foam building blocks inspire hours of creative play, plus there's shaded seating under umbrellas for grown-ups.
4. Or romp in the traditional Pearl Street Playground. It's just a few blocks away and a great alternative if Imagination Playground is overrun.
5. Take a tour of the studios at Little Airplane Productions, Inc. Kids will love seeing how Small Potatoes, The Wonder Pets and other preschool television programs are made.
6. Grab a bite. Although the food court died with the closure of the Pier 17 mall, there are still plenty of (mostly upscale) restaurants in the area as well as awesome food trucks in summer like Moo Shu Grill, Mac Truck, Sweet Chili and Coolhaus ice cream.
7. Cruise the river on a boat. Many of the historic tall ships you see docked at the pier go out through the South Street Seaport Museum. For more of a thrill, take the 30-minute Shark speedboat ride or go on a sightseeing cruise with the Circle Line or Water Taxi.
8. Go shopping. Even with the Pier 17 mall and the Fulton Stall Market closed, there are still places to shop at the Seaport. Plus in summer, there's Dossier Outpost, a rotating selection of pop-up shops housed in repurposed shipping containers along with a food court and art gallery.
9. Check out a museum. While the South Street Seaport Museum on Fulton Street is still closed due to financial troubles caused by Hurricane Sandy, you can still explore many of its historic ships, as well as visit its Water Street attractions including the Maritime Crafts Center, where you can watch pros carve wooden masterpieces, and the historic Bowne & Co. Stationers. Due to all the damage sustained during Sandy, the museum is in more need of visitor support than ever so definitely make a donation if possible and sign up for the email list to stay informed about any updates.
10. Attend a special event. The Seaport hosts cool things to do all year round, including FREE kids' concerts and family films in summer, and popular holiday activities like a huge Christmas tree lighting and frequent caroling. So be sure to check the calendar before you go.
A previous version of this post was originally published in May 2010.