Visiting the 9/11 Memorial with Kids: Should You Do It and What You Need to Know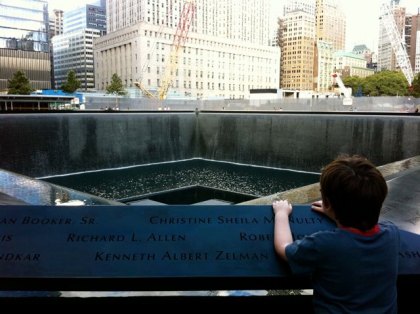 Whether you believe it's important to discuss the events of September 11, 2001 with your children or wish you could shield them all together, kids learn about 9/11 at school, from the media and their peers. So the question is, what can we as parents do to help our children process and learn from the events of 9/11?
For children born around or after 2001, 9/11 probably seems like something abstract—a tragedy that happened in history. Visiting the 9/11 Memorial can, perhaps, help make it feel more real. So, what's it like to visit the 9/11 Memorial with children? What's the security like, and how do you get tickets? I took my nine-year-old this weekend and I'll share our experiences.
When we visited the 9/11 Memorial in 2012, timed tickets were needed. But as of May 2014 visitor passes are no longer required. The fences and security checkpoints have also been eradicated. Entrances and exits now sit at Liberty and Greenwich Streets, Liberty and West Streets, and Fulton and West Streets. The 9/11 Memorial is open from 8:30am to 8:30pm daily.
If you enter at Liberty and Greenwich Streets, you will pass the FDNY Memorial Wall, where a bas-relief memorializes the first responders who perished trying to rescue people in the Towers. I found this a good talking point to discuss the role of firefighters and the sacrifice these individuals made attempting to save others.
At the Plaza, there is a sign reminding visitors that this is a place of quiet reflection. In other words, don't bring your Frisbee or a picnic to enjoy on the grassy plaza. There are giant waterfalls in the footprints of the original Towers, and you can't help but be struck by their enormity. I discussed this with my son to see if they made an impression on him, but honestly, I couldn't tell if seeing the "holes" in real life brought the events of September 11 home.
The fountains are surrounded by the names of those who lost their lives at Ground Zero on September 11. The names of first responders are grouped by their companies, which, again, brings to the forefront their significance during the day's events. I pointed out a couple doing rubbings of a loved one's name to my son, which certainly humanized the loss.
Because of the tall walls around the fountains, most kids will not be able to easily see into them without being lifted up. So be prepared to pick up your child.
We also visited the Survivor Tree, the only tree from the original WTC Plaza that survived, and was nursed back to health and returned to the site. My son said, "Lucky tree," but didn't seem overly impressed with this poignant tale.
The 9/11 Memorial Museum opened in May 2014 and soon after we shared our tips for visiting with children. You can find those here.
You can also visit the 9/11 Tribute Center where you'll find a more detailed timeline. There are fairly intense images that show the burning Towers and rubble, and people covered in ash. This exhibit is probably the most powerful in terms of bringing the events to life and making them feel "real" for kids, but if you want to shield them from these images, skip the Tribute Center. There is also a video and a roomful of photos of people lost on September 11.
The 9/11 Tribute Center is not part of the Memorial and costs $15 for adults and $5 for children ages 6-12. Seniors, students and members of the military pay $12. The Tribute Center also offers guided tours led by survivors and audio tours for an additional fee. They're incredibly poignant and really bring the whole thing to life, but I think I will save them for my kids until they are much older.

The 9/11 Memorial website also has tips for talking to children about 9/11, interactive 9/11 timelines and 9/11 lesson plans to help you sort through this intense topic with your children.
This post was originally published in September 2012.