Sensory Gyms in Manhattan: Eight Spots for Physical, Occupational and Other Sensory Therapy for Kids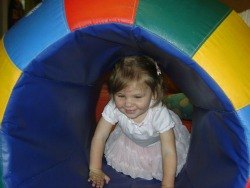 Earlier this year, we rounded up some of our favorite sensory gyms in Brooklyn. Since then we've launched our Special Needs Guide and gotten many requests for a post about sensory gyms in Manhattan. Well we heard you, and here it is!
The good good news is, Manhattan has a bunch of amazing sensory gyms that offer a fun and safe environment where children can work on their core strength, balance, language, sensory integration, behavior, attention and social interaction skills. The bad news? There are so many options, picking the best sensory gym for your child's particular needs may feel like finding a needle in a haystack. This list is by no means comprehensive. However, as the mom to a tween with special needs who's been to quite a few of these spots, I believe these eight Manhattan sensory gyms are a great place to start.
Connect the Dots – Midtown West
38 West 32nd Street Suite 1100
212-290-0290
This pediatric occupational therapy clinic specializes in sensory integration. In addition to OT, PT, speech and private evaluations, Connect the Dots offers handwriting assessment/remediation, therapeutic listening (with CD rental program) and Super Soccer Stars, a special-needs sports class that accommodates children with autism spectrum disorders, ADHD and Down syndrome. Connect the Dots accepts all facility-based Early Intervention, CPSE and RSA mandated therapy services. For private clients who pay out of pocket, the office assists with insurance reimbursement.
Coopers Kids – Murray Hill
276 Fifth Avenue at 30th Street
212-517-2777
This 2,100-square-foot center contains a state-of-the-art sensory gym along with three separate speech therapy rooms. The gym is equipped with a trampoline, ball pit, rock climbing wall and a separate fine motor area. Coopers Kids offers Interactive Metronome (IM), a new developmental rehabilitation program that aims to strengthen a child's motor skills and cognitive function. The center is very family-friendly, with easy access for strollers and a sibling-friendly waiting room.
Just Play NYC – Upper West Side
740 West End Avenue at 96th Street, Suite 3
212-665-5119
With locations in Manhattan and Westchester, Just Play Gyms was founded by Craig J. Tollin, a licensed pediatric occupational therapist. He consults with a variety of doctors, vision specialists, nutritionists, and alternative medicine practitioners to help ensure that every child receives thorough and holistic care. Just Play provides play-based therapy and comprehensive evaluations. In addition to OT, there's a speech pathologist and developmental optometrist onsite, plus nutritional consultations and referrals.
Making Milestones – Upper West Side and Upper East Side
1841 Broadway at 60th Street, Suite 507, 212-757-3551
320 East 65th Street between First and Second Avenues, Suite 117, 212-249-2588
150 West 92nd Street between Amsterdam and Columbus Avenues, Suite BB, 212-595-1705
This local chain offers PT, OT and speech assistance for Early Intervention, preschool and private pay clients for children of all ages. They also offer small group sessions in areas such as therapeutic exercise, socialization and handwriting.
Sage for Children – Upper West Side
140 West End Avenue at 66th Street, Suite 1G
212-787-4086
Serving children 18 months through 8 years, Sage offers OT, speech and sensory integration therapy along with counseling services, parent and sibling support groups, and socialization classes.
Sensation New York – Upper West Side
127 West 82nd Street between Amsterdam and Columbus Avenues, Suite 1B
212-362-6243
Sensation sees clients ranging in age from birth to age 21. In addition to traditional therapy, the staff offers unique programs like a cooking and sensory exploration group, yogadoodle (yoga and writing skills combo), a baby belly boot camp (for babies, not moms!), a social skills/self image class for shy adolescent girls, and even a dog business academy as part of its adolescent life skills class.
SMILE Center – Murray Hill
171 Madison Avenue between 33rd and 34th Streets
212-400-0383
The SMILE Center provides OT, PT and speech with an emphasis on sensory integration, neuro-developmental treatment and DIR®/Floortime.
Watch Me Grow – Upper West Side and Murray Hill
162 West 72nd Street between Amsterdam and Columbus Avenues
361 East 19th Street near First Avenue
212-721-5220
The Murray Hill location offers PT, OT, speech and sensory integration services in its spacious 4,000-square-foot gym. Both outposts also provide psychological services to children from Early Intervention to school age. During the summer, Watch Me Grow holds a "Sensory Summer" camp for children on the autism spectrum at a reasonable weekly cost that includes gym time as well as field trips around the city.
Some final thoughts as you get started: If you think you might like a specific facility, call right away to see if anyone is available during your child's free time. Get on waiting lists, even if you're not sure. You can always change your mind, but getting in later might not be so easy. And make sure to visit the gyms in person—what works for one child might not appeal to another.
Check out our Special Needs Guide for more posts about children with special needs.