Presidents' Day Weekend for NYC Kids: Intrepid Kids Week, Mommy Poppins at the New Vic, Meet the Breeds, Ponycon, Engineering Day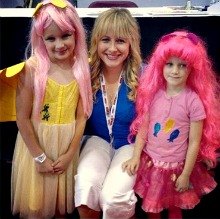 Presidents' Day weekend kicks off the nine-day February break for NYC City public school kids, and there's plenty to do on Saturday, Sunday and beyond. Five of our top February picks take place this weekend, including Washington's Birthday Ball at the Mount Vernon Hotel Museum & Garden, a Gustafer Yellowgold concert at Symphony Space, and a wide variety of science activities at the Intrepid and nature fun in NYC parks. Plus, we're hosting a special Mommy Poppins Valentine's Day performance of Cambuyón at the New Victory Theater, featuring a 20% discount on tickets and post-show cookie decorating with our pals from Cookie Party. Hope to see you there!
These are just a few of the great things going on this Presidents' Day weekend. All of our best bets are below. You can find lots of other options in our Event Calendar, our Winter Fun Guide and our list of 35 things to do over midwinter break.
All Weekend
Cambuyón – Midtown West
A February GoList pick: Stomp your feet and clap your hands to the infectious rhythms of this percussive dance spectacle at the New Victory Theater that fuses tap-dance, hip-hop and drumming. On Saturday night, join us for a special Mommy Poppins performance featuring a 20% discount on tickets (use code MOMMYPOPPINS2) and post-show cookie decorating. $15-$38
Sword Dance Festival – Manhattan & Brooklyn
Enjoy live performances of this jolly old English art form, which features teams of dancers holding linked swords to create intricate patterns. NYC's own Half Moon Sword troupe and many others perform in various Manhattan and Brooklyn locations. Saturday and Sunday only. FREE
IndieCade East – Astoria
Got a hardcore gamer in your home? Then head to the Museum of the Moving Image for this independent video game showcase. Although festivals passes run $35 to $125, families are welcome to play the showcase games (some of which may not be suitable for young kids) with the cost of museum admission: $12 for adults, $6 for children ages 3-12
The Woodsman – Midtown East
While this inventive reimagining of the Tin Woodman of Oz's back story is aimed at adults, it's definitely tween-friendly. Physical actors, evocative Bunraku puppets, moody songs, an immersive set and sparse dialog are used to tell the dark tale of a woodsman in a doomed romance with a wicked witch's slave. Saturday and Sunday only. $30 but save 20% via Broadwaybox.com
Ponycon 2015 – Downtown Brooklyn
Friendship is magic at this three-day con devoted to My Little Pony (who knew this '80s fad would come back so strong?). While not specifically aimed at kids, (Bronies are sure to abound), there will be fun for all ages, plus a Family Zone featuring crafts, games, a puppet show, a kids' fashion show and a special tea with Liberty. Advance tickets recommended. $35 for adults, $15 for children ages 7-12, multiday passes also available 
Saturday, February 14
The Gustafer Yellowgold Show – Upper West Side
Another February GoList pick: Singer, songwriter, artist and dad, Morgan Taylor, and his little yellow animated alter ego from the sun, Gustafer, hit Symphony Space for a special Valentine's Day performance featuring catchy tunes and trippy animation. $26 for adults, $16 for children
Hands-on History: Be My Valentine – Jamaica
Celebrate an old-school Valentine's Day at the King Manor Museum, where kids can make 19th-century-style picture frames and other crafts for their loved ones. FREE
Meet the Breeds – Midtown West
Get up close and personal with more than 100 different canine breeds at this event, presented in conjunction with the Westminster Dog Show. (Sorry cat lovers, no felines this year.) In advance: $20 for adults; $10 for children under age 12; at the door: $25 for adults; $10 for children
Ice Festival – Central Park
Celebrate the 35th anniversary of the Central Park Conservancy at the Naumburg Bandshell as artists from the Okamoto Studio carve a 3,000-pound block of ice into a replica of the green space's famous "Romeo and Juliet" statue. Also on tap: an Central Park trivia, a 1980s-themed photo booth, complimentary snacks and a silent disco at dusk where revelers wear headphones! FREE
Sunday, February 15
Washington's Birthday Ball – Upper East Side
And another February GoList pick: Celebrate George Washington's birthday 19th-century style at the historic Mount Vernon Hotel Museum & Garden. Watch and learn country dances from the era, take a tour of the museum and enjoy some old-fashioned refreshments. Reservations recommended. $15 for adults, $10 for children under age 12
The Pinkertonian Mystery – Upper West Side
Scour the galleries of the New-York Historical Society deciphering clues and questioning witnesses in this cool, interactive, historical whodunnit created by Live in Theater. Meet important figures from NYC's past like detective Allan Pinkerton as you try to figure out the identity of the diabolical El Diablo. Check out our full review. $35
Monday, February 16
Kids Week at NYC Parks – Citywide
Yet another February GoList pick: Starting on Presidents' Day, Urban Park Rangers will lead enriching and educational programs at nature centers in all five boroughs throughout the week. Locations and activities vary so check our event listing for details. FREE
Kids Week at the Intrepid – Midtown West
More from our February GoList: The Intrepid Sea, Air & Space Museum's week-long vacation celebration also kicks off today. Enjoy geeky demos by Mad Science, the Franklin Institute and Science Bob; high-tech workshops and space talks; live birds of prey; author readings; and fun hands-on activities like making Rube Goldberg machines. Free with admission: In advance: $22 for adults, $17 for children ages 7-17 and $10 for ages 3-6; at the door: $2 more per person but present this coupon at the box office to get two-for-one admission
Civil Engineering Day – Corona
Spend the day building and tinkering at the New York Hall of Science's annual engineering fest. Projects include making toothpick and gumdrop domes, creating aluminum foil boats, crafting bridges from paper and paper clips, building towers out of Jenga blocks and more. My nine-year-old son and I went last year and had a blast. Free with admission: $15 for adults, $12 for children ages 2-17
Culinary Kids Food Festival – the Bronx
Calling all junior foodies: the New York Botanical Garden's week-long fest includes cooking demos, tastings and hands-on culinary workshops with NYC chefs including Carla Hall from The Chew. Free with admission: $20 for adults, $8 for children ages 2-12
Staten Island Children's Museum Cool School Holiday – Staten Island
If you've always wanted to check out this tot spot, go today. The museum is offering no-cost admission in honor of the holiday. FREE
Don't forget: There are lots of other options in our Event Calendar.
Tags: