New York City Crafts: 3 Places for Beading Fun or Birthday Parties with Kids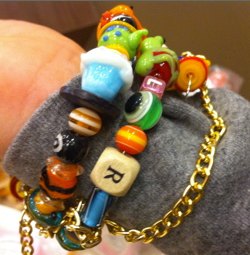 Beading is a really fun craft activity for kids of all ages, grown ups too. In fact, it can be a great moms night out. Basic beading doesn't require any skill, but still gets your creative juices flowing as you piece together your own creation from a selection of beads.
Last week we wrote about doing a beading party at home. Whether you want to do a party, or just go out for a few hours of fun, there are several great places for beading in New York City.
Brooklyn Bead Box
244 Smith St , Brooklyn
Brooklyn Bead Box offers a large selection of beads, with a special selection of animal and alphabet beads and charms especially for kids. There's a play space for small children if grown ups want to bead themselves.
Little Shop of Crafts
711 Amsterdam Avenue, Manhattan
(Little Shop of Crafts has discontinued beading. But they have other wonderful craft drop in and party offerings.) We love Little Shop so much we had our latest Mommy Poppins get together there and it was a blast. The casual atmosphere, the helpful staff, and they don't charge a session fee so you can drop in and hang out as long as you want. You just pay for the actual projects you take home. They don't have as large a selection of beads as some other places. In addition to beading, they also offer paint your own pottery, plastercraft, mosaics, woodcrafts, and create-a-cuddly. Check their website for classes and workshops.
Make Meaning
329 Columbus Ave & 75th, Manhattan
1501 3rd Ave & 84th, Manhattan
Make Meaning is a new craft emporium dedicated to making sure everything you make looks awesome. Accordingly they have a lovely selection of beads and a few different easy to do projects. Make Meaning also has paint your own pottery, glasswork, soapmaking, and candlemaking. They offer classes and workshops too.
Beads of Paradise
16 E 17th Street, Manhattan
Beads of Paradise is a gem of a store for bead lovers of all ages. Specializing in hand made and exotic beads of all kinds, just walking in is a treat. They do not have drop in beading, but offer a basic jewelry making class that will teach kids ages 8 and up everything they need to know to get started making their own jewelry at home.
For other great party ideas, see our Party Guide.