Music Classes for Babies, Toddlers and Kids in Brooklyn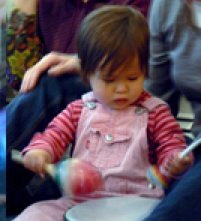 In "Tangled Up In Blue," Bob Dylan sings of Montague St. that "There was music in the cafes at night and revolution in the air". I'm not sure any of that is true of Brooklyn Heights now but there are certainly a lot of children's music classes in the neighborhood and the surrounding neighborhoods of DUMBO, Cobble Hill, Carroll Gardens and Boerum Hill. Maybe they can help your child turn into the next Bob Dylan . . . or maybe just bring some music to Montague St in 2035.
Music Together is the nationwide powerhouse of early childhood music programs. Their mission is to get all children to be rhythmical and sing in tune. To that end, classes come with CDs of music specifically designed by Music Together (plus a songbook and parent's guide) and parents/caregivers are encouraged to play the CDs at home and sing along (even if they themselves are out of tune). Visit the website to locate a class near you.
Heartsong Kids is centered in Cobble Hill and Carroll Gardens. Included in the registration fee are Music Together CDs and a songbook.
Naomi's Music is taught at Kiddie Korner on Remsen Street between Clinton Street and Henry Street in Brooklyn Heights. Classes include the Music Together CDs, a parent guide and a songbook.
South Slope Music Together is at the Hootenanny Art House in Park Slope, a welcoming creative spot for tots.
Music Together Brooklyn Heights Plus, as the name suggests is based in Brooklyn Heights (at the Zion Lutheran Church on Henry St.) and has additional classes in Boerum Hill (at the Brooklyn Ballet Studio, 160 Schermerhorn Street between Smith and Hoyt). Classes include the Music Together CDs and songbook.
Music for Aardvarks and Other Mammals was started in Brooklyn by David Weinstone and has since gone national. The philosophy of Music for Aardvarks is less music theory based with more emphasis on songs that small children and their grown-ups will enjoy. The infectious songs are urban/New York City-based with titles like "Avenue A", "Traffic Jam", "Taxi" and "Staten Island Ferry".
AudraRox was started by Audra Tsanos and was one of the first Music for Aardvarks franchises. The AudraRox band appeared on Nickelodeon and Sesame Street. Classes are all over Brooklyn (currently Carroll Gardens, Fort Greene, Williamsburg, DUMBO, Midwood and Boerum Hill) and Long Island City in Queens. A Music for Aardvarks CD is included in the class price. Children under 6 months accompanied by an older sibling are free.
Artscetera is a Cobble Hill institution offering arts and music classes in Cobble Hill for over ten years. They offer Music for Aardvarks and their own music program called Arfie's Music Adventures, inspired by a fictional dog named Arfie. Both programs come with CDs and the songs tend to highlight real events in the life of a child in the city, with some specific New York City references.
In Williamsburg, Frolic! offers the Little Rock-its class created by Tim Kubart of the kindie band Tim and the Space Cadets.
You can nurture your budding musicologist at Jitterbugs NYC which focuses on music from the 1920s through the 1970s as well as other classic children's songs. One side benefit of this approach is that rather than being reminded/reprimanded for not singing along you'll find yourself happily belting out the Sesame Street and John Denver classics of your youth. Classes are offered in Carroll Gardens and Cobble Hill, click here to see the Fall 2012 schedule.
Rock-ucation classes teach social skills and feature the music of Jeremy Plays Guitar.
Rolie Polie Guacamole is not only an area children's rock band, but they also offer classes in various locations including in Boerum Hill.
Tiny Tunesters is the music class offered by Families First Brooklyn. The class combines singing and dancing with stories and lessons in American Sign Language. The class is held at Families First (250 Baltic Street) in Cobble Hill. There is also a yearly membership fee to join Families First (which is required to sign up for classes).