Jazz for NYC Kids: Where to Introduce Your Children to Live Jazz Music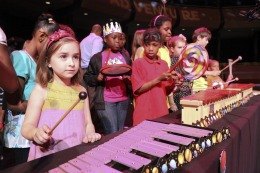 It's a mission of mine to introduce my six-year-old son to as many musical genres as possible. I find that kids don't really care if music is popular or current, they just know what they like. Last year we were all about classical. I was pleasantly surprised by how much we both enjoyed the concerts by the Little Orchestra Society (especially since I'm a rock and roll girl at heart). He even asked me to take him to the opera and he loved that, too.
My son recently finished reading a book that featured Louis "Satchmo" Armstrong as a main character, and he began asking lots of questions about the trumpeter and jazz in general. With Black History Month coming up, it's the perfect time for me to introduce him to the genre.
Although we may start our journey with a visit to Armstrong's childhood home in Queens, which is now a museum, what I really want to do is take him to a live jazz concert. While there are a slew of jazz clubs in New York City, between the free-flowing alcohol and late night hours, most of them aren't family-friendly. But there are a handful of NYC jazz spots that not only welcome kids, they cater to them.
Jazz for Kids at the Jazz Standard – Kips Bay
116 East 27th Street between Park Avenue South and Lexington Avenue
Sundays at 2pm, doors open at 1pm
$5 suggested donation, brunch costs extra.
Every Sunday afternoon, the talented Jazz Standard Youth Orchestra—a varied group of tri-state area musicians, some as young as 10—take to the stage under musical director David O'Rourke to play tunes by the likes of Charlie Parker, George Gershwin and Miles Davis. This is a pretty cool experience on a bunch of levels: jazz for kids, by kids, in a actual jazz club, where you can feast on barbecued brunch treats from the famed Blue Smoke restaurant upstairs.
Jazz Kids! – Greenwich Village
55 Bar, 55 Christopher Street between Seventh Avenue South and Waverly Place
Sundays, January 29, February 26, March 25, April 29, May 27 at 2pm
$5
The last Sunday of every month, singer Amy Cervini puts on an interactive, hour-long jazz show specifically aimed at children ages 2 to 6. Little jazz lovers hear her belt out a variety of short and sweet tunes, and are encouraged to get up and dance, sing along and even play with the instruments (when they're not being used by the pros, of course).
Jazz for Young People Family Concerts – Upper West Side
Lincoln Center's Rose Theater, 60th Street and Broadway
Saturdays, February 11 and April 21 at 1 and 3pm
$20-$36
Lincoln Center hosts three jazz concerts for kids throughout the season, each one with a different theme. The February 11 edition asks What is Improvisation? and features drummer Matt Wilson and his Arts and Crafts ensemble. On April 21, families will learn What is New Orleans Jazz? through interactive music and movement activities.
WeBop – Upper West Side
Lincoln Center's Frederick P. Rose Hall, 60th Street and Broadway
$330 for an eight-week session
If your really want your kids to get hep to the genre, Lincoln Center also offers this top-notch jazz education program that was developed by celebrated jazz trumpeter Wynton Marsalis. During the weekly class, tots between 8 months and 5 years are grouped by age and learn the fundamentals of jazz by listening to live and recorded music, and trying out a variety of percussion instruments like maracas, bongos, congas, tambourines and the glockenspiel. Visits from jazz pros round out the fun. The winter term is sold out for most age groups so plan early if you want to snag a spot in the spring.
There are two other organizations to keep on your radar. During the summer, the Harlem-based Jazzmobile presents free outdoor concerts throughout the five boroughs. Every July, the organization partners with the Central Park Conservancy to produce Great Jazz on the Great Hill, a one-day-only concert and swing dance party.
Saxophonist Hayes Greenfield also runs a kids' program called Jazz-A-Ma-Tazz. Right now it's on hiatus, but in the summer he usually does free shows in city parks. Check the website for updates.
Photo courtesy of Jazz at Lincoln Center