The Little Orchestra Society: A Fun Way to Introduce Kids to Classical Music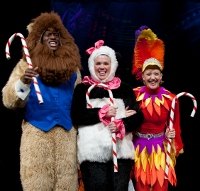 The Little Orchestra Society has been mounting wonderful classical concerts for NYC kids since 1947. Divided into two separate programs—Lolli-Pops, which is aimed at preschoolers, and Happy Concerts for school-aged kids—the performances are vibrant, theatrical and interactive.
Last season, another family invited me and my son to accompany them to a Lolli-Pops concert. Being more of a rock-and-roll girl, I was wary. I thought it might be a bore, especially for my son. I was pleasantly surprised to find that the folks at LOS put on really engaging shows, featuring funny characters, like Bang the Lion, Bow the Panda, Buzz the Bee and Toot the Bird, who teach kids about the different sections of the orchestra with the help of the musicians and conductor Dino Anagnost. I was so impressed I even included it in my roundup of best places to hear classical music with kids.
Sadly, longtime esteemed musical director Anagnost passed away last winter at age 67, which left LOS with some big shoes to fill. For the 2011-2012 season, LOS will be using guest conductors to lead its series of shows, many of which are brand-new. So even if you've been going to LOS for a while, some of this year's offerings will be new to you.
The Little Orchestra Society kicks off its new season this weekend with a Lolli-Pop concert called Who's Got the Beat? that's all about rhythm and time. We've got the scoop on this fun show and the rest of the lineup.
Lolli-Pops Concerts
The Little Orchestra Society's Lolli-Pops shows are aimed at children ages 3 to 5. That said, I've found that with many NYC arts programs, kids seem to finally "get it" just as they're aging out. So I think children up to 7 should enjoy these shows. Last year, my son and his friend, who had just turned 6, loved the Lolli-Pops performance while some younger kids squirmed and whined.
Lolli-Pops concerts take place at the Kaye Playhouse at Hunter College, 68th Street between Park and Lexington Avenues. Tickets are $15-$40. You can also purchase a concert subscription for $45-$150, depending on the number of shows and seat locations.
Who's Got the Beat?
Saturday, October 22 at 10 and 11:30am; Sunday, October 23 at 1 and 2:30pm
Guest conductor Jeffrey Grogan teaches kids about rhythm in this brand-new show featuring a piece that evokes the sounds of New York City.
The Orchestra – A Happy Family
Saturday, November 12 at 10 and 11:30am; Sunday, November 13 at 1 and 2:30pm
Grogan also conducts this holiday-themed show, which includes Tchaikovsky's Dance of the Sugarplum Fairy and Debussy's Cakewalk, and stars Bang, Buzz, Toot and Bow.
Carnival of the Animals
Saturday, January 28 at 10 and 11:30am; Sunday, January 29 at 1 and 2:30pm
I'm definitely getting tickets for this one! Peter H. Reynolds, illustrator of the popular kids' book series Judy Moody, creates original artwork on stage as the orchestra plays Camille Saint-Saëns' Carnival of the Animals. Daniel Meyer conducts.
A Musical Toy Store
Saturday, March 3 at 10 and 11:30am; Sunday, March 4 at 1 and 2:30pm
Meyer also conducts this playful program, which features all kinds of childhood toys, like tops, rocking horses and bouncing balls, moving to music by Prokofiev, Bizet, Schumann and Haydn.
Peter and the Wolf
Saturday, April 21 at 10am and 11:30am; Sunday, April 22 at 1 and 2:30pm
Prokofiev's beloved children's composition teaches kids about the different instruments in the orchestra, while telling a story about a boy and his animal pals. Sara Jobin conducts.
Happy Concerts
Happy Concerts are for children ages 6 to 12 and start in December across town at Lincoln Center. They tend to be less didactic and more theatrical, with acting, singing and dancing.
Happy Concerts take place at Lincoln Center's Avery Fisher Hall, 10 Lincoln Center Plaza, 64th Street just west of Columbus Avenue. Tickets are $15-$50. Again, you can opt for a subscription package, which ranges from $45-$135 depending on seat location.
Amahl and the Night Visitors
Saturday, December 17 at 11am and 1pm
This holiday classic celebrates Three Kings Day. Conducted by Edwin Outwater, this production marks the 100th anniversary of composer Gian Carlo Menotti's birth.
West Side Story and Other Music of the Americas
Saturday, February 4 at 11am and 1pm
This brand-new show celebrates American composers like Leonard Bernstein and Aaron Copland. Conductor Gerald Steichen leads the orchestra, and local ballroom experts from the Dancing Classrooms Youth Dance Company will also perform.
Cinderella and the Prince Who Slays the Magic Dragon
Saturday, March 1 at 11am and 1pm
Conductor James Judd leads the LOS in this fantastic retelling of the classic fairy tale featuring Prokofiev's music and puppets, including a 15-foot fairy godmother!
Find out about other places where you can take your kids to hear classical music or check out our Fall Fun Guide for other cultural events.