SOLD OUT A Special Mommy Poppins Event: Fun-Filled Historic Harbor Cruise with Master Storyteller Bill Gordh and his Banjo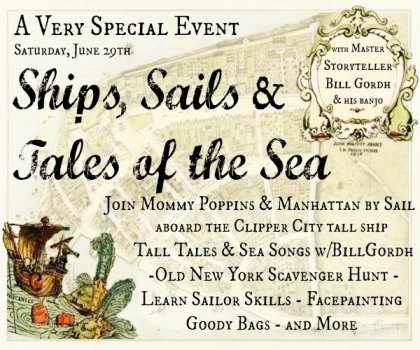 This cruise is sold out. Don't worry: Mommy Poppins will host other exciting events soon! Taking a cruise on New York Harbor is one of our favorite summer activities in NYC. That's why we here at Mommy Poppins are excited to invite you and your kids to a very special event we're planning: Ships, Sails and Tales of the Sea with Bill Gordh & Manhattan by Sail. On Saturday, June 29 join us as we set sail back in time aboard the historic Clipper City Tall Ship on a 90-minute excursion with family activities by master storyteller Bill Gordh, a scavenger hunt by New-York Historical Society's DiMenna Children's History Museum and more.
During this fun outing, families will board Manhattan by Sail's historical Civil War-era cargo schooner Clipper City for an exciting voyage out of South Street Seaport. As we sail through New York Harbor, we'll enjoy amazing views of the Statue of Liberty, the Brooklyn Bridge and other beloved NYC landmarks, plus there will be a stellar lineup of entertainment and enriching activities for children.
Read on to find out how you can snag tickets to Ships, Sails and Tales of the Sea with Bill Gordh & Manhattan by Sail—a day out on the water Mommy Poppins-style that you won't want to miss.
Mommy Poppins' Ships, Sails and Tales of the Sea with Bill Gordh & Manhattan by Sail is more than just a fun cruise. We've designed the event to be educational, too.
Master storyteller Bill Gordh will perform sea songs on his banjo and tell tall tales. Gordh has performed at the White House, at Pete Seeger's Clearwater Festival and is a favorite of NYC school children.
An educator from the New-York Historical Society's DiMenna Children's History Museum will lead an eye-spy scavenger hunt that will take kids back in time to old New York.
Plus, real sailors from Manhattan by Sail's Clipper City Tall Ship will teach kids nautical skills like knot tying, the inner workings of the ship, and how to work the sails.
Bring your camera to snap photos as we sail by the Statue of Liberty or you can purchase photos from the on-board photographer.
There will also be face painting by Alicia, temp tattoos and every child will get a Mommy Poppins goody bag.
The voyage leaves from Pier 17 at South Street Seaport on Saturday, June 29 at 10am. Rain date is Sunday, June 30. Tickets are $39 for adults and $17 for children under age 13. Availability is limited for this one-time-only sail, so purchase your tickets now. Limited stroller parking, so leave strollers at home if possible.
Bonus: Everyone who purchases tickets by Monday, June 24 will be entered to win four Liberty Science Center passes or four tickets to Wanda's Monster the Musical with songs by Laurie Berkner at the Vineyard Theatre.
About Our Partners:
Manhattan By Sail

Manhattan by Sail offers unique harbor cruises on historic sailboats. The Clipper City is the largest ship in the fleet: an 158-foot-long replica of the lumber-hauling schooners that made New York Harbor the center of global commerce, with mast and rigging reaching up 120 feet from the deck. Sailing on a tall ship like the Clipper City is a rare opportunity that few people get to experience. The Clipper City sails daily from Pier 17 at the South Street Seaport and offers breathtaking views of the Brooklyn Bridge, the Statue of Liberty and the Manhattan skyline.
Bill Gordh

Master storyteller Bill Gordh and his banjo have charmed hundreds of local grade school students. He has also performed with the New York Philharmonic, at the Clearwater Festival, the Gerald Ford Amphitheatre in Vail, Colorado, the Byzantine Fresco Chapel Museum in Houston, Texas, the Tribeca Film Festival, and was a featured storyteller at the White House Easter Egg Roll for three years. We're thrilled that he will be joining us for this special Mommy Poppins event.
New-York Historical Society DiMenna Children's History Museum

We're big fans of the New-York Historical Society's DiMenna Children's History Museum. The 4,500-square-foot space gives kids a better understanding of local history as they explore different eras in NYC through the eyes of children who lived here, like Founding Father Alexander Hamilton, the country's first African-American doctor, James McCune Smith, and the ragtag group of newspaper sellers who fought for justice and inspired the Broadway smash Newsies. Each of the children is highlighted at hands-on stations where kids can delve into American concepts like democracy, commerce, personal rights, freedom and baseball through interactive games and manipulatives.
Alicia's Face Painting

Alicia has been entertaining children since 2007 with her fun faces, cheek art, body painting and sparkling tattoos. She performs at parties, festivals and events, and brings a unique style that kids love.