Free & Fun Things to Do this Weekend for NYC Kids: Christmas Tree Lightings, Holiday Festivals, Nostalgia Trains December 1-2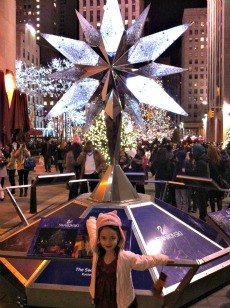 Santa is hearing wishlists, Christmas trees are lighting up, holiday windows are attracting crowds and Hanukkah is on the horizon. Looks like the holiday season is in full swing in NYC!
This weekend brings some of our favorite annual tree illuminations, including Staten Island's Historic Richmond Town and a fleet of floating trees on Central Park's Harlem Meer. Plus the MTA is running its cool Nostalgia Trains, the New York Public Library throws its Holiday Open House and the 92nd Street Y hosts an early Hanukkah Festival.
This week is your last chance to sign up for Mommy Poppins Holiday Portrait Hurricane Sandy Fundraiser this Sunday, a festive party, professional photo shoot and benefit all in one. Read on for details plus all of our weekend picks. You can find additional options in our Event Calendar and our Holiday Guide.
All Weekend
Circus Oz – Midtown West
Families will be amazed by the acrobatic feats of this Australian circus troupe at the New Victory Theater. The show kicks off a month-long run this weekend and features a live rock band and a sassy sense of humor along with awesome acts. $17-$55
Gingerbread House Decorating Workshop – Tribeca
In these festive food workshops, kids create their own gingerbread house for the holidays. Live music and handy elves add to atmosphere. While it's a pricey party, all proceeds go to support the Church St. School for Music and Art. Advance registration required. $95
Inside The Lion King – Midtown West
Attention Disney diehards: This new pop-up exhibit offers a behind-the-scenes look at the Broadway sensation The Lion King, including masks, costumes, sets and puppets used in the musical. FREE
 
Saturday, December 1
New Museum First Saturdays for Families: Improvisational Performance – Lower East Side
Head to the Bowery institution for an interactive movement workshop with Megan Byrne, one of the artists featured in the museum's Movement Research in Residence: AUNTS. Families will explore movement, character, sound and costume through improvisation and simple exercises, and then participate in an impromptu performance. FREE
Mario the Magician featuring the Sleight of Hand Band – Upper West Side
Enjoy the old-school tricks and attitude of Mario the Magician, who performs an interactive vaudeville-style show at Lincoln Center's David Rubenstein Atrium accompanied by the Sleight of Hand Band, a four-piece jazz combo led by Chris Donohue. FREE
Family Winter Festival – Brooklyn Heights
At the Brooklyn Friends School's annual fest, pick up a holiday wreath or wares from local artisans as your children do crafts, catch a magic show, romp in a bouncy castle and get their faces painted. Free admission but there are fees for certain activities.
St. Luke's Christmas Fair – Greenwich Village
Kids can play games and win prizes at the Children's Carnival, navigate a massive maze, sing karaoke, snack on baked treats, watch a puppet show, pose for photos with Santa and more. $8 for adults, $5 for children.
St. Nicholas Day – East Flatbush
Celebrate an old-fashioned Christmas at the Wyckoff Farmhouse Museum with a visit from Santa Claus who arrives with his horse (not reindeer). Other fun on tap includes arts and crafts, colonial music, period snacks and the lighting of the Christmas tree. $5 for adults, $3 for children under 10.
Swedish Christmas Children's Workshop – Murray Hill
Experience a Swedish julpysseldag, a.k.a. a Christmas craft day. Kids can learn how to make woven hearts, yarn tomtar (kind of like gnomes) and paper angels. Advance registration required. $12
Saturday Family Programs: Tales of Snow – Park Slope
Urban Stages presents a winter-themed revue of short stories and skits using masks, puppets and music at the Brooklyn Public Library's central branch. FREE

Sunday, December 2
Mommy Poppins Holiday Portrait Hurricane Sandy Fundraiser – Financial District
Help New Yorkers in need and tackle your holiday to-do list at the same time at our Hurricane Sandy benefit. The innovative Stomping Ground Photo will snap awesome holiday portraits of your kids while you enjoy discounted shopping at J&R Jr. Cookie Party will also be on hand for a food decorating fete. The best part of the whole thing? 100% of the proceeds go to the Mayor's Fund to Advance NYC to help local victims of the super storm. Advance booking required. $99 per family.
Winter Family Day Celebration – Murray Hil
This is a great day to explore the Morgan Library & Museum's exhibit of picture letters by Beatrix Potter, the author/illustrator behind Peter Rabbit and his wild pals. In honor of the museum's seasonal fest, families can see puppet shows and create masks and drawings inspired by Potter's famous tales, and enjoy all kinds of old-school Christmas fun like face time with Ebenezer Scrooge, Bob Cratchit and the Ghosts of Christmas Past and Present, photo shoots in vintage costumes and other retro activities. Free with admission: $15 for adults, $10 for children ages 13-16, free for kids under 13
Holiday Open House – Midtown East
The main branch of the New York Public Library goes all out at its annual holiday bash. For three hours, the stately Stephen A. Schwarzman Building is transformed into a seasonal wonderland featuring puppet shows, storytelling, circus acts, crafts, face painting, live music, caroling, sweet and savory snacks, dancing and a host of classic literary characters including the Grinch, Scrooge, Mother Goose and Frosty the Snowman. How do you get in? Just make an annual donation at the door. $40 for one guest, $100 for four.
MTA Nostalgia Trains – Queens and Manhattan
On Sundays through December 30, the MTA is running old-fashioned subways on the Sixth Avenue line. Take a retro ride with a swipe of your MetroCard!
Christmas in Richmond Town & Traditional Tree Lighting – Staten Island
Enjoy an old-fashioned holiday in the historic village. Watch the tinsmith create glittering tree ornaments, listen to Christmas carols and stories, snap photos with Santa, browse the holiday market, and take a horse and wagon ride. The tree lighting caps off the day of fun. Free with admission: $8 for adults, $5 for children ages 4-11, free for kids under 4, but there are additional fees for certain activities.
Hanukkah Festival – Upper East Side
At the 92nd Street Y's hands-on fete, kids can decorate dreidels and cookies, craft candles and even make their own olive oil while listening to songs by Shababa Mamas in both English and Hebrew. The Y encourages families to bring unwrapped toys for its 92Y Hurricane Sandy Gift Drive. $15 for children, $10 for adults.
David Weinstone – Tribeca
NYC's original kiddie rocker of Music for Aardvarks fame plays 92YTribeca. Kids will love dancing and singing along to urban-themed tunes like "Taxi," "Bagel" and "Subway." $15, free for children under 2.
Eat Pie and Shop Holiday Gift Fair – Cobble Hill
Eating and shopping: a winning combination to benefit Cobble Hill's PS 29. Pies from Brooklyn's best bakers (both amateurs and pros) will be judged by a jury of aficionados. Enter your own pie or taste them for $5 a pop. Parents can also shop at the holiday market while kids enjoy face painting by Mini Max, and arts and crafts by Brooklyn Craft Workshop. Free admission but there are fees for certain activities.
Central Park's Dana Discovery Center's Holiday Lighting – Harlem
The Victorian-style center comes alive with thousands of LED lights. Last year, a lovely floating Christmas tree was set out on the Harlem Meer and this year the Central Park Conservancy promises a flotilla of 13 trees! Families can also enjoy cookie decorating, watch Okamoto Studio carve an ice sculpture, sing along with the Original Dickens Carolers, warm up with hot cocoa and visit with Santa. FREE
Christmas Tree Illuminations – Upper East Side
More illuminations! Head to Carl Schurz Park to watch its Christmas tree turn on followed by caroling and holiday treats. Or watch the Park Avenue Mall Christmas Trees light up after a brief ceremony outside the Brick Presbyterian Church. FREE
The 90-Second Newbery Film Festival – Upper West Side
This sounds like a real treat for young lit lovers. Symphony Space's Thalia Kids' Book Club presents super-short shorts made by kids about their favorite Newbery Medal winning books. In between the films, big names in little kid lit, including Jon Scieszka, Kate DiCamillo, Brian Floca and Dan Yaccarino, will host kooky book-related games and entertainment. $15

Outside of NYC
My family and I cut our own Christmas tree every year, usually at Wycoff's Tree Farm in Belvedere, New Jersey, which is open for the season.
On Saturday, watch Belmont Lake State Park's Christmas tree light up in West Babylon, Long Island, followed by a spectacular fireworks display.
Don't forget: We have additional seasonal fun in our Event Calendar and our Holiday Guide.
Tags: