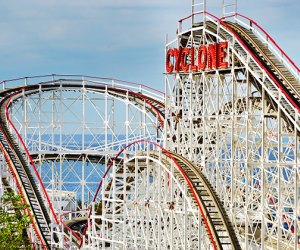 Weekend Fun: Cyclone Party, Pride, Boogie on the Boulevard
On the first, official weekend of summer, events for New York City kids include scores of outdoor options, from Pollinators Weekend in the Bronx at Wave Hill to the Hydrangea Hurrah in Manhattan's Madison Square Park. The Backlot Arts Festival gets going in Astoria with fun stuff held both indoor and out. In Chelsea, kids can check out the first installment of the free "Make It!" series on The High Line.
If the humidity is still through the roof, check out our guide to nine play fountains where NYC kids can get totally soaked, or you can always swipe for a subway ride to the beach. Heck, take 'em whale watching! There are plenty of festivals and fairs going on, too, and of course, FREE outdoor movies.

New York City also loves a great parade, and the New York City Pride March is a great one, running from Midtown to Greenwich Village on Sunday. It's one of the highlights of our June GoList, which is reaching its final weeks of utility before we unveil our packed July GoList.
As always, our event calendar grows and grows, and our Summer Fun Guide is packed with events for your longer-term planning needs, including what's in store for Macy's July 4th fireworks show.
All Weekend
Harlem Arts Festival — Harlem
Marcus Garvey Park becomes a two-day bonanza of excellent local music and dance acts, with workshops (some ticketed) for making lotions or hot sauces with local artisans. There's still a load of festivals going on in June—see our full guide. FREE

Millions — South Street Seaport
This cool new exhibit opening at the South Street Seaport Museum investigates the differences between traveling first class and third class on the great ocean liners of the early Twentieth Century, including the Titanic. If you book a ticket on the Pioneer beforehand, entry to the museum is free.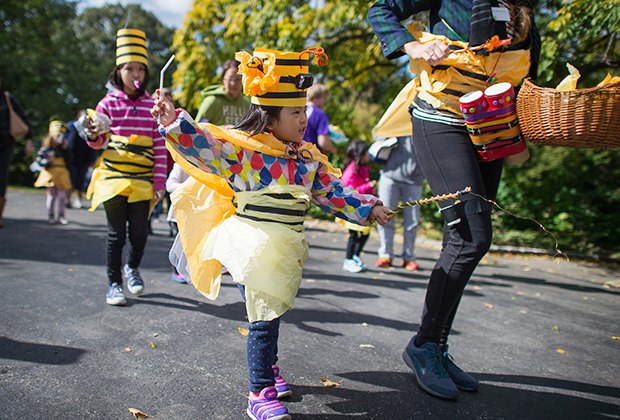 Be a bee at Wave Hill. Photo by Joshua Bright/courtesy of Wave Hill.
Pollinators Weekend — Wave Hill, The Bronx
Wave Hill's annual celebration of the butterflies and bees that make the world work includes hat-making workshops, a butterfly block party, nature walks, and—if you're brave enough—a chance to meet the bees.
Backlot Arts Festival — Astoria, Queens
The Kaufman Arts District in Queens sets aside a weekend for a square block of fashion shows, screenings, art exhibits, free performances, and even a book-crafting workshop. See more art suggested kid-friendly art installations around the city this summer. FREE
Saturday, June 24
Youth Pride — Chelsea
This June GoList pick is a new event linked to Sunday's Manhattan Pride March. Target sponsors a teen-focused event with all sorts of entertainment in a west Chelsea park. FREE, but registration is required.
Children's Book Reading and Craft Day — Flushing, Queens
Kids can make a seed-maraca at the Queens Botanical Garden after enjoying a reading of the children's book Oh Say Can You Seed by Bonnie Worth.
Make It! Series on The High Line — Chelsea
The first day of this cool series for kids on the High Line includes dancing, singing, and a chance to create something out of recycled materials with help from the Loisaida Center. In English and Spanish. FREE
Eid Around the World — Upper West Side
The Children's Museum of Manhattan hosts a load of cool events marking the end of Ramadan, including a Sufi drumming circle, Arabic calligraphy workshops, the Kinding Sindaw Dance Ensemble, and a food workshop. Activities included in museum admission.
Hydrangea Hurrah — Flatiron
Madison Square Park fetes its summer foliage at this festival with speakers, floral demos and, best of all, a game-filled kids' zone. FREE
Brooklyn Bubbles Party — Sheepshead Bay, Brooklyn
Homecrest Playground invites everyone to BYOB (bring your own bubbles) and wands and other bubble-releasing devices to fill the park with fun. FREE
Sunday, June 25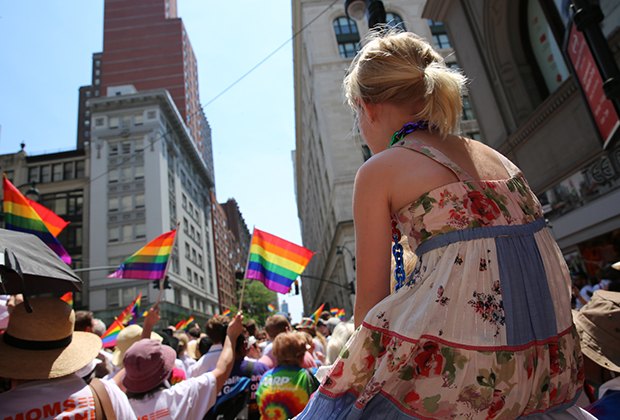 Celebrate Pride down 5th Avenue. Photo by Mommy Poppins.
Manhattan Pride March — Midtown
A perennial GoList pick, the 47th annual pride march begins at 36th and 5th Avenue and proceeds to Greenwich and Christopher. It's a party, for sure, but also equal parts civil rights demonstration and tribute to those lost to sickness, ignorance, or violence.
FREE

Studio Ghibli Fest — Citywide
Beginning Sunday, and through November, select theaters citywide will be showing the best children's movies by Hayao Miyazaki, aka, the best children's movies ever, especially My Neighbor Totoro. You won't find a better film to make an imaginative four-year-old's day. And oh, did we say movies?

Happy Birthday, Cyclone. Here's to another 90 happily dizzy years.
Coney Island Cyclone's 90th Birthday Celebration — Coney Island
This is a big one! Built in 1927, the Cyclone is the grandpappy of all American roller coasters. and Luna Park celebrates its 90th with face painting, tattoos, live music, and no less than the Harlem Globetrotters. FREE, but not the rides.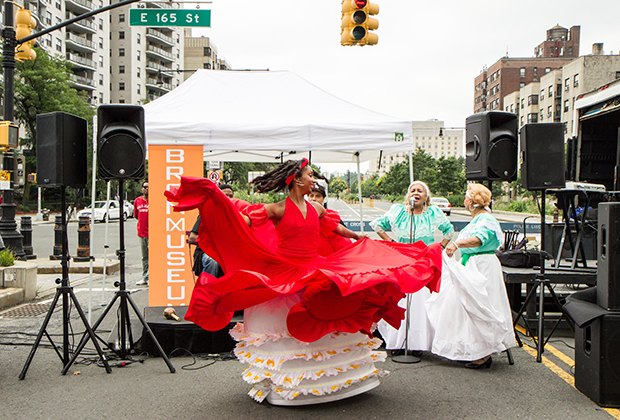 Boogie on the Boulevard. Photo by Lauren Click/courtesy of the Bronx Museum.
Boogie on the Boulevard — The Bronx
The Bronx Museum of the Arts takes over Grand Concourse at 162nd and blocks traffic with a cool selection of arts, music, and dance. This summer street fest returns for select Sundays in July and August, too. FREE