Books of Wonder Needs Your Help to Stay Open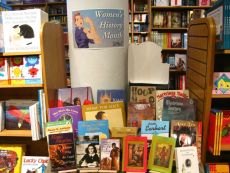 The sad fact is, small businesses have it rough in New York City, especially these days. We're constantly posting about family spots that have closed—this year alone we've lost bowling alley Harlem Lanes, the Little Gym of Harlem, the Upper West Side Scribble Press and Park Slope's arcade/restaurant PSbkln, to name a few. But this time, one of our favorite kid-centric businesses has reached out before it shutters to ask families for help. Beloved children's bookstore Books of Wonder is in dire financial straits and is soliciting donations in order to stay open into 2013.
Books of Wonder is no ordinary kids' bookshop. As we raved in our roundup of the best independent NYC bookstores for families, the Chelsea kid-lit haven hosts fantastic storytimes, big-name author readings and free workshops, and has an unparalleled selection, including an iconic collection of vintage Oz books.


In order to try to raise necessary funds, the owners have launched an indiegogo donation campaign. Those who give get a lot more than a warm fuzzy feeling—many children's authors are providing a variety of perks to big money donors, including autographed books, first editions and original artwork. You can find a complete list of donor incentives on the website.
Indiegogo works like Kickstarter: You're not billed unless Books of Wonder reaches its fundraising goal of $100,000. If it doesn't, you pay nothing... and the shop probably closes.
With even mega-chains like Borders and select Barnes & Noble outposts closing down, independent bookshops really need community support if they're to continue providing their personalized and unique services. Books of Wonder has been in business for more than 30 years and we hope it sticks around for many book-reading generations to come.