What's New on Governors Island for Kids: 30 New Acres of Park, Open 7 Days a Week & Other Exciting Changes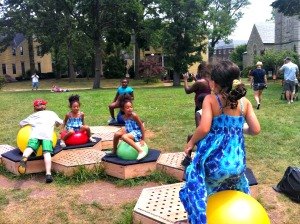 Governors Island reopens to the public this Memorial Day weekend and there are lots of exciting changes in store for summer 2014. In addition to unveiling 30 acres of new parkland to the public for the first time, the isle will be open to visitors seven days a week! (Take note: The Brooklyn ferry only runs on weekends. To access to isle on a weekday, you'll need to catch the Manhattan ferry.) Of course expanded access comes at a price: The formerly free ferry will now cost $2 round-trip for adults on weekdays and weekend afternoons. (It remains 100% free for children under 12 and to all on weekend mornings.) Honestly I think that sounds entirely reasonable. My biggest concern is how buying tickets will impact the already super-long lines (I guess I'll find out when I go on opening day).
This 172-acre oasis was once home to the U.S. Army and Coast Guard, and is full of quaint 19th-century houses, grassy hills and traffic-free bike paths. It's just a seven-minute ferry ride from lower Manhattan, but if you stand in a spot where the city skyline is out of view, you feel as if you've been transported to 1800s New England. In addition to being a fantastic place for families to relax and explore, the isle hosts lots of cool festivals and activities throughout the season, most of which are FREE.
For 2014, most of the popular kid attractions will be back, including the Opening Day Family Festival, the Figment arts fest when the mini-golf course and Interactive Sculpture Garden debut, and the Children's Museum of the Arts Free Island Outpost. (Sadly, Fête Paradiso's vintage carousels aren't returning. I know, I'm bummed, too.) There are also some cool new additions, notably Hammock Grove, a mini-forest featuring 1,500 trees and 50 red hammocks, a Play Lawn that includes two ball fields, and water fountains (so more having to buy overpriced water bottles on the isle.)
Read on for the scoop on the very best things to do on Governors Island with kids this season, plus important visitor tips, including where to find real bathrooms, not Porta-Potties!
Explore 30 new acres of park
Even if you're a Governors Island vet like my family, a visit this summer will be filled with new discoveries thanks to all of this fresh parkland. This section includes Liggett Terrace, a plaza with seasonal plantings, seating and public art; Hammock Grove, home to more than 1,500 new trees and 50 red hammocks; and the Play Lawn, featuring two ball fields and lots of room to roam and romp. In addition, the entire Historic District will be open to the public, as will much of the promenade around the Island. You can check out pics of these new attractions on Governors Island's official Flickr feed.
Play mini golf
The creative folks at the Figment arts collective design this annual staple, the only FREE miniature golf course in the city. It changes every year and always features wildly innovative holes, all designed by artists and usually fashioned out of recycled materials. "New York City Now" is the theme of the 2014 course, which will debut at the Figment Festival the weekend of June 7-8. You can check out the designs online (I especially love that pizza one!). Having hit Figment's courses in years past, I want to note that they work better as interactive art installations than as mini golf. The holes are visually striking but difficult to play. Plus many kids wander around, doing holes out of order. In other words, don't expect serious game play. There will be ten holes in total: nine official ones plus a bonus hole. Open June 7-September 21. FREE
Explore the Interactive Sculpture Garden and other ongoing art exhibits
Figment is also behind Governors Island's annual Sculpture Garden on the Parade Ground. You can check out designs for the brand-new works (I'm partial to that life-size giraffe that you can draw on), which are all interactive in some way. Plus the super-popular TreeHouse returns for its fourth year. The kids just go wild for that one—I've lost my daughter in there many times. Open June 7-September 21. Of course, there will be lots of other art installations on the island, including the Governor's Cup Pavilion made of thousands of plastic cups, so keep an eye out. All of these exhibits are FREE
Commune with nature
There are lush lawns and beautiful trees everywhere you look. However, if you really want to get your nature fix, GrowNYC is operating an urban farm with hands-on programming on weekends, and the folks at Earth Matter are hosting composting workshops, and showing off their chickens, rabbits, worms and bees.
Go bike riding
The isle features multiple miles of flat, car-free cycling, which makes it perfect for kids. You can bring your bike on the ferry or rent one on the island from Blazing Saddles. A brand-new program, Free Bike Mornings, allows visitors to borrow a bike for FREE for up to one hour every weekday. Plus the Skate Truck NYC will be on hand on select dates with roller skate rentals.
Make art with the Children's Museum of the Arts
The downtown institution runs a Free Art Island Outpost from 11am-3pm every Saturday and Sunday, plus Memorial Day and Labor Day, outside buildings 11 and 14 in Nolan Park. In recent years, my kid did lots of outdoor art projects, including helping to paint a communal mural, fashioning finger puppets and playing with Flubber. FREE
Challenge your brain
Academic fun on the isle? Why not? For the second year, NYC's three public library systems will partner with the Uni Project to host an open-air reading room where visitors can borrow books for use on the isle, register for library cards, sign up for Summer Reading and enjoy FREE entertainment on Saturdays at 1pm. Plus Mü-Math: The Mobile Unit to Promote Mathematical Thinking returns for a third year with hands-on math fun for ages 7 and up. Both are open only on weekends.
Go fishing
Catch-and-release fishing is allowed in designated areas along the harbor. Kids can fish without a license but adults ages 16 and up need a valid NY State fishing license. They're inexpensive but they're not sold on the island. Click here for info on obtaining one. FREE for kids
Hang out on the "beach"
Formerly known as Water Taxi Beach, the rechristened Governors Beach Club is a man-made beach with sand to play in, picnic tables to lounge at, bar food (and beer) to buy, and a stage. While the venue hosts adults-only concerts at night, it's kid-friendly during the day and a great place to take a break and grab a snack. The one downside: There is no shade whatsoever but you do get a nice breeze off the water. Open Saturdays, Sundays, Memorial Day and Labor Day.
Check out the cool castle
Castle Williams, royal as it looks, actually served as a military prison. You can take guided tours of the interior courtesy of the National Park Service. The NPS offers lots of other programs on the isle, many of which are kid-friendly so check the calendar to see what piques your family's interest. FREE
Attend an awesome FREE event
There are so many cool happenings at Governors Island, we can't possibly list them all. (Happily, the Governors Island calendar does that.) We've highlighted some of our favorite annual celebrations as well as new events that sound promising.
 
Just relax
Seriously. You don't always have to be doing something. Hang out in the hammocks, Adirondack chairs, oversize swings or at the tables (assuming you can snag one). Or bring your own picnic and dine alfresco on the grass. You can also pick up great grub from the excellent food vendors. There are more than ever this year, including Thai and Vietnamese fusion from Top Chef finalist Lisa Fernades' Sweet Chili, Mayhem & Stout braised-meat sandwiches, Mexican BBQ from Mike N' Willies and DiSO'S Italian Sandwich Society. You can find the complete list of food vendors on the website and follow @govislandfood on Twitter for updates. Keep in mind that most are only open on the weekends.
 
Things to Know Before You Go
Where to go when you need to go: There are lots of Porta-Potties on the isle. However, if you must use a traditional bathroom, you'll find regular flush toilets in Building 110 at Soissons Landing (right by the Manhattan ferry dock) as well as a trailer of them at Liggett Terrace.
Bring a refillable water bottle: For the first time ever, Governors Island has potable water (so no more buying expensive water on the isle). Refill your bottle or thermos at a pair of brand-new water fountains located at Liggett Terrace and near Yankee Pier, respectively.
Bring your own food: Yes there are wonderful food vendors but they're not cheap and the lines are often super-long. If you can, bring your own picnic.
Arrive at least 15 minutes before your weekend ferry departs: Or better yet, a half hour. In the past, lines have always been long, especially on weekend afternoons. However, now that you need to buy tickets to get on the ferry, we suspect the boarding process will be even more complicated so you'll want that extra time or risk missing the boat.
Wear sunscreen and comfortable walking shoes: You're going to be spending a lot of time running around outside.
Bring your camera: There are all kinds of cool photo ops.
Even though the isle is open seven days a week, many attractions are not Food vendors and many special programs only take place on weekends so if you're going on a weekday, make sure you check the calendar to confirm what's going on.
Take time to explore: Even if you go for a specific event or have an itinerary in mind, there are so many wonderful things on the isle, it's best to have a flexible agenda. Many buildings house artisans and boutiques, art installations or other programs. Since the isle is totally walkable, it's ideal for exploring and there are cool discoveries to be found in every nook and cranny.
Download the map: Honestly you probably won't need it, as there are maps and signage on the isle but it can't hurt to have.
Make sure you keep an eye out for bikes: While there are no cars on the isle there are a ton of cyclists. Most are careful, especially since there are so many children wandering around. But remind your kids that when they're walking on the streets, bike may come flying by.
Governors Island is open seven days a week from Saturday, May 24-Sunday, September 28 10am-7pm. Ferries run every day to and from Governors Island from lower Manhattan. The Brooklyn ferry only runs on Saturdays, Sundays and holiday Mondays. The cost is $2 round-trip for adults on weekdays and weekend afternoons, free for children under 12, and free to all on weekend mornings. You can buy ferry tickets in person at the Battery Maritime Building in Lower Manhattan or at Pier 6 in Brooklyn as well as in advance online. A season pass will also be available for purchase online. The East River Ferry also stops at Governors Island on weekends but costs more.
Find more great seasonal activities in our Summer Fun Guide.